Lesson Objectives:
In this lesson, we will learn how to conjugate three very useful irregular verbs -- "dar," "ver," and "saber." We will then learn some special phrases that use a few irregular verbs we have learned, and also cover some more weather-related vocabulary.

Vocabulary:
reconocer - to recognize
poner la mesa - to set the table
hacer platos deliciosos - to make delicious dishes
dar una conferencia - to give a talk or lecture
dar una clase - to teach a class
dar una fiesta - to throw a party
está nublado - it's cloudy
llueve - it's raining
llovizna - it's drizzling
nieva - it's snowing
la lluvia - the rain
la brisa - the breeze
el cielo - the sky
la nube - the cloud
la tormenta - the storm
la tronada - the thunderstorm
la nieve - the snow
húmedo - humid
el huracán - the hurricane
el tornado - the tornado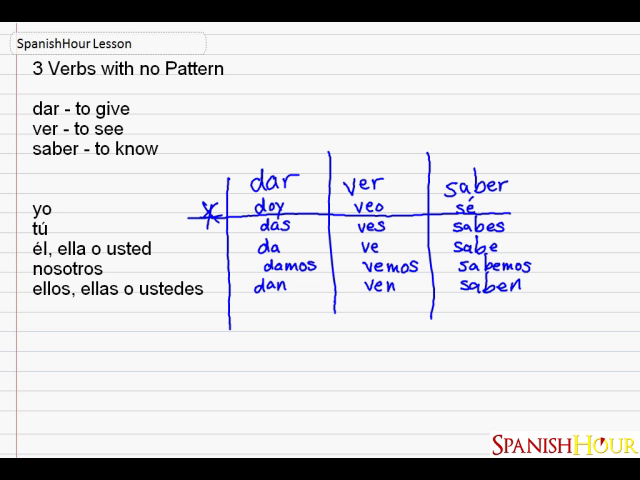 We will now look at three verbs that don't follow any pattern. The good news is, they're irregular only in the 'yo' form. These three verbs are:
Dar – to give
Ver – to see
Saber – to know

Let's make a table and fill in the conjugations for these three verbs.

First, we'll put the different forms on the side:
Yo
Tú
Él, ella o usted
Nosotros
Ellos, ellas o ustedes

And then the three verbs up top:
Dar
Ver
Saber

So, let's go through the irregular 'yo' forms first:
Yo doy
Yo veo
Yo sé (with an accent)

The rest of the forms:
Tú das, ves, sabes
Él da, ve, sabe
Nosotros damos, vemos, sabemos
Ellos dan, ven, saben

As you can see, you only have to memorize the irregular 'yo' form of these verbs. The rest follow the standard rules.