Lesson Objectives:
In this lesson, we will learn about a special category of verbs, stem-changing verbs. These are verbs that mostly follow the normal rules of conjugation, but have a slight letter change in the middle of the verb for some forms. We will then cover a list of verbs that have the "e" to "ie" stem change we are focusing on in this lesson.

Vocabulary:
empezar - to start
cerrar - to close
comenzar - to start
concernir - to concern
entender - to understand
pensar - to think
perder - to lose
preferir - to prefer
querer - to want
recomendar - to recommend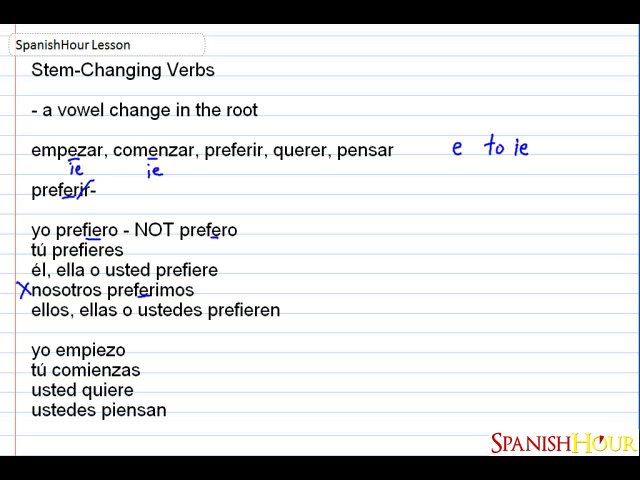 In this lesson, we will look at a special category of irregular verbs known as stem-changing verbs.

Stem-changing verbs follow the same rules as regular verbs. The only difference is, they include a vowel change in the root of the verb.

There are three types of stem-changes.

The first type occurs in words like empezar, comenzar, preferir, querer, and pensar, the 'e' changes to an 'ie'.

Let's go through the forms for preferir:
All you have to do is drop the -ir, change the "e" to an "ie" and conjugate.

yo prefiero. Notice that if we didn't do a stem change, it would be prefero, but we changed the last 'e' to an 'ie'. Prefiero.
tú prefieres.
él, ella o usted prefiere.
nosotros preferimos.
ellos, ellas o ustedes prefieren.

In stem-changing verbs, the stem-change does NOT apply to the Nosotros form. Preferimos.

The other words like empezar, comenzar, querer, and pensar all function the same. Simply change the last 'e' to an 'ie'.

Yo empiezo.
Tú comienzas.
Usted quiere.
Ustedes piensan.