Lesson Objectives:
In this lesson, we will look at the "e" to "i" stem-changing verbs. We will also learn a few verbs that have this stem change.

Vocabulary:
servir - to serve
conseguir - to get or obtain
decir - to say or tell
perseguir - to follow or pursue
repetir - to repeat
seguir - to follow or continue
pagar mucho dinero - to pay a lot of money
esperar el autobús - to wait for the bus
pedir - to ask for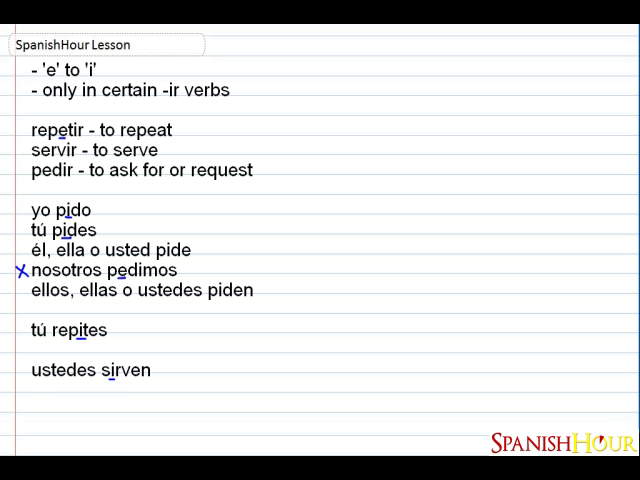 You've learned about 'e' to 'ie' stem changes. The second type of stem-change is where the 'e' changes to an 'i'. This only occurs in certain '-ir' verbs.

Repetir (to repeat), servir (to serve), pedir (to ask for or request) all require the 'e' to 'i' stem change.

Let's go through the forms for pedir.
Yo pido. I ask.
Tu pides.
El, ella, o usted pide.
Nosotros pedimos.
Ellos, ellas, o ustedes piden.

As you can see, the 'e' in pedir changed to an 'i'. Pido. Pides. And again, in the nosotros form, there was no stem change. Pedimos.

A couple more quick examples.

'You repeat' would be 'tú repites'. Simply change the last 'e' in Repetir to an 'i' and conjugate as normal.

You all serve would be 'ustedes sirven'. The 'e' in servir changed to an 'i'.