Lesson Objectives:
In this lesson, we will learn about verbs that are both irregular and have a stem change. We will then cover a few more names of places found in a city.

Vocabulary:
la estación de tren - the train station
el café - the cafe
la plaza - the plaza
la tienda - the store
el cine - the movie theater
el aeropuerto - the airport
el banco - the bank
el nombre - the name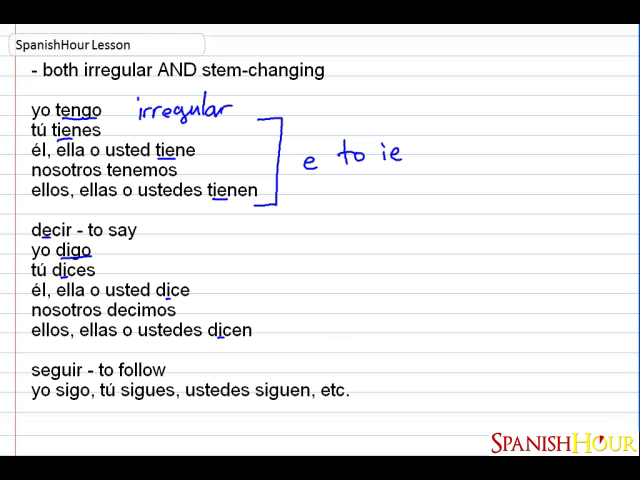 We have covered almost everything about conjugating in the present indicative tense. The last thing to know is about verbs that are both irregular AND stem-changing.

We've already seen tener, to have.

Yo tengo.
Tú tienes.
Él, ella o usted tiene.
Nosotros tenemos.
Ellos, ellas o ustedes tienen.

As you can see, tener is irregular in the 'yo' form. 'Yo tengo'. I have.

In all other forms, it's a stem-changer. The 'e' changes to an 'ie'. 'tienes'. 'tiene'. 'tienen'.

Let's look at another example: decir, which means 'to say'.

Yo digo.
Tú dices.
Él, ella, o usted dice.
Nosotros decimos.
Ellos, ellas, o ustedes dicen.

Again in the 'yo' form it's irregular. Digo. In all other forms, it's an 'e' to 'i' stem-changer. Dices. Dice. Dicen.

Seguir means 'to follow'. It's conjugated just like 'decir'. Yo 'sigo'. 'Tu sigues'. 'Ustedes siguen'. etc..

You will review all of these different verbs and conjugations in the upcoming exercises.