Lesson Objectives:
- Lunar phases
- Eclipses
- The frequency of eclipses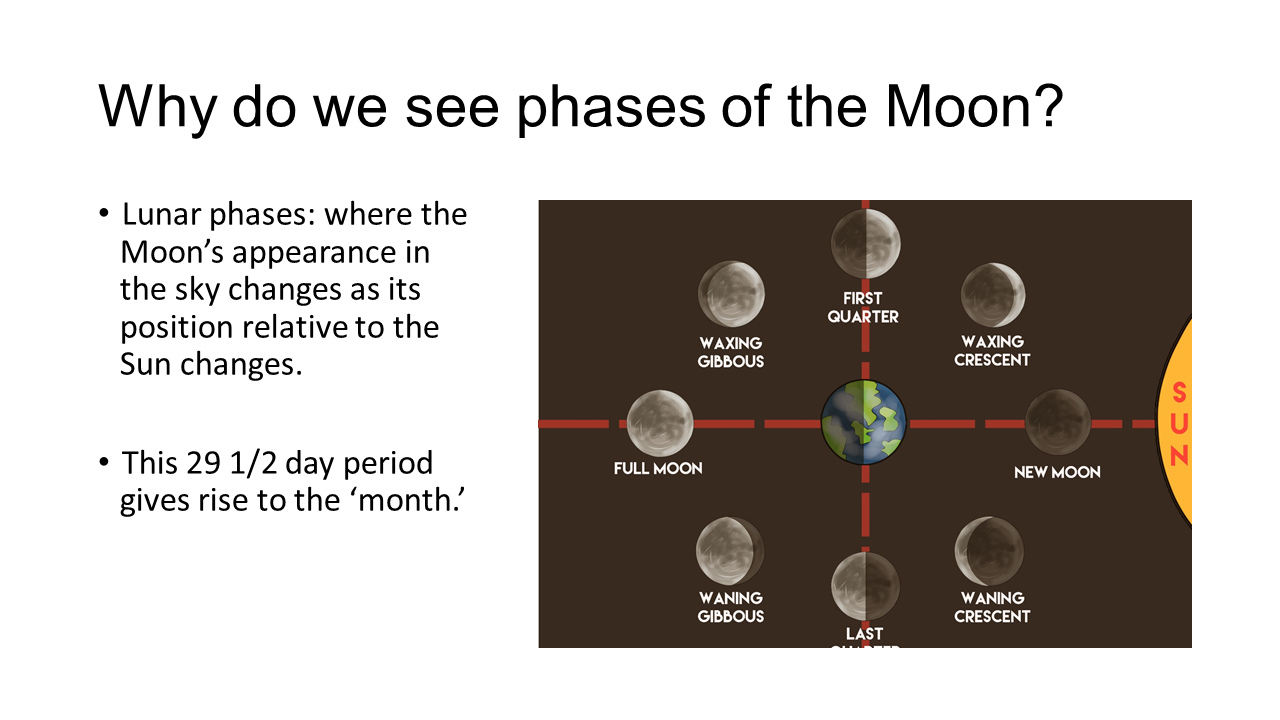 Why do we see phases of the Moon? We see different phases of the Moon, or Lunar phases, because the Moon's position relative to the Sun changes. This 29 1/2 day period gives rise to the 'month.'
For example, if you hold a ball in your hand in a dark room with a flashlight on it in one direction to represent the Sun, one half of the ball is lit up while the other half that is away from the Sun is cloaked in darkness. As you look at the ball at different positions when you move the light, you will see that the part of the ball that is illuminated changes.

This is similar to how the Moon interacts with the Sun. Half of the Moon is illuminated by the Sun but the amount that we see depends upon the Moon's position as it orbits the Earth.

In the Northern Hemisphere, when a waning crescent appears, it is rising before dawn, reaches its highest point at mid-morning and sets in mid-afternoon. A full Moon, on the other hand, rises at sunset, is highest at midnight and sets at sunrise.

The Moon is visible during the day but only when it is not drowned out by sunlight.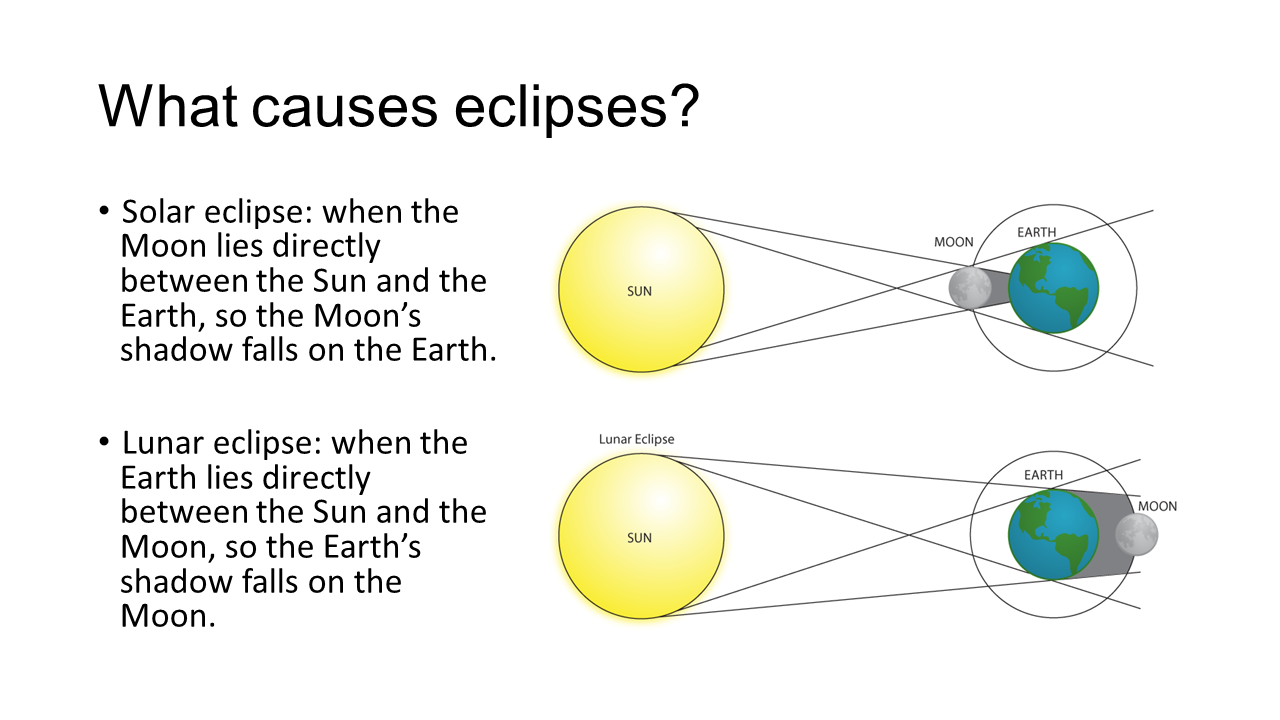 What causes eclipses? The Moon and Earth cast shadows in sunlight and these shadows create eclipses when the Sun, Moon and Earth fall into a straight line.

A Solar eclipse occurs when the Moon lies directly between the Sun and the Earth, so the Moon's shadow falls on the Earth.

A Lunar eclipse occurs when the Earth lies directly between the Sun and the Moon, so the Earth's shadow falls on the Moon.

A partial eclipse occurs when only part of the Moon or Sun is eclipsed. If the entire Moon or Sun is eclipsed, then it is called a total lunar or total solar eclipse.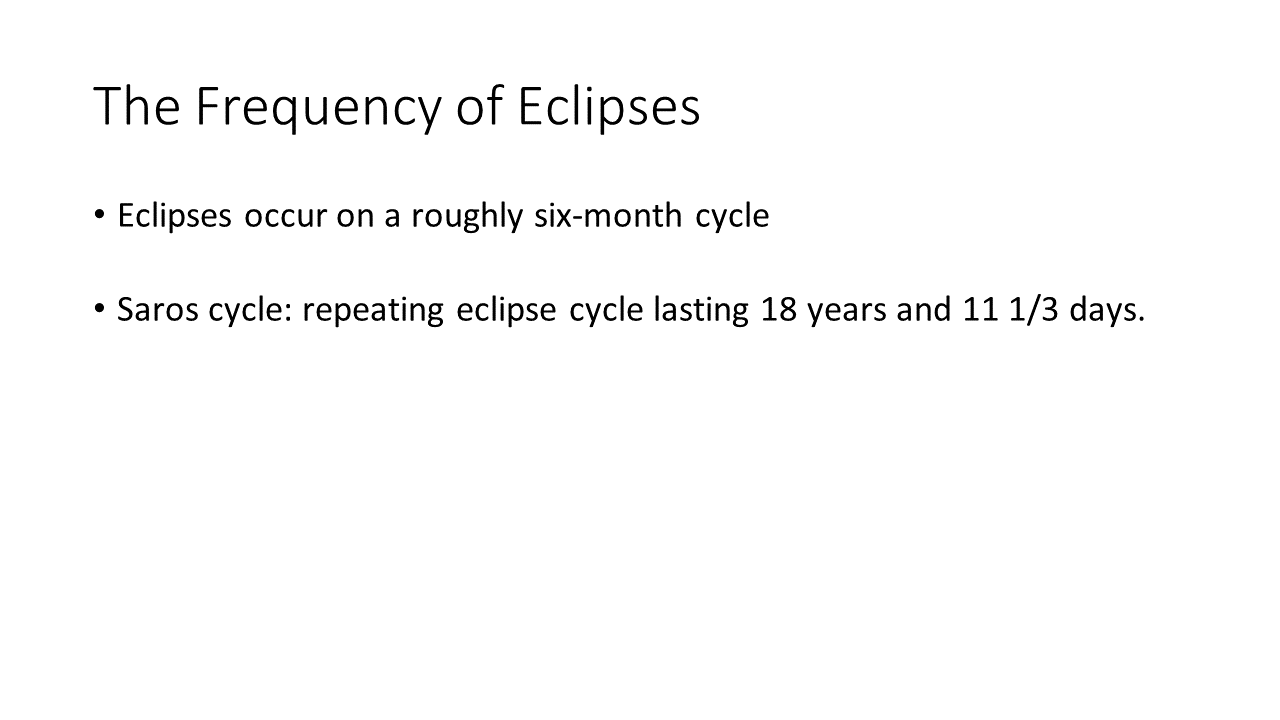 Eclipses tend to occur on a roughly six-month cycle, and since the position of the Sun, Moon, and Earth are constantly changing, almost every eclipse is unique.

It is only every 18 years and 11 days, known as a Saros Cycle, that two practically identical eclipses occur. In other words, after an eclipse occurs, eighteen years and eleven days later, the Sun, Moon, and Earth will return to almost the exact same position relative to each other.