Lesson Objectives:
- Types of spectra
- Composition
- Temperature
- Motion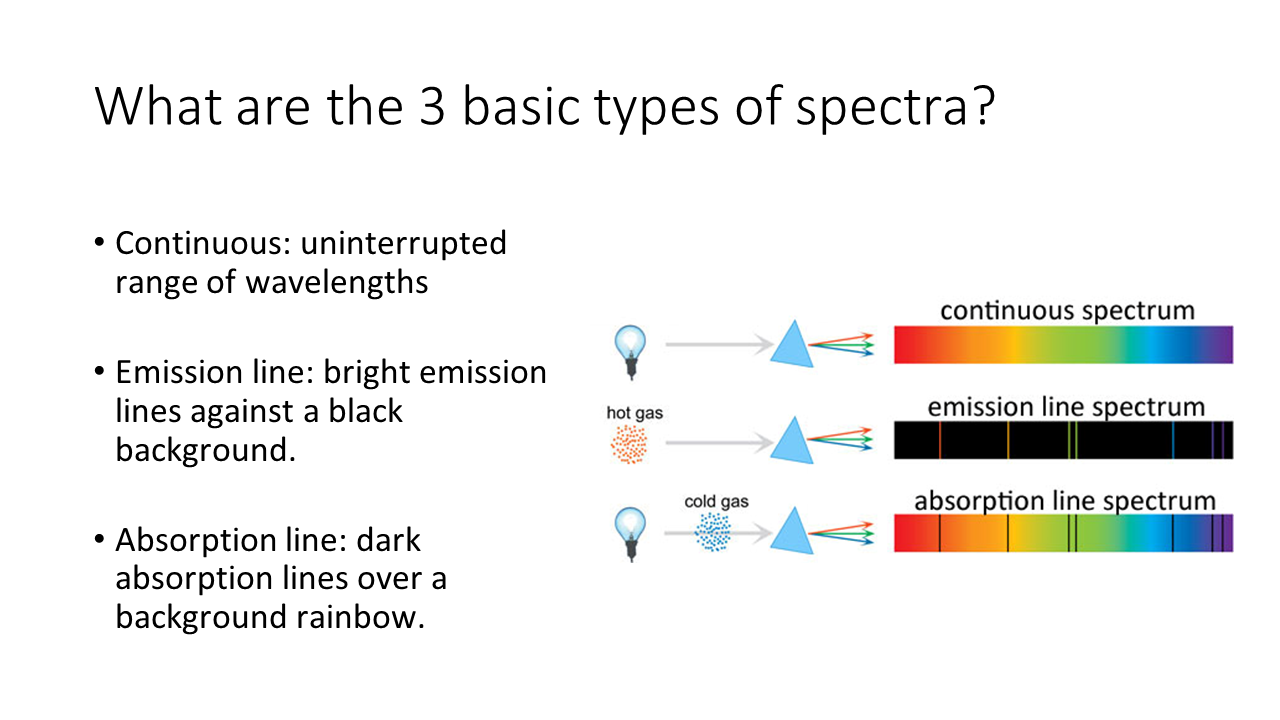 Light carries more information than our naked eyes can recognize. Modern instruments allow us to analyze the spectrum of light coming from a distant object to see aspects of the light that are invisible to our eyes. Based on analyzing these spectra of light, scientists have identified three basic types of spectra.

A continuous spectrum is a rainbow of color and is what you see coming from a traditional incandescent light. It is continuous because the light spans a broad range of wavelengths without interruption.

An emission line spectrum is what you see when you analyze the light coming from a thin or low-density cloud of gas. Such a cloud of gas, depending on its composition and temperature, emits light only at specific wavelengths. When you look at its spectrum, it consists of bright emission lines against a black background - hence the name emission line spectrum.

When the cloud of gas is between us and the light source, for example, the hot interior of the sun shining through its relatively cool and low-density gas surface, you get what is known as an absorption line spectrum. The cloud of gas absorbs light of specific wavelengths, so all of the light does not make it through -- the spectrum has dark absorption lines in it.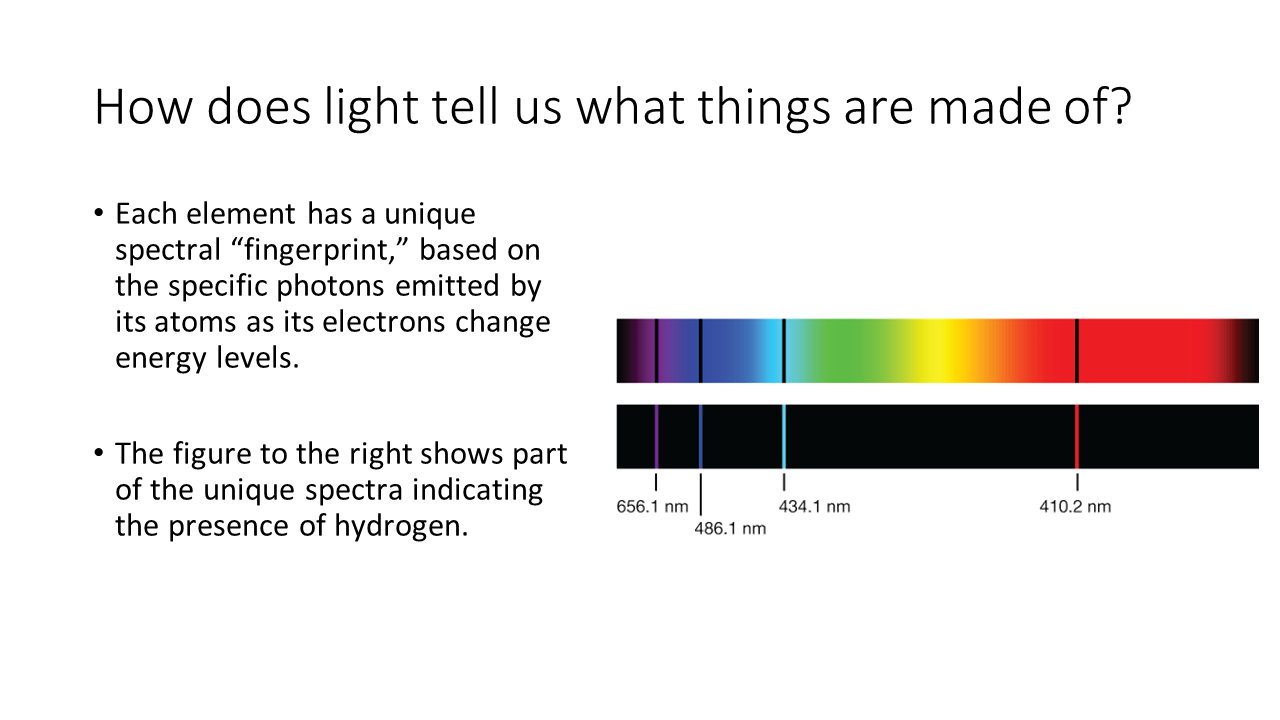 We can learn about the materials that make up a distant object by looking at the lines in its absorption line and emission line spectra.

To understand how the light from a gas tells us about its composition, we have to understand how things work on an atomic level. When a gas is warm, its atoms are bouncing around, colliding and exchanging energy. As atoms absorb and release energy, their electrons move through different energy levels. Depending on their level of excitement, or their energy level, they emit or absorb photons of light that have specific wavelengths.

The important thing to know is, the photons emitted or absorbed by each element make up a unique combination of wavelengths. For example, the figure above shows part of the unique spectral fingerprint left by hydrogen atoms. Whenever astronomers see those specific lines in a spectrum, they know that hydrogen is present.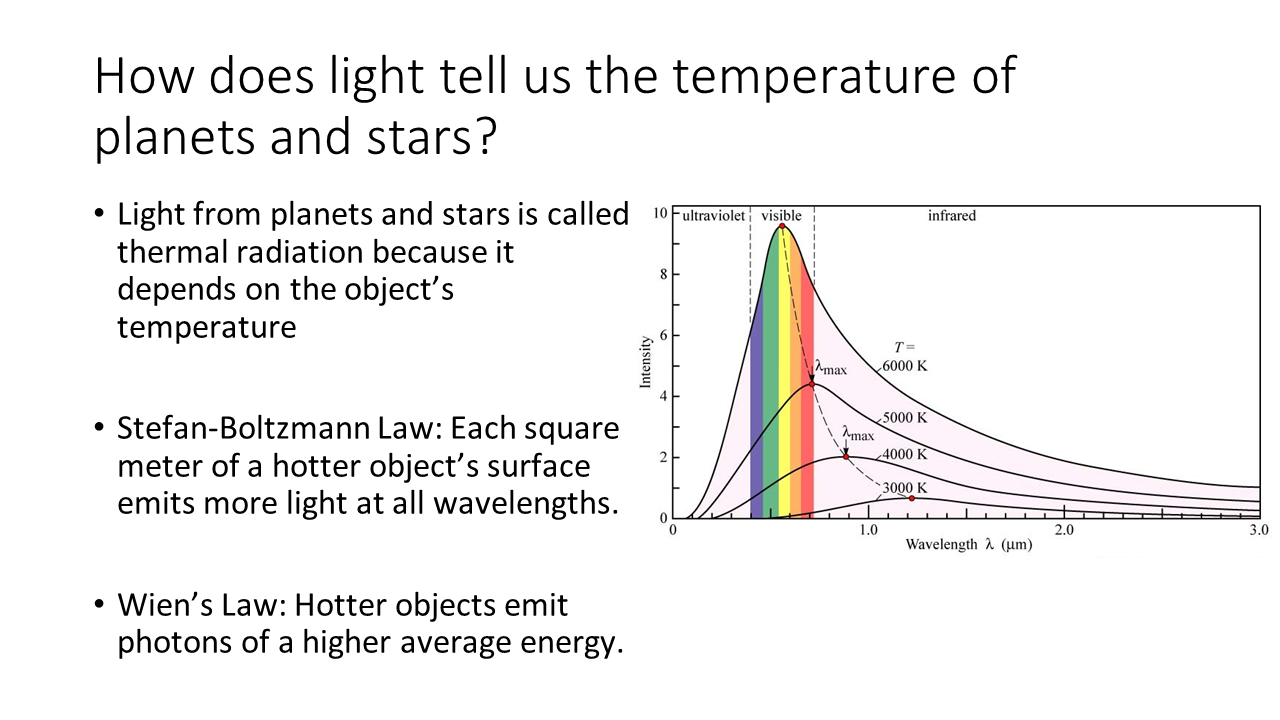 A cloud of gas produces a simple emission or absorption line spectrum because its individual atoms or molecules are essentially independent of one another.

Most objects, though, such as planets, stars, and even the human body, tend to absorb and emit light in a much more complex set of energy levels, producing continuous spectra.

The photon energies they emit are dependent on their temperature, which is why their light is called thermal radiation, or blackbody radiation.

There are two laws of thermal radiation.

The first law, the Stefan-Boltzmann Law, states that each square meter of a hotter object's surface emits more light at all wavelengths. Looking at the figure above, you can see that each square meter on the surface of a 6,000 Kelvin star emits more light at every wavelength than each square meter of the 3,000 Kelvin star, and even emits light at ultraviolet wavelengths that the cooler star does not emit at all.

The second law, Wien's Law (pronounced Veen's Law) states that hotter objects emit photons of a higher average energy, which means a shorter average wavelength. That is why a 5,000 Kelvin star's spectrum peaks at the red end of the visible light spectrum while a 6,000 Kelvin star peaks further to the left in the yellow.

A star or planet's color allows us to estimate its temperature. A cooler object, such as the human body at around 310 Kelvin, emits a tiny amount of infrared light - we are not hot enough to emit visible light. A relatively cool star, with a 3000 Kelvin surface temperature, emits mostly red light. As the star gets hotter, its peak moves over to shorter wavelengths until the hottest stars emit mostly ultraviolet light, invisible to our eyes. They look blue because they are so far to the left on the spectrum that most of the visible light they emit is on the blue end.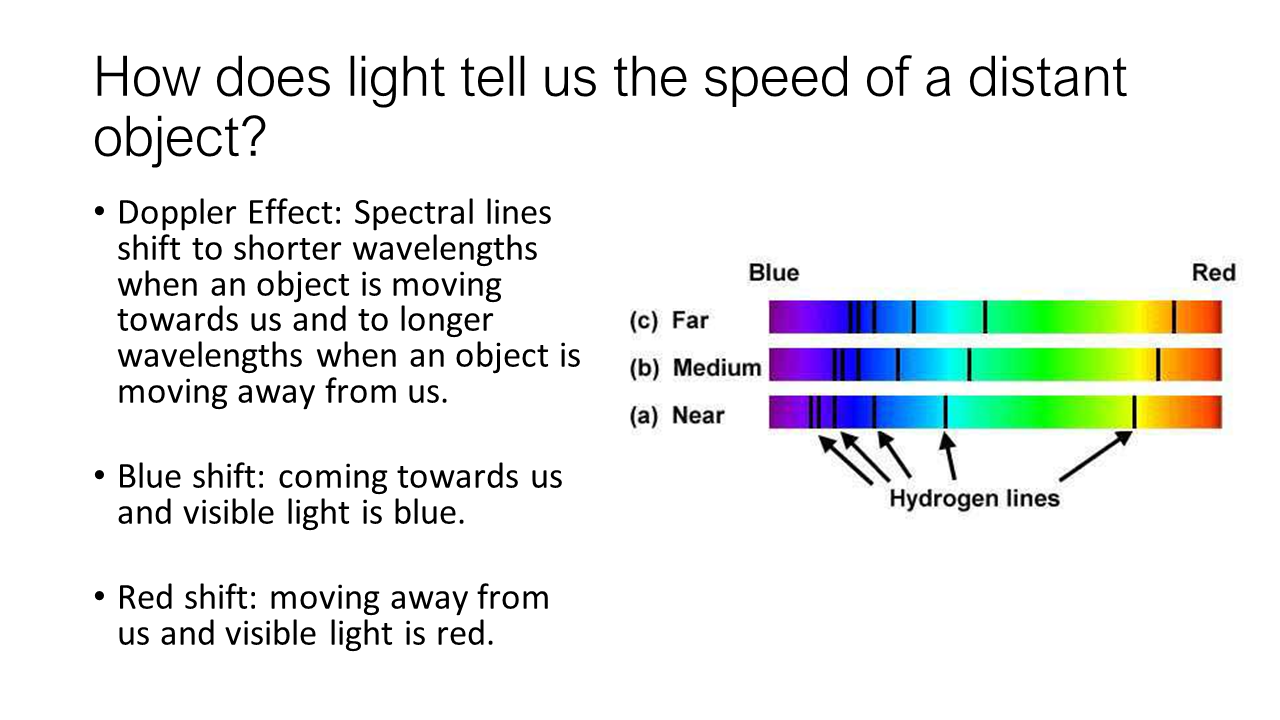 We can use light to learn about the motion of distant objects from changes in their spectra caused by the Doppler Effect.

What is the Doppler Effect? You've probably noticed its effect on sound when you hear the high pitch of the siren of an approaching ambulance, and notice that its pitch drops suddenly as the ambulance passes you.

There is a similar effect on light waves. Spectral lines shift over to the left to shorter wavelengths when an object is moving towards us and to the right to longer wavelengths when an object is moving away from us.

The Doppler shift of an object coming towards us is called a blueshift, since light is bluer in the shorter wavelengths. An object moving away would show redshift as it moves towards the longer wavelengths.

The figure above shows an example of blueshift and redshift in a spectrum that includes lines from hydrogen gas.