Lesson Objectives:
- The Solar System
- The Sun
- The planets
- The dwarf planets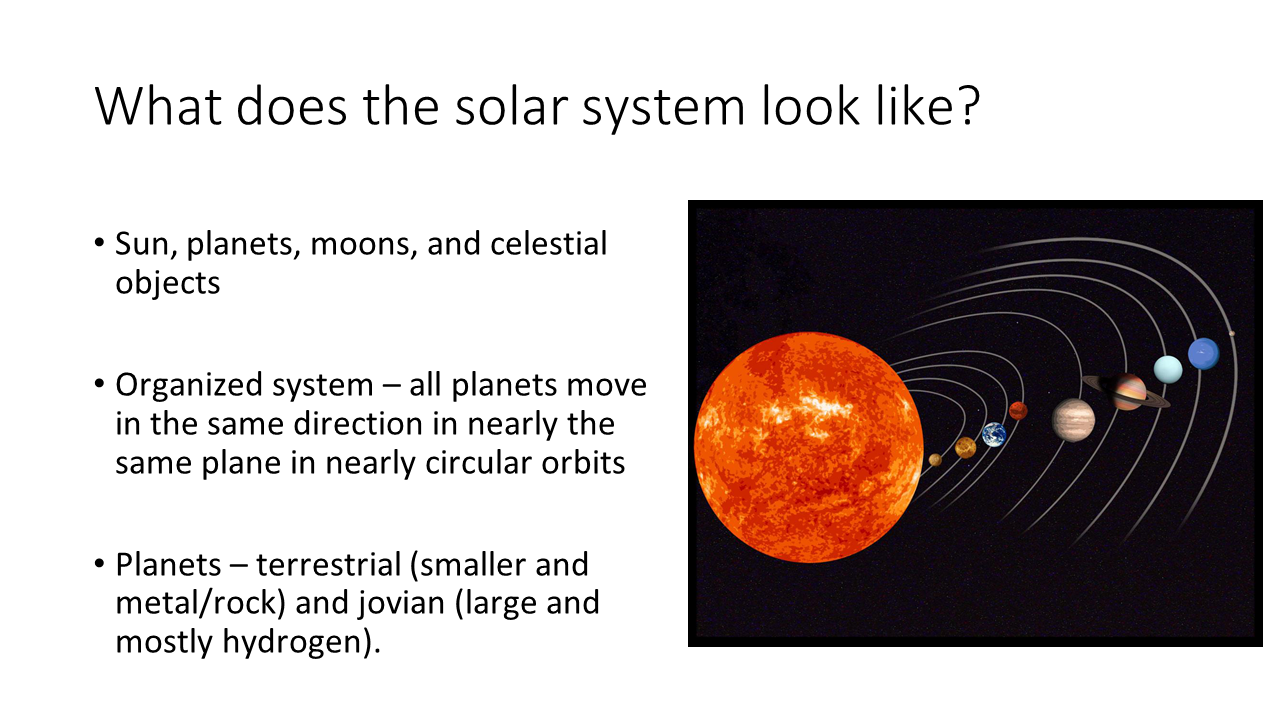 Our Solar System is made up of the Sun with its orbiting planets, moons, and celestial objects such as asteroids and comets.

The system is not random. All of the planets move around the Sun in nearly circular orbits in the same direction in nearly the same plane, and most of the large moons orbit their planets in this same direction as well.

The planets can be put into two main categories. Terrestrial planets are small in mass and size, close to the Sun, made of metal and rock, and have few moons and no rings. Terrestrial planets include Mercury, Venus, Earth, and Mars.

Jovian planets, on the other hand, are large in mass and size, far from the Sun, and instead of metal and rock, are made of Hydrogen, Helium, and Hydrogen compounds. They also have rings and many moons. Jovian planets include Jupiter, Saturn, Uranus, and Neptune.

There are swarms of asteroids in the Solar System. Most of them orbit in the asteroid belt between Mars and Jupiter.

Many comets can be found in the Kuiper belt (pronounced kyper belt) beyond Neptune's orbit.




The Sun is the largest and brightest object in the solar system, containing more than 99.8% of the solar system's mass.

It is a gaseous ball of hot hydrogen and helium gas - about 5800 Kelvin or 10,000 Fahrenheit on the surface with temperature and pressure increasing with depth.

The Sun gets hotter as you go deeper to its core. It functions like its own nuclear fusion plant.

The Sun is the most influential object in our solar system. Its gravity controls the orbits of all of the planets in the system, its heat warms the planetary surfaces and atmospheres, and its light is the source of virtually all light in our system.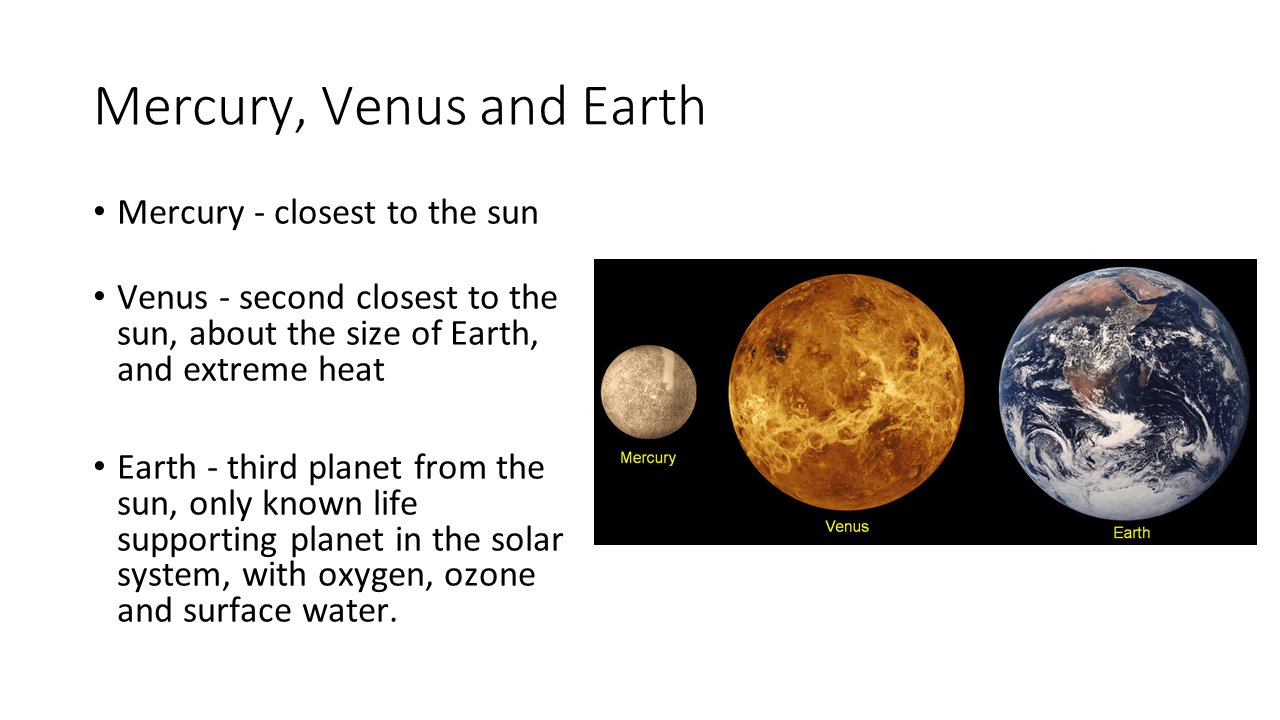 Mercury is the planet closest to the Sun and is the smallest of the eight official planets. It has no active volcanoes, no wind, no rain and no known life. It has a lot of craters and has both hot and cold extremes.

Venus is the second planet from the Sun and is almost identical in size to the Earth. Venus has a thick atmosphere with an extreme greenhouse effect where carbon dioxide traps heat. As a result, day and night, Venus is like a pizza oven with extreme heat. One of the most interesting mysteries about Venus is its rotation - it is the only planet in the solar system that rotates clockwise, causing the Sun to rise in the west and set in the east.

Earth is the third planet from the sun and is the only known life-supporting planet in the solar system, with life-supporting oxygen, ozone to protect against solar radiation, and plentiful surface water. Earth's atmosphere contains just the right balance of carbon dioxide and water vapor to maintain a moderate greenhouse effect and keep our planet from getting too hot or too cold.

The Earth also has a moon which is unique in that it is surprisingly large compared to the Earth. Nearly all other moons in the solar system are much smaller relative to the planets they orbit.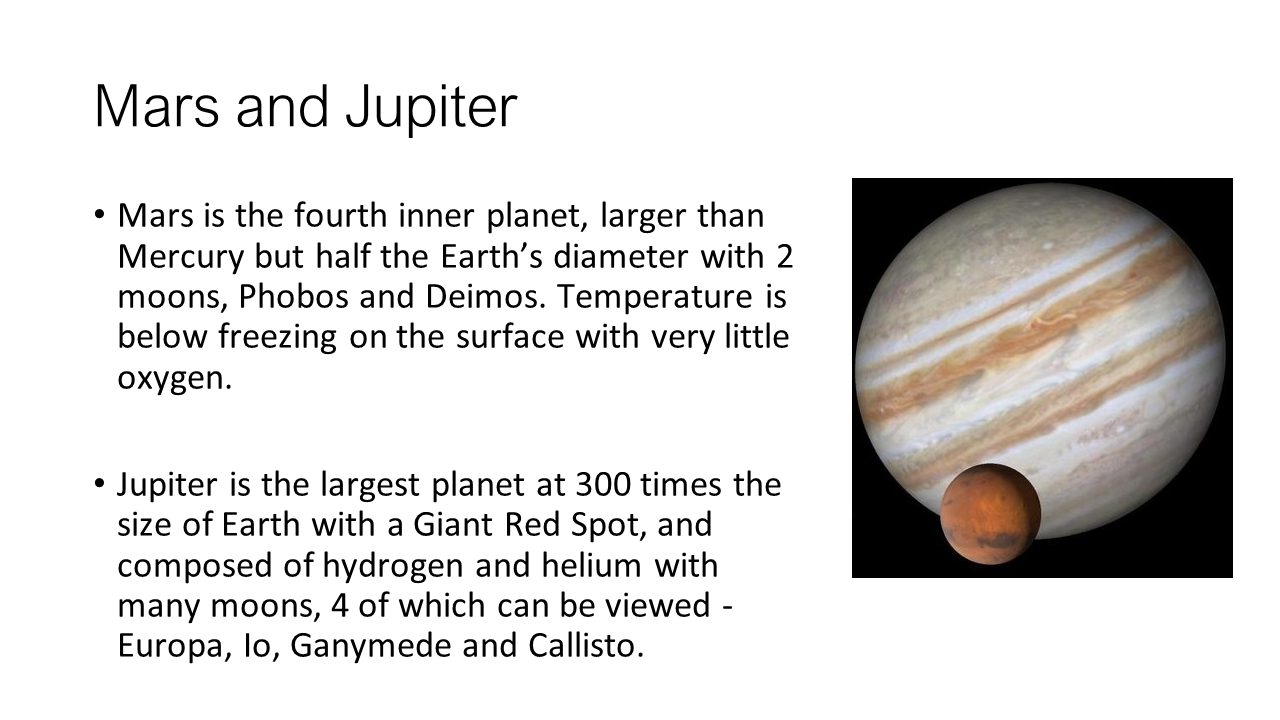 Mars is the fourth inner planet and the last of the terrestrial planets. It is larger than Mercury but half the Earth's diameter with 2 moons, Phobos (pronounced FOE-bos) and Deimos (pronounced DIE-mos). Mars has ancient volcanoes, a canyon, polar caps with frozen water, carbon dioxide and dried-up riverbeds, which suggest that it may have once sustained life. Temperature is below freezing on the surface, however, with very little oxygen and the lack of atmospheric ozone would leave you exposed to deadly ultraviolet radiation from the Sun.

After Mars is Jupiter, and to get there, we would pass through the asteroid belt on the way.

Jupiter is the largest planet at 300 times the size of Earth. Its most famous feature is its Giant Red Spot, a long-lived storm big enough to swallow at least two Earths. Jupiter does NOT have a solid surface and, like the Sun, is composed primarily of hydrogen and helium. It has many moons, with four of them being large enough that they would be considered planets or dwarf planets if they orbited the Sun independently. These four moons are Europa, Io (pronounced EYE-oh), Ganymede and Callisto. Io is the most volcanically alive world in the solar system and Europa has an icy crust that may hide a subsurface ocean of liquid water.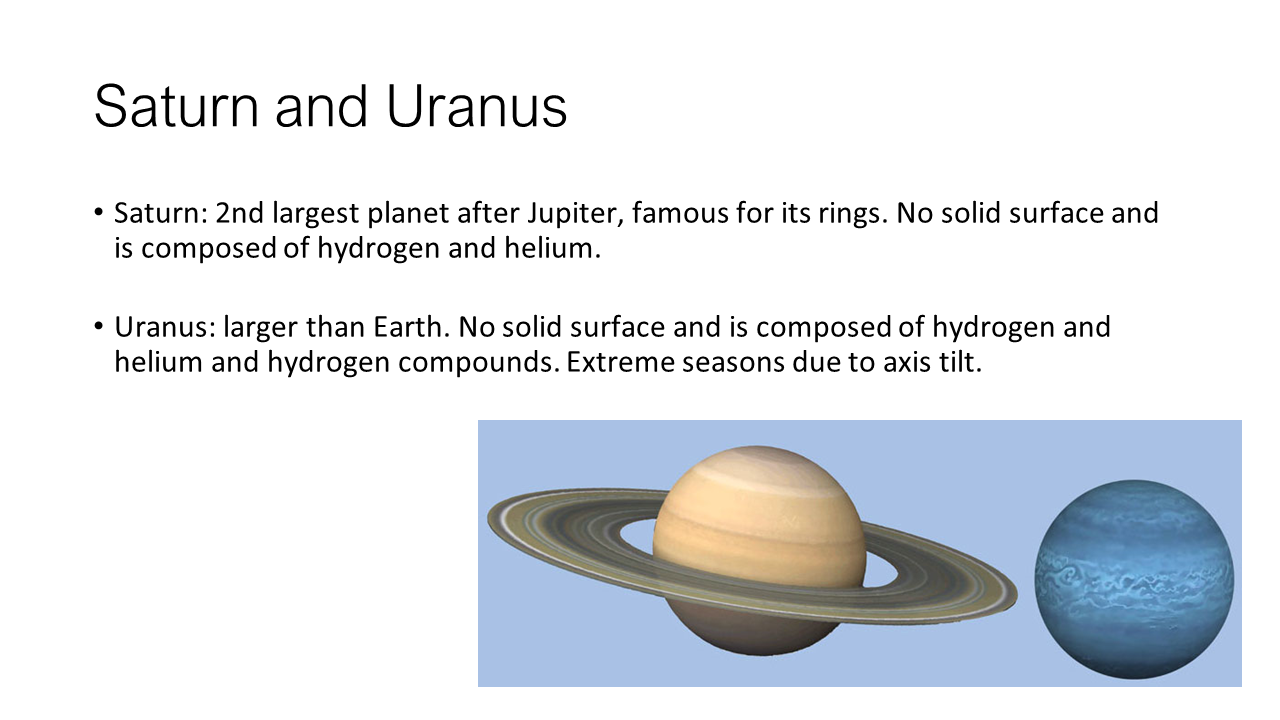 The journey from Jupiter to Saturn is very long as Saturn orbits almost twice as far away from the Sun as Jupiter. Saturn is only slightly smaller than Jupiter but is much less dense. Just like Jupiter and the other Jovian planets, Saturn does not have a solid surface and is composed of hydrogen and helium.

Saturn is famous for its spectacular rings, made up of many small particles of ice and rock. All four of the jovian planets have rings, but only Saturn's can be seen easily. Saturn has many moons - two of which are geologically active - Enceladus with ice fountains and Titan with a thick atmosphere but frigid surface temperature.

Uranus lies twice as far from the Sun as Saturn. Uranus is much larger than Earth but smaller than Jupiter and Saturn. Again, it does not have a solid surface, being made up of hydrogen, helium and hydrogen compounds such as water, ammonia and methane. The methane is what gives it a pale blue-green color.

Uranus has over a dozen moons and rings that are hard to see. One of the most unique features of Uranus is that its entire system - the planet, its rings and moon orbits - are all tipped on its side relative to the other planets. One result of this extreme axis tilt is that Uranus has the most extreme seasonal variations of any planet in the solar system. For example, you could have a 42 year long span of daylight for one-half of an orbit and then a 42 year long span of night.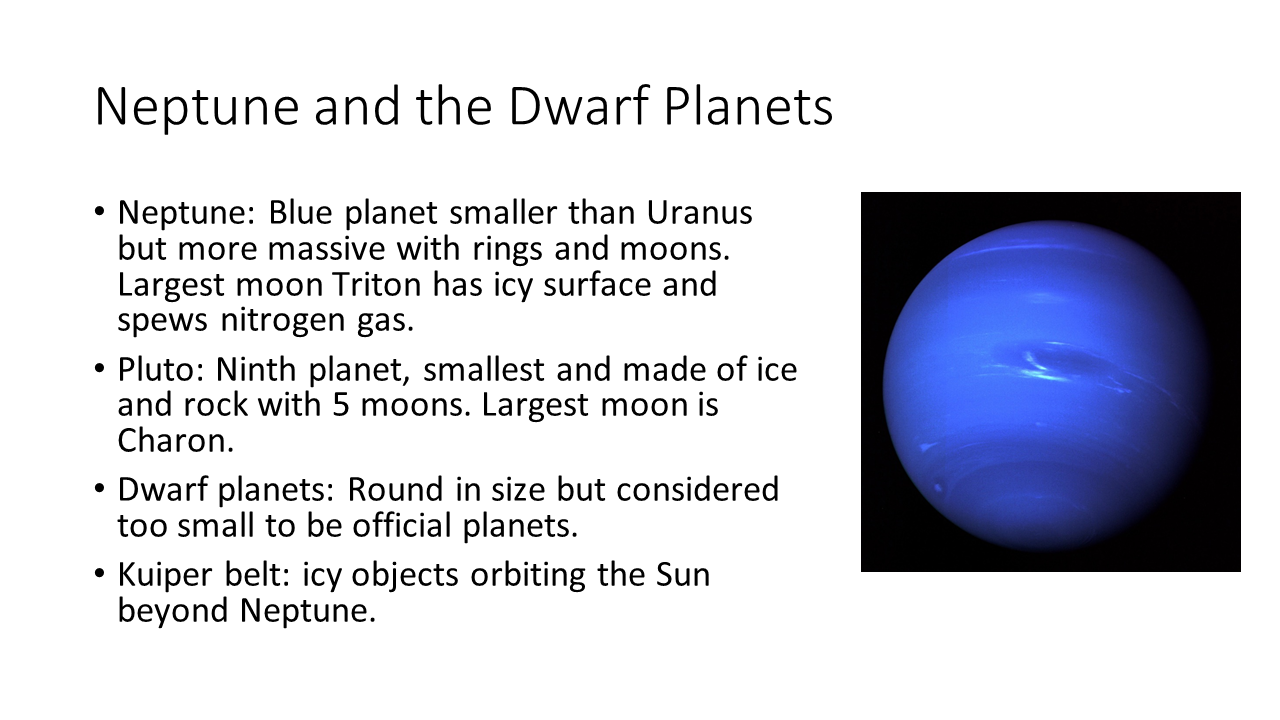 The journey from Uranus to Neptune is the longest so far. Neptune looks similar to Uranus but has a more striking blue color. It also has a similar composition to Uranus but is denser, giving it a slightly greater mass even though it is a little smaller in size. Neptune has both rings and moons.

The largest moon, Triton, is larger than Pluto and is considered one of the most interesting moons in the solar system for a variety of reasons. It has geyser-like features on its surface that spew out nitrogen gas, and it is the only moon in the solar system that orbits its planet backward - in other words, it orbits Neptune in the opposite direction that Neptune rotates. Many scientists believe this means it was an independent planet that orbited the Sun before being captured into Neptune's orbit.

Pluto was considered the ninth planet in our solar system for around seventy-five years but after the discovery of a larger object - Eris - scientists created a new classification called a dwarf planet. Dwarf planets are defined as being too small to qualify as official planets but large enough to be round in shape, and include Pluto, Eris, and several other objects.

Pluto and Eris, along with thousands of other icy objects make up the Kuiper belt. The Kuiper belt is similar to the asteroid belt, but is composed of comet-like objects rather than rocky asteroids.