Lesson Objectives:
- Geological activity on the Moon and Mercury
- The Moon's history
- Mercury's history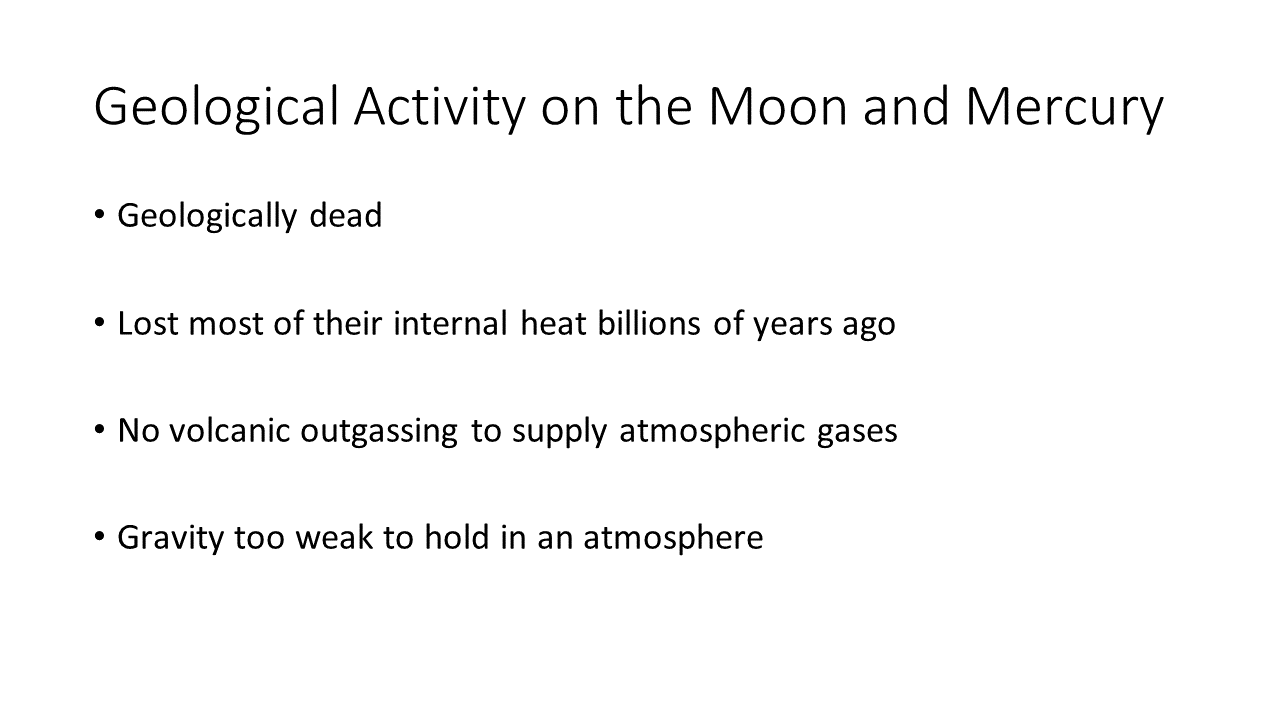 The Moon and Mercury once had volcanic and tectonic activity, but are now both geologically dead and have been that way for billions of years. This is a direct consequence of their small sizes. Being small has two critical disadvantages.

First, smaller objects lose their heat more quickly, so Mercury and the Moon have little internal heat left in their cores, which means no geological activity and no volcanic outgassing to supply atmospheric gas.

The second disadvantage of being small is that a smaller object has less gravitational force, so any gases gained by the planet escape because the gravity is too weak to hold them in and form an atmosphere.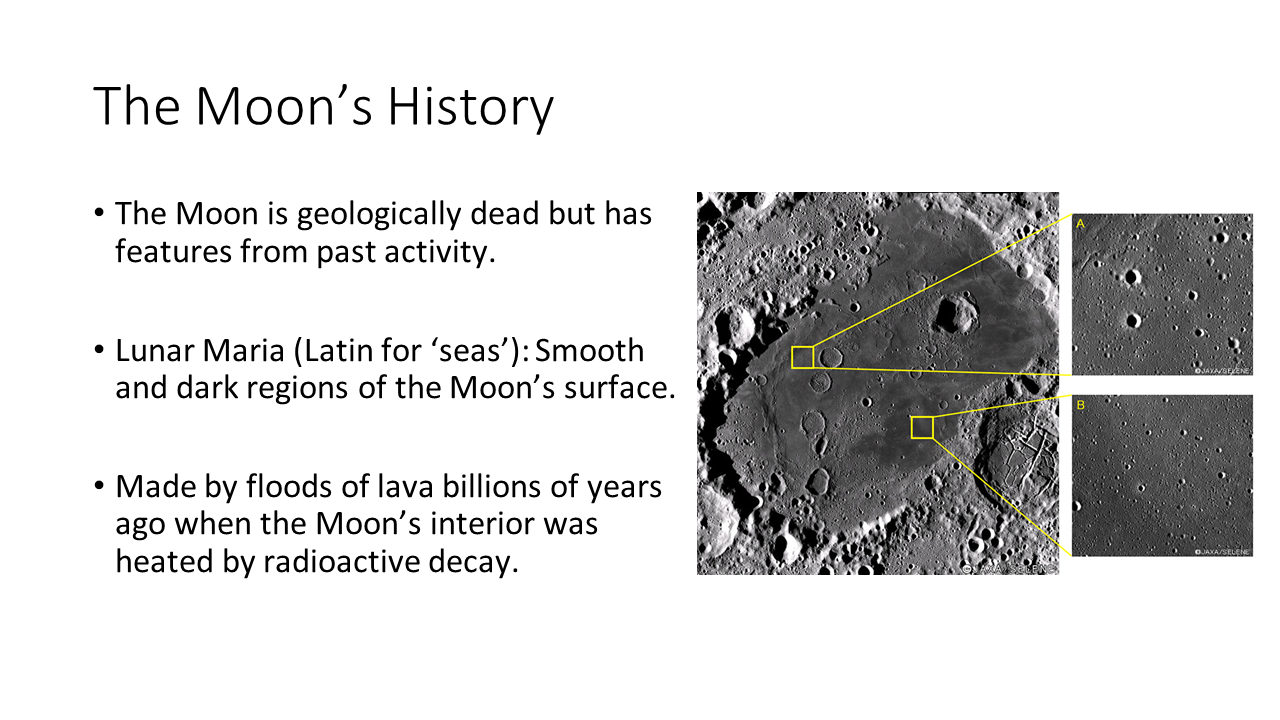 Although the Moon is geologically dead, it has distinctive geological features that were caused by geological activity billions of years ago when it still had a hot interior.

The most important geological feature is the Lunar Maria, which refers to the smooth and dark regions of the Moon's surface. The figure above shows one of these regions up close.

Just as with all of the other worlds, the Moon was originally covered with impact craters as a result of the heavy bombardment period. Later in the Moon's history, internal heat caused molten rock to rise to the surface and flood some of the craters, resulting in the Maria. The Maria are dark because the lava was made of dark, iron-rich rock, and they are relatively smooth because the lava flooding occurred long after the heavy bombardment period had ended.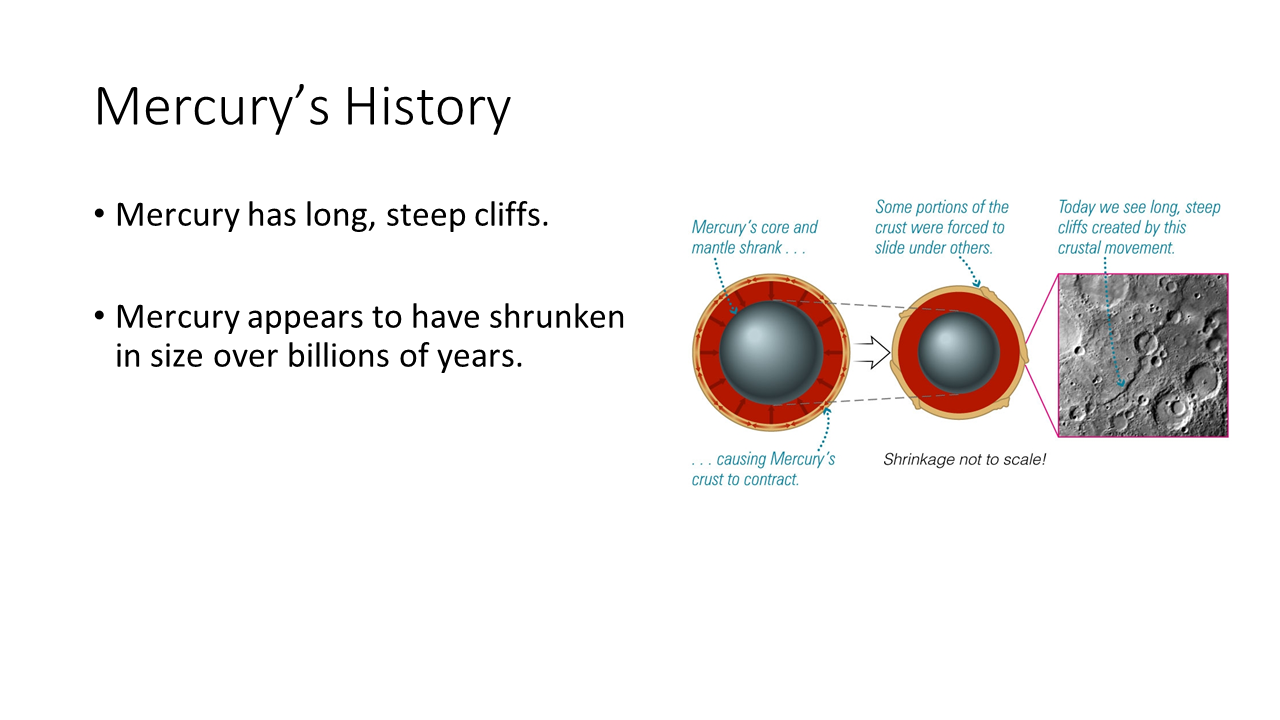 Mercury too is geologically dead and its surface so closely resembles the Moon that it can be difficult to tell the two apart in surface photos.

One way in which Mercury is unique is it has very large cliffs distributed all over the planet with vertical faces up to three kilometers high and running for hundreds of kilometers across the surface. Scientists believe these cliffs were formed when the planet's large iron core shrank as it cooled, causing the mantle and lithosphere to shrink with it and generating massive tectonic stresses all over its surface.

There is also a mysterious form of geological activity in which some crater floors appear to be releasing vaporized materials from the rock and crumbling, making pits called "hollows".