Lesson Objectives:
- Comparing Earth and Mars
- Geological activity
- Water
- Atmosphere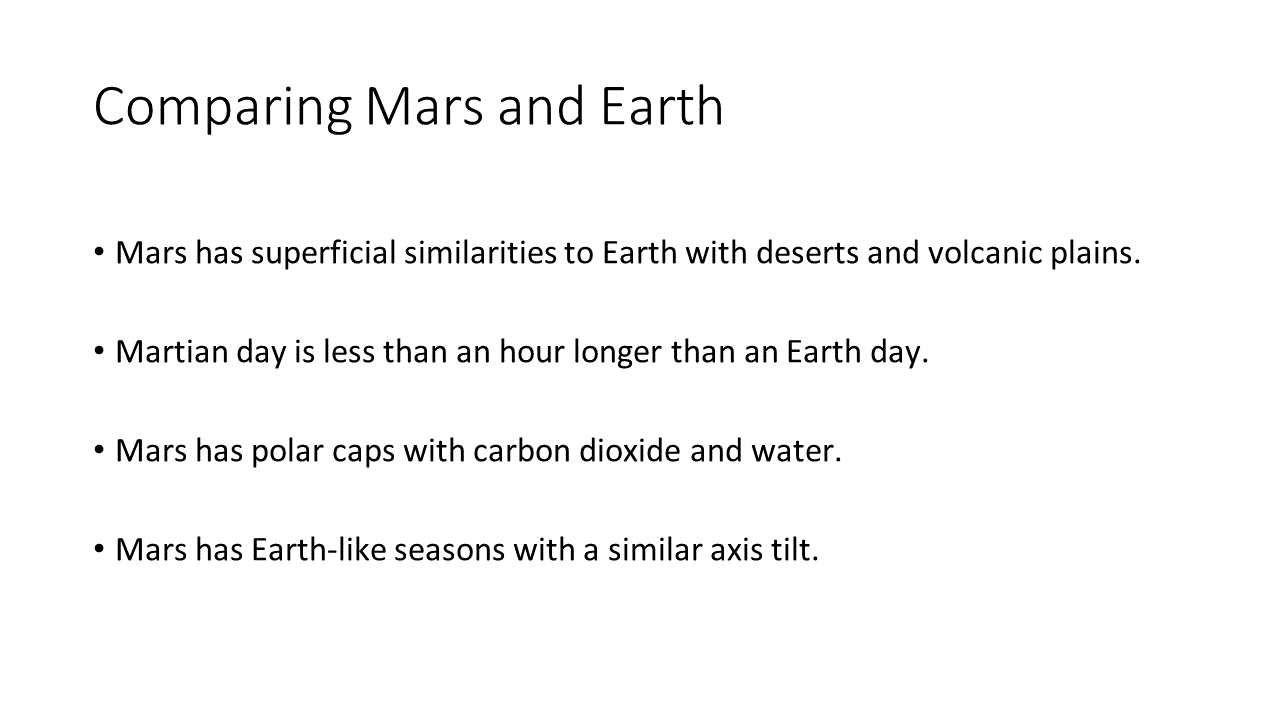 Mars has long been used in science fiction stories due to some similarities it shares with Earth.

For example, its surface looks like some of our deserts and volcanic plains. A Martian day is almost the same length as an Earth day - a little over 24 and a half hours.

It has polar caps with water ice. It also has a similar axis tilt, resulting in Earth-like seasons.

All of this and more has given rise to the idea that life on Mars would be possible. However, the Martian atmosphere is so thin that its atmospheric pressure is less than 1% of the pressure on the surface of the Earth. Such a thin atmosphere means a very weak greenhouse effect to keep in heat. As a result, the surface temperature is quite cold at -50 degrees Celsius. The Martian atmosphere also lacks oxygen and therefore has no ozone layer to block harmful ultraviolet radiation from the Sun.

However, evidence shows that Mars was warmer and wetter in the past, so there may have once been conditions more suitable for life.




Looking at Mars, the southern hemisphere is mostly higher-elevation terrain with many large impact craters, including the large crater known as the Hellas Basin.

In contrast, the northern hemisphere is made up of relatively smooth plains which tend to be below the average surface level.

This means the southern highlands are much older than the northern plains since the craters in the north were mostly erased by geological activity.

As we have learned previously, size is the most important factor in determining whether a planet will retain the internal heat necessary for geological activity. Mars is larger than the Moon and Mercury, so it has had more geological activity than both of them.

More specifically, Mars once had volcanic activity. There are many volcanoes on the surface including Olympus Mons which is the tallest peak in the solar system (26 kilometers high).

There is also evidence of tectonic activity in the past, such as the long, deep valleys called the Valles Marineris. These valleys are as long as the United States is wide and are four times as deep as the Grand Canyon.

As for the present, Mars is not geologically dead - it probably still retains some internal heat. There has been no evidence of recent volcanic or tectonic activity but one of its volcanoes could still erupt someday if its lithosphere has not thickened too much from the gradual cooling of its core.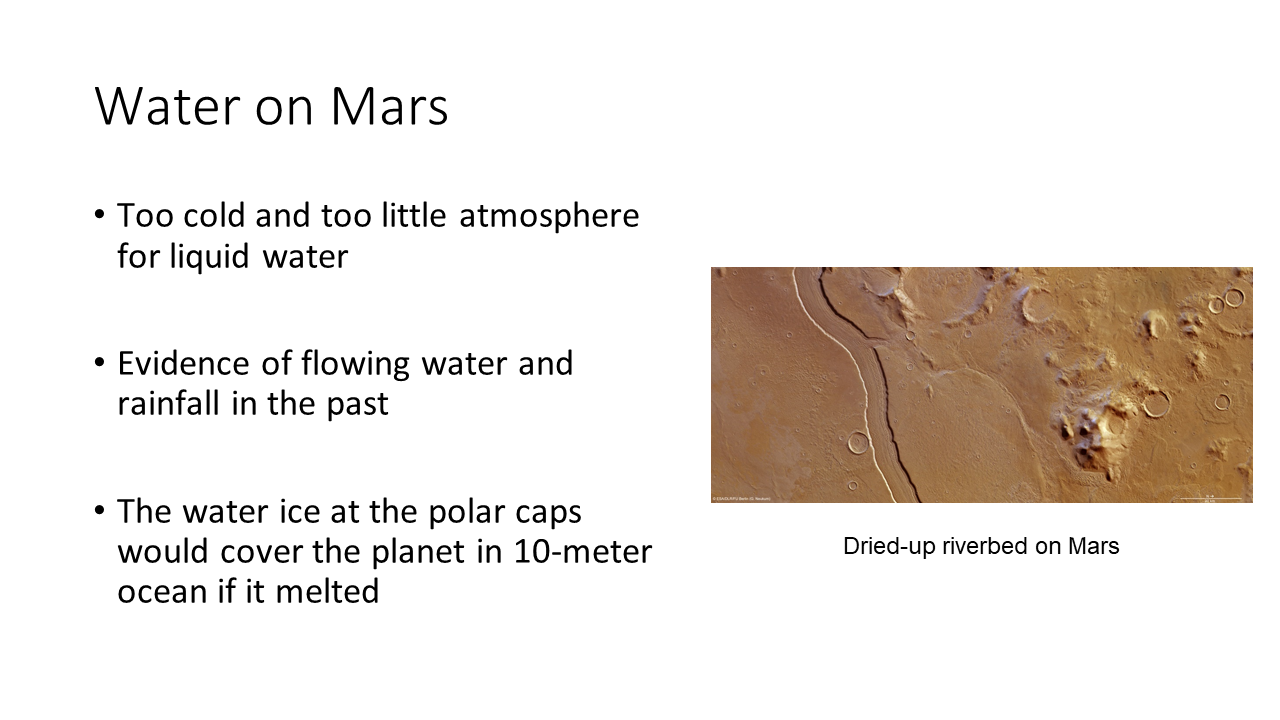 There is no liquid water on the surface of Mars. It is too cold and the atmospheric pressure is too low, so any liquid water would immediately either freeze or boil away.

However, orbital and surface studies show evidence of flowing water in the past.

Photos have revealed dry riverbeds, most likely carved by running water. Based on studies of the impact craters in and near the riverbed, the water probably flowed through them around 2 to 3 billion years ago.

Many orbital images show evidence of ancient rainfall, with eroded crater rims, and river delta deposits.

Robotic rovers that landed in 2004 and 2012 found mineral evidence of past liquid water, with chemical analysis of one region suggesting a lake of relatively pure, drinkable, water.

Although there is no liquid water on Mars today, there are still significant amounts of water ice at the polar caps. Scientists estimate that if that ice were melted, it would cover the entire planet in a ten meter-deep ocean.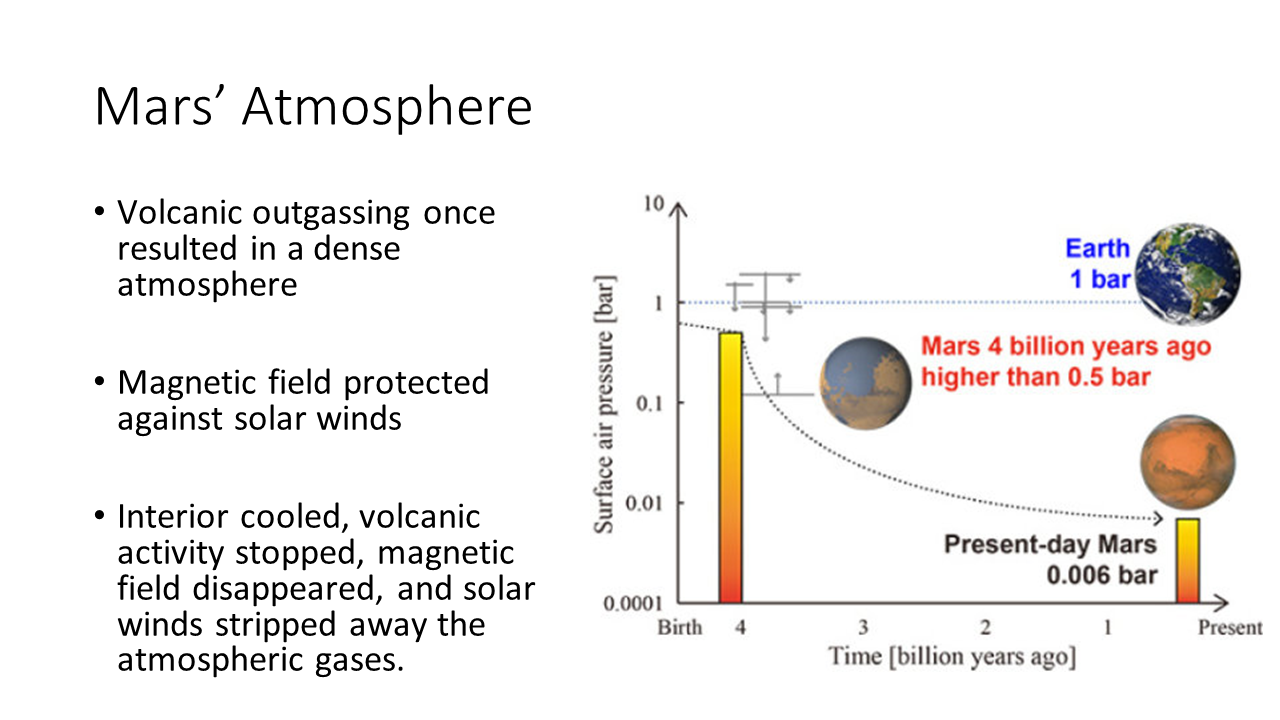 Many scientists believe that billions of years ago, Mars had a dense atmosphere from volcanic outgassing providing water vapor and carbon dioxide. This atmosphere would have created a stronger greenhouse effect than it has today, resulting in warmer surface temperatures.

It is still a mystery how it lost that atmosphere but the most likely problem was the planet's relatively small size. Early in its history, Mars' core was hot enough for volcanic activity and outgassing to provide the gases needed for an atmosphere. The heat in the core was also probably enough to create convection currents resulting in a magnetic field similar to what we have on Earth.

But as the interior cooled, volcanic outgassing stopped, and the magnetic field became weaker and disappeared altogether. Without this magnetic field providing a protective barrier against solar winds, its atmospheric gases were stripped away, the greenhouse effect diminished, and the surface froze.

In other words, if Mars were as large as Earth, maybe it would still have a moderate climate today.