Lesson Objectives:
- Life on Earth
- Water and oxygen
- Plate tectonics
- Climate stability
- Human activity's effect on the planet
- Consequences of global warming
- What makes a planet habitable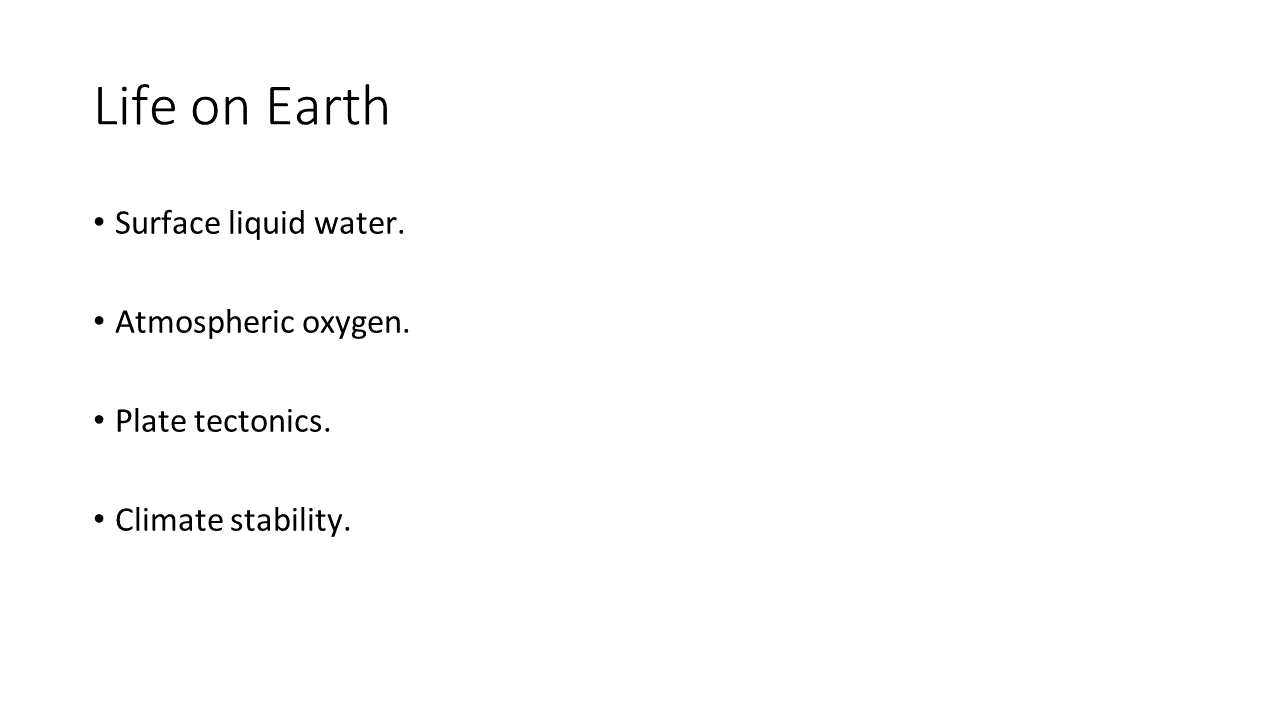 There are four unique features of Earth that allow it to support life as we know it:

The first is surface liquid water. Earth has a surface temperature and atmospheric pressure that allow liquid water to be stable on the surface.

Second is atmospheric oxygen, the presence of oxygen in the atmosphere and an ozone layer.

Third is plate tectonics, which is responsible for most of the Earth's surface features.

Finally, the last feature unique to Earth is its climate stability, the fact that the climate has been stable enough over billions of years to allow for liquid water.

The third and fourth features -- plate tectonics and climate stability -- are closely linked. Climate stability would not exist without our unique system of tectonics.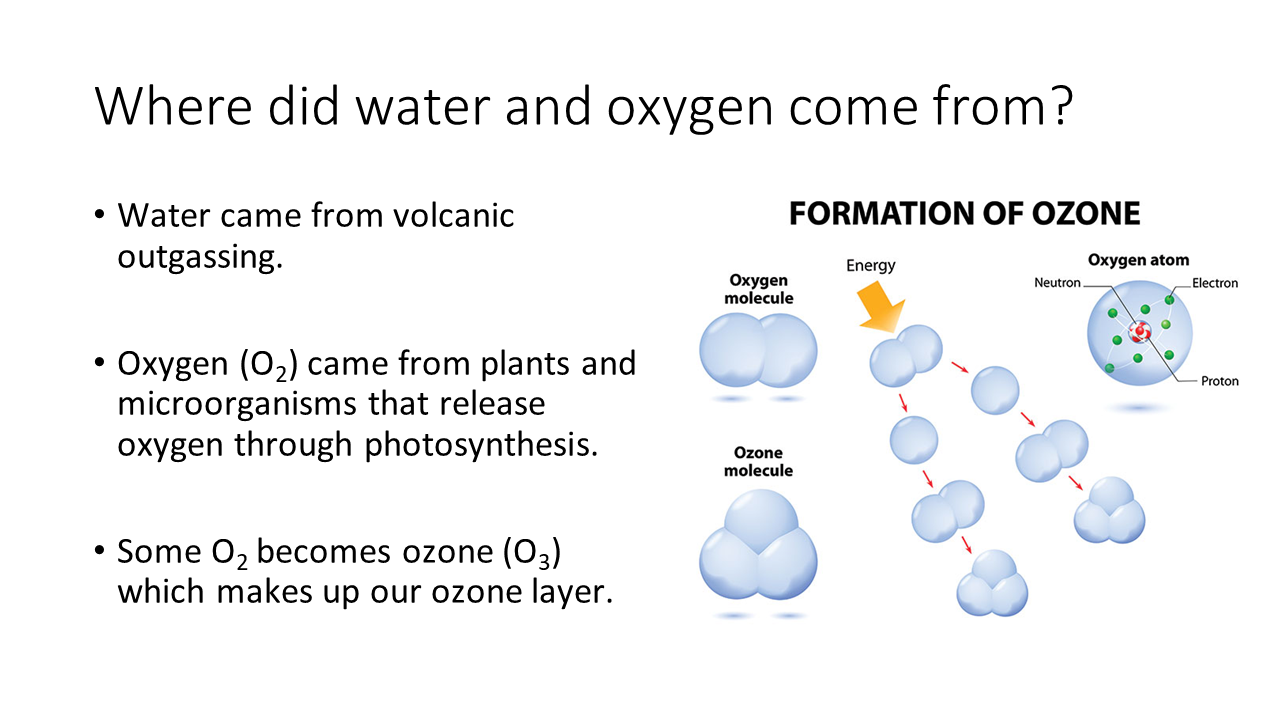 Life as we know it requires water, and animal life requires oxygen.

As we know, water came from volcanic outgassing, and the correct distance from the Sun and the moderate greenhouse effect allowed it to form into oceans without freezing or evaporating.

The oxygen we breathe (O2), however, could not have come from geological processes. Also, oxygen gas is not a stable molecule; it is a highly reactive gas that would gradually disappear from our atmosphere if it were not continually replenished. How, then, does it make up 21% of our atmosphere?

Plants and many microorganisms release oxygen through photosynthesis. Basically all of Earth's oxygen was originally released by photosynthetic life, and they continue to produce oxygen to maintain its level in the atmosphere.

Some of that ordinary oxygen (O2) becomes ozone (O3) which makes up our ozone layer that is critical to protecting life on Earth.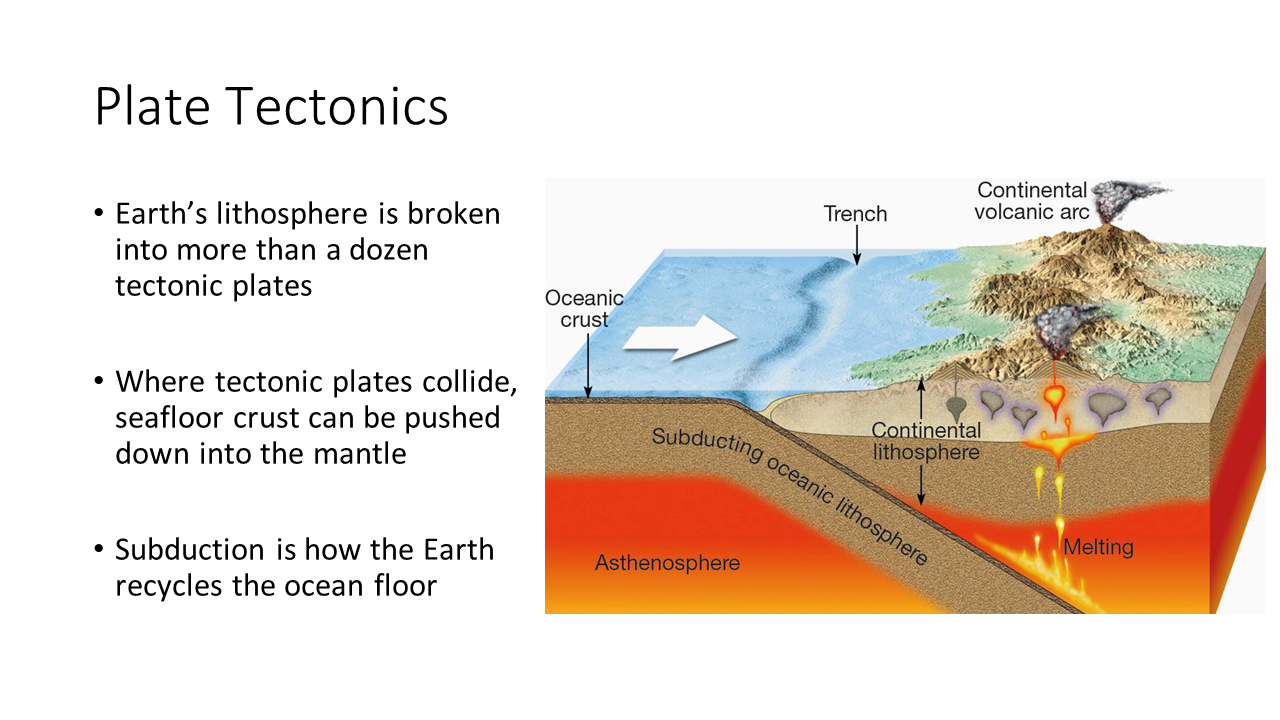 The Earth's lithosphere is broken into more than a dozen plates that slowly move about in a process known as plate tectonics. Where these plates meet and collide, some of the seafloor crust is pushed under continental plates in a process called subduction. This crust that gets pushed under can melt and sink into the mantle.

This process of subduction acts to recycle the ocean floor, as old ocean floor descends into the mantle and gets melted down, and then eventually erupts back to the surface as molten rock.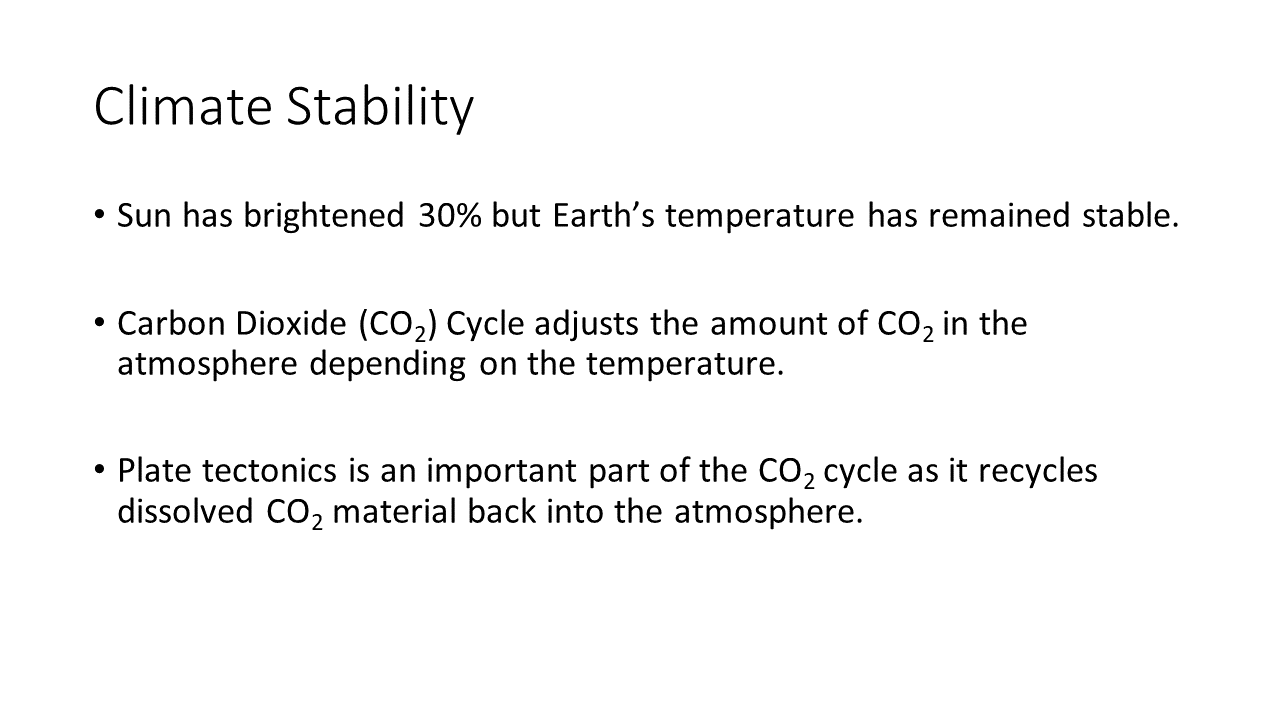 Climate stability has clearly been critical to life on Earth. Venus is too hot for life as the result of a runaway greenhouse effect while Mars is too cold due to a lack of atmosphere.

The amazing mystery of Earth's climate stability is that the Sun has brightened about thirty percent in the last 4 billion years, while Earth's temperature has remained relatively stable.

The answer to that mystery is a mechanism by which the Earth's greenhouse effect adapts to changes in temperature. This mechanism is called the carbon dioxide cycle, or CO2 cycle.

In this cycle, carbon dioxide enters the atmosphere through volcanic outgassing. Increased carbon dioxide in the atmosphere means an increased greenhouse effect which increases temperatures. As temperatures increase, more water evaporates and there is greater rainfall. The rainfall pulls the CO2 out of the atmosphere, reducing the greenhouse effect and causing the planet to cool down.

The dissolved CO2 forms into carbonate rocks which then get pushed down into the mantle through the process of subduction. The whole cycle starts over as these carbonate rocks melt down and the CO2 is recycled back into the atmosphere through volcanic outgassing.

Now you can see how Earth's unique system of plate tectonics and subduction makes the carbon dioxide cycle possible.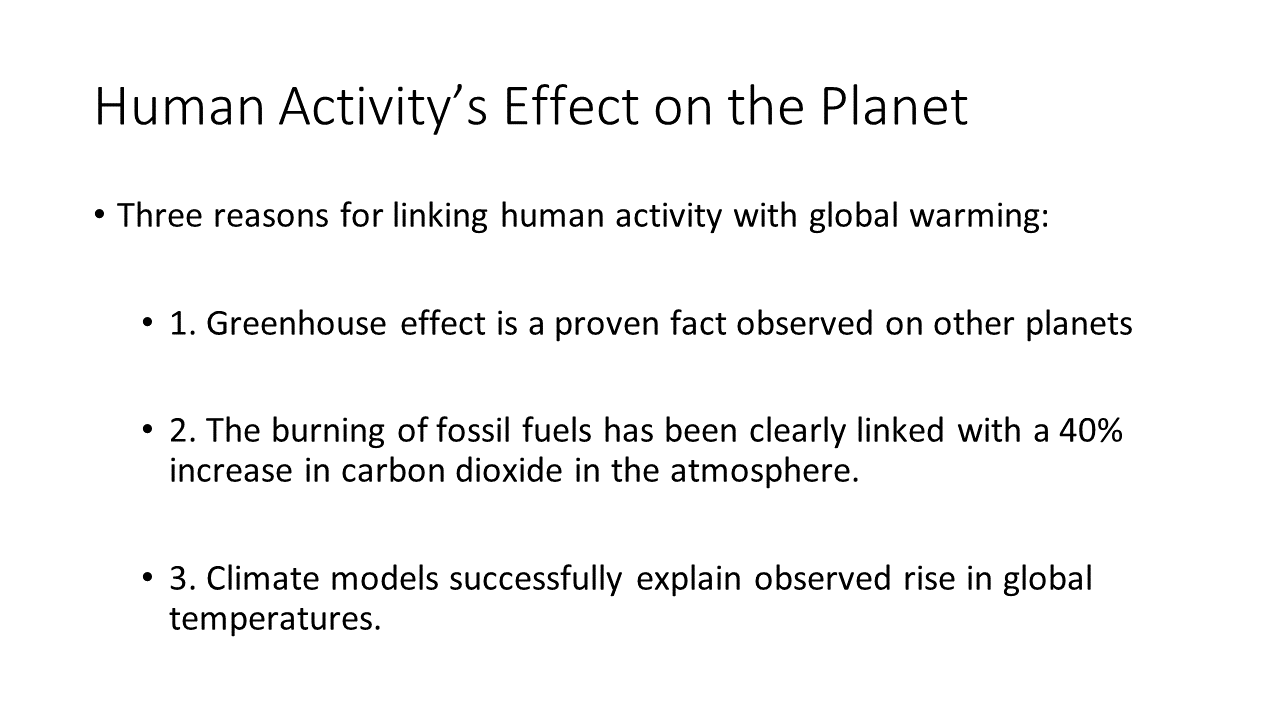 The planet can self-regulate climate over long time scales, but in the short term, human activity can increase greenhouse gases rapidly enough to dramatically change Earth's climate.

Global warming can be linked to human activity instead of purely natural causes due to three reasons:

First of all, the greenhouse effect has reliably explained surface temperatures on other planets, so we can be sure that the greenhouse effect would have the same effect on Earth's temperatures.

Second, human activity, particularly the burning of fossil fuels, has increased the amount of carbon dioxide in the atmosphere by 40% over what it was before the industrial revolution. We can be sure this added carbon dioxide is the result of fossil fuels since it carries a distinct ratio of CO2 isotopes that is only found from the burning of fossil fuels.

Finally, climate models have been developed that take into account the enhanced greenhouse effect from human production of greenhouse gases, and these models match up with the observed rise in global temperatures.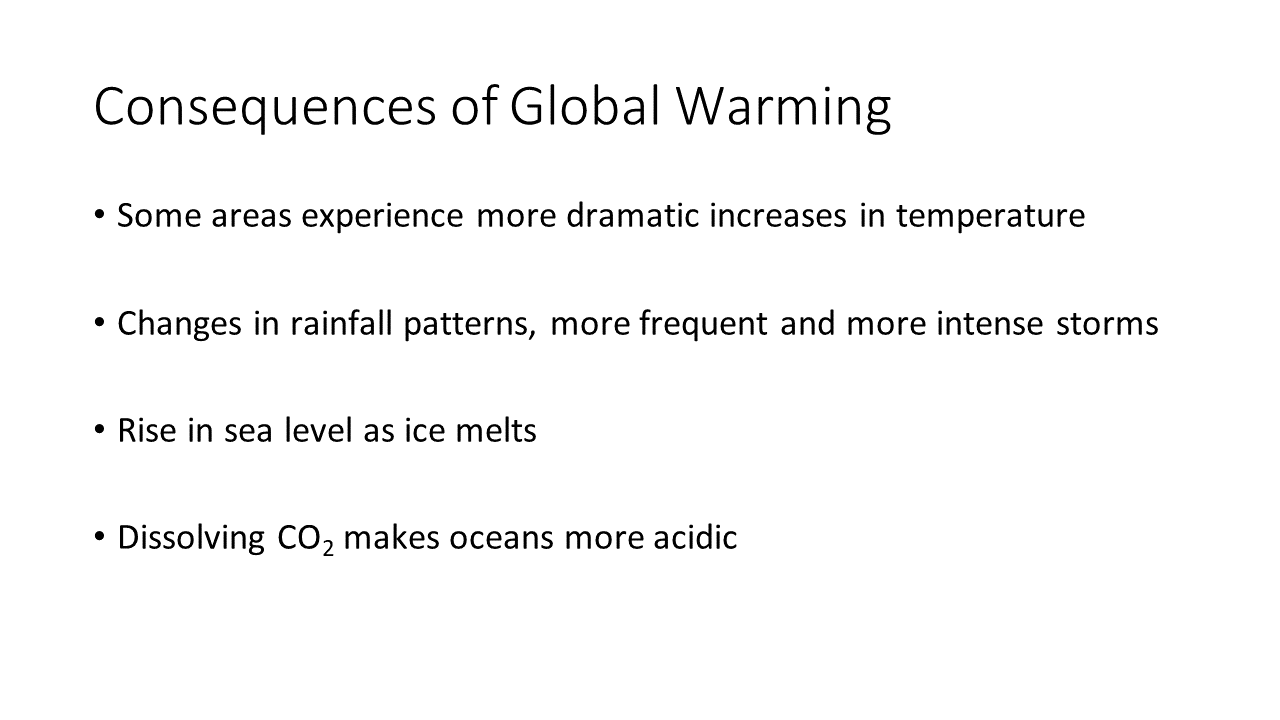 Global warming does not affect all regions equally. Some areas experience more dramatic increases in average temperature.

Increases in temperature can result in many unexpected consequences.

Global warming can cause changes in rainfall patterns, leading to more periods of prolonged drought and increased occurrence of wildfires.

Increased energy in the atmosphere and increased evaporation from the oceans may result in more frequent and more intense storms.

Global warming can also lead to a rise in sea level as ice melts.

Finally, about thirty percent of the carbon dioxide released into the atmosphere dissolves in the oceans, undergoes chemical reactions, and makes the oceans more acidic, harming ocean life.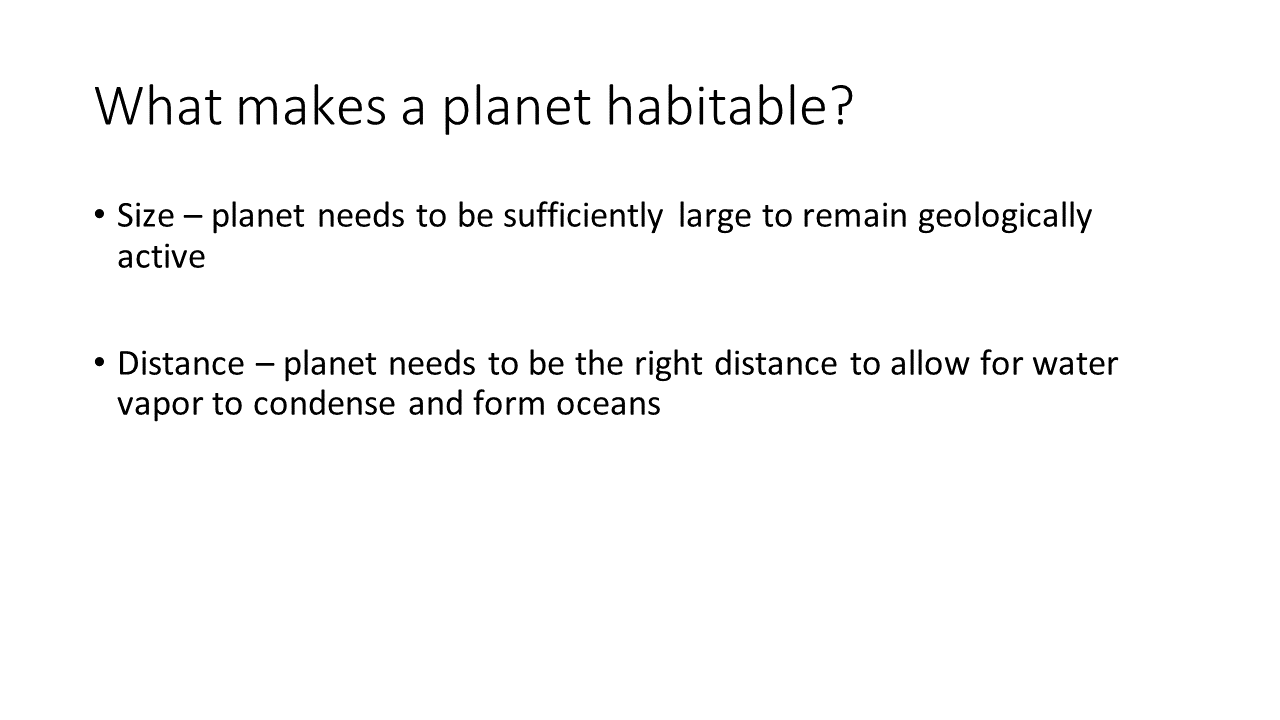 Our study of the terrestrial worlds tells us that there are two crucial ingredients to making a habitable planet.

First, the planet needs to be large enough to retain internal heat and remain geologically active. This allows volcanic outgassing to supply the water and gases to form an atmosphere, and it also allows the core to generate a protective magnetic field, or magnetosphere.

Second, the planet needs to be at the right distance from the Sun to allow for water vapor to condense and rain down to form oceans, creating a carbon dioxide cycle to regulate the climate and the greenhouse effect.

Knowing these criteria about a planet's size and distance from its star allows astronomers to study distant terrestrial worlds around other stars and make predictions as to whether they could support life.