Lesson Objectives:
- Composition of jovian planets
- Jovian planet interiors
- Weather on jovian planets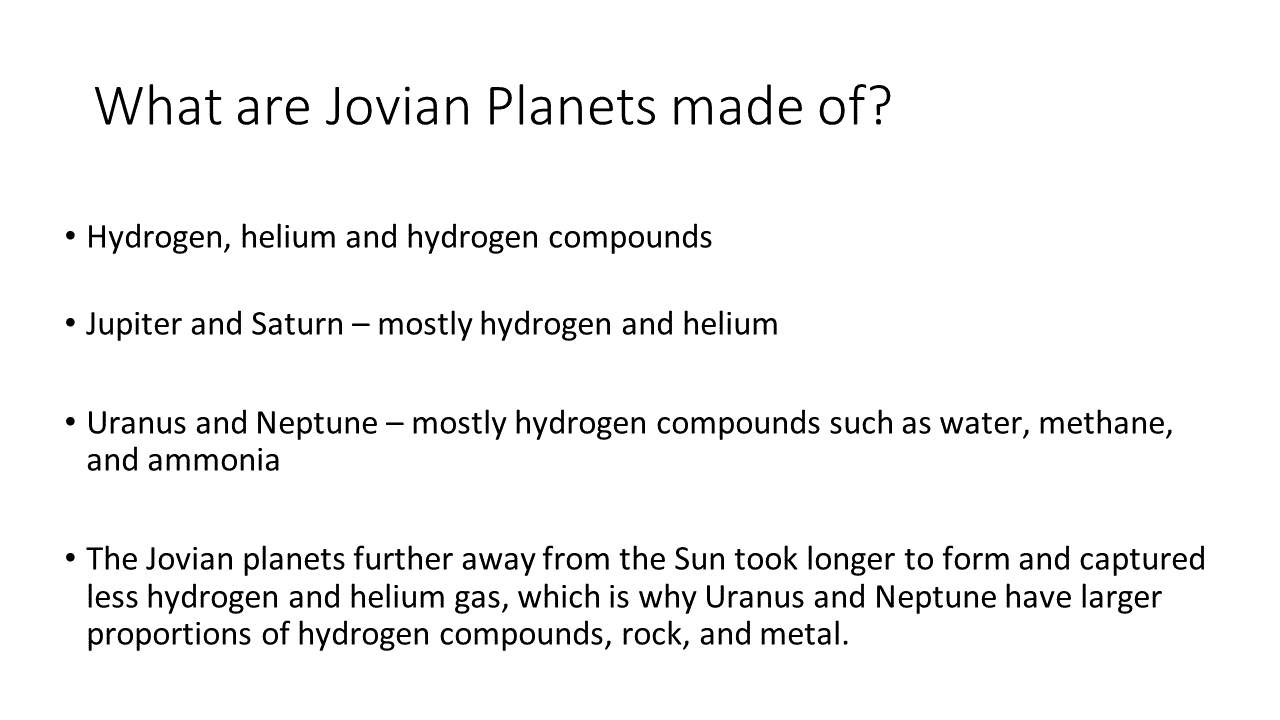 Jovian planets are mostly made of hydrogen, helium, and hydrogen compounds, but their proportions of these substances are quite different.

Jupiter and Saturn are made mostly of hydrogen and helium, making their composition more similar to the Sun than to any of the terrestrial planets.

In fact, Jupiter is sometimes called a "failed star" because it has the composition of a star but does not have the nuclear fusion needed to shine. That is because it is too small; the lowest-mass stars are about eighty times more massive than Jupiter. Due to their great mass, stars have much stronger gravitational forces that compress their interiors to the temperatures and densities needed to cause nuclear fusion.

Uranus and Neptune are smaller than Jupiter and Saturn and have one major difference in their compositions. Whereas Jupiter and Saturn are mostly made of hydrogen and helium, Uranus and Neptune have much lower proportions of these two gases. Their compositions consist mainly of hydrogen compounds such as water, methane, and ammonia.

The difference in composition can be traced back to their origins. Recall that the Jovian planets formed in the outer solar system (beyond the frost line) where it is cold enough that hydrogen compounds condense into ice. Since there was such an abundance of hydrogen compounds, some planetesimals grew massive enough that their gravity enabled them to draw in hydrogen and helium gas nearby. Both Jupiter and Saturn captured so much hydrogen and helium gas that the original ice-rich planetesimals from which they grew are only 3% of Jupiter's mass and 10% of Saturn's mass.

The Jovian planets further away from the Sun took longer to form and captured less hydrogen and helium gas, which is why Uranus and Neptune have a lot less Hydrogen and Helium and are a lot smaller than Jupiter and Saturn.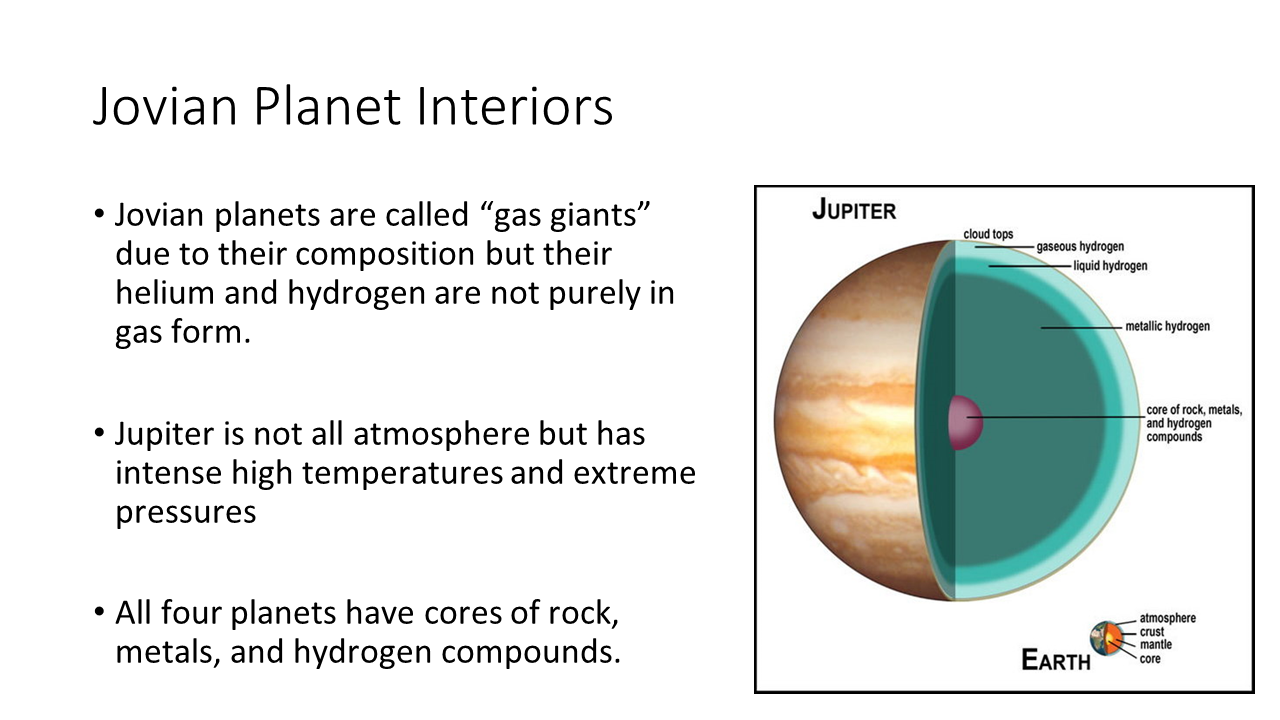 Jovian planets are often called "gas giants" because of their composition and their lack of solid surfaces, but due to the high pressures inside of them, they are not really balls of gas.

Jupiter, for example, has a layer of hydrogen and helium in gas form in its outer layer, which is what we would consider its atmosphere. But as you go deeper, high pressures compress the hydrogen into liquid form and then as the pressures get extreme, the hydrogen is forced into a liquid metallic form.

Saturn has similar layering to Jupiter but since it is not as massive, you have to go deeper into the planet for the pressures to get high enough to compress hydrogen into non-gas forms.

Uranus and Neptune do not have high enough pressures to form liquid or metallic hydrogen so they consist of a core of rocks, metals, and hydrogen compounds surrounded by a thick layer of gaseous hydrogen.

All four jovian planets have strong magnetic fields, with Jupiter having a magnetic field 20,000 times as strong as Earth's. Jupiter and Saturn's magnetic fields are generated in their thick layers of metallic hydrogen, while Uranus and Neptune must generate their fields in their cores.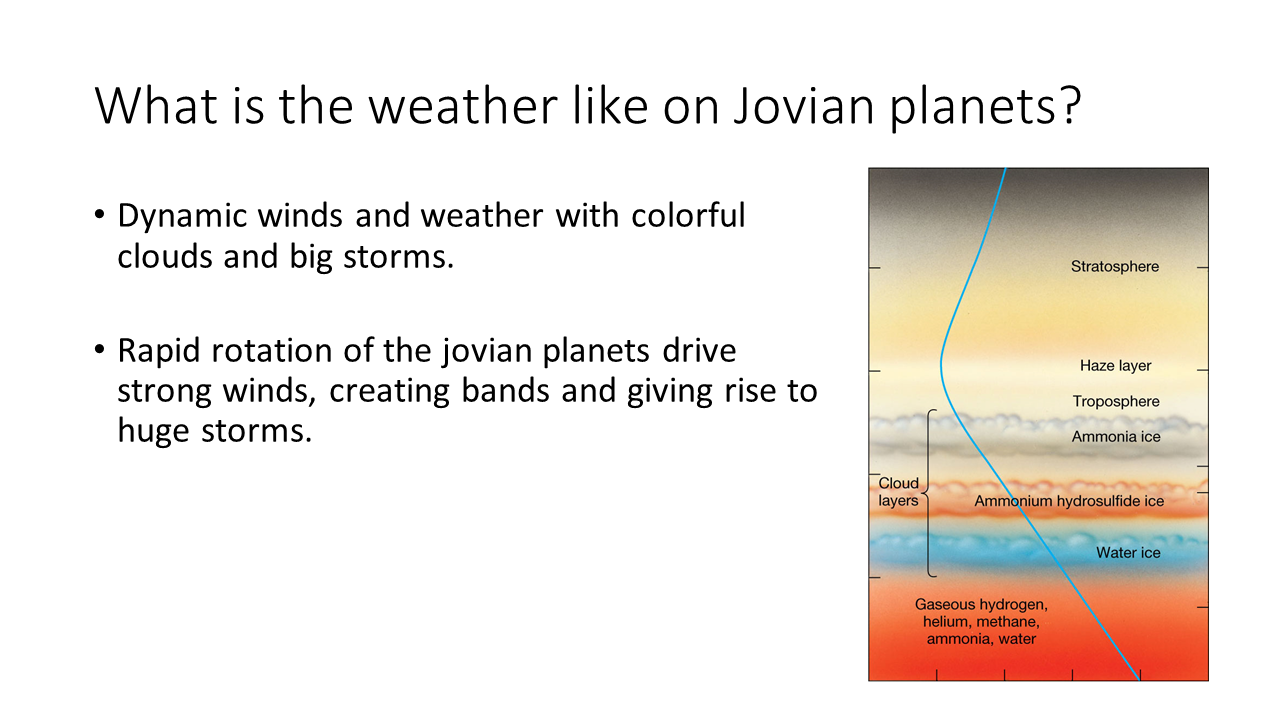 Weather on the jovian planets is not only powered by energy from the Sun but also by heat generated from within the planets themselves. It is unknown exactly how this internal heat is generated.

The colors of the planets are determined by their clouds. On Jupiter and Saturn, there are three different layers of clouds -- the outermost layer is of ammonia, the next layer is of ammonium hydrosulfide, and the third layer is of water. The ammonium hydrosulfide clouds reflect brown and red light so they look reddish-brown.

Jupiter has a distinct, striped appearance because it has bands of rising and falling air which shape the clouds into stripes. The white bands are white clouds of ammonia. The reddish-brown clouds are ammonium hydrosulfide. Due to its fast rotation and large size, it often has east-west winds that are moving at over 250 miles per hour!

All of the jovian planets show numerous storms. Jupiter is also famous for its Great Red Spot, which is a huge, high-pressure storm that has lasted for centuries. Saturn and Neptune both have banded appearances due to rapid rotation and strong east-west winds.