Lesson Objectives:
- The Jovian planets' moons
- Jupiter's moons
- The other moons
- Jovian planet rings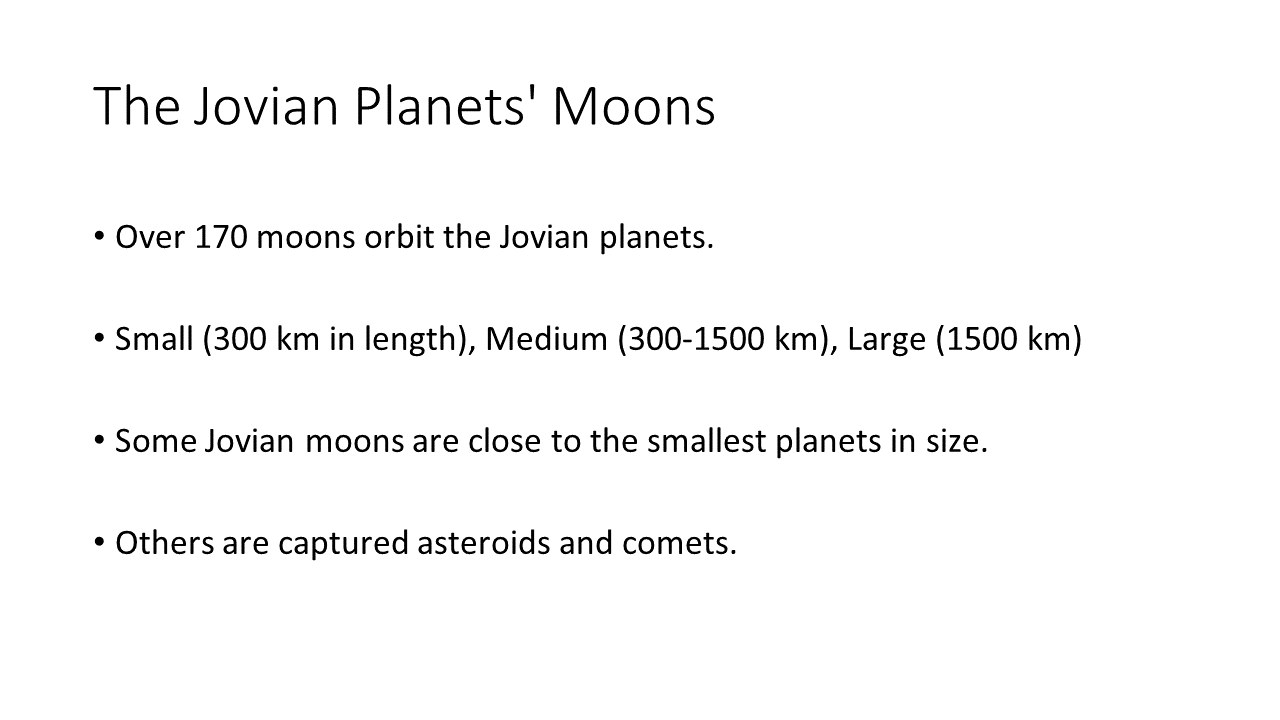 There are at least 170 moons orbiting the jovian planets. Jupiter and Saturn have more than 60 each.

Jovian moons are categorized by size (small, medium, and large) because as we learned with the terrestrial worlds, size relates to geological activity.

The two largest moons in the solar system are Jupiter's moon Ganymede and Saturn's moon Titan and are both larger than the planet Mercury.

The medium and large moons are all spherical with a solid surface, but because they formed in the cold outer solar system, they contain substantial amounts of ice in addition to metal and rock.

The small moons are too small for their gravities to have forced them into spheres and are basically just chunks of ice and rock held captive by the gravity of their planet.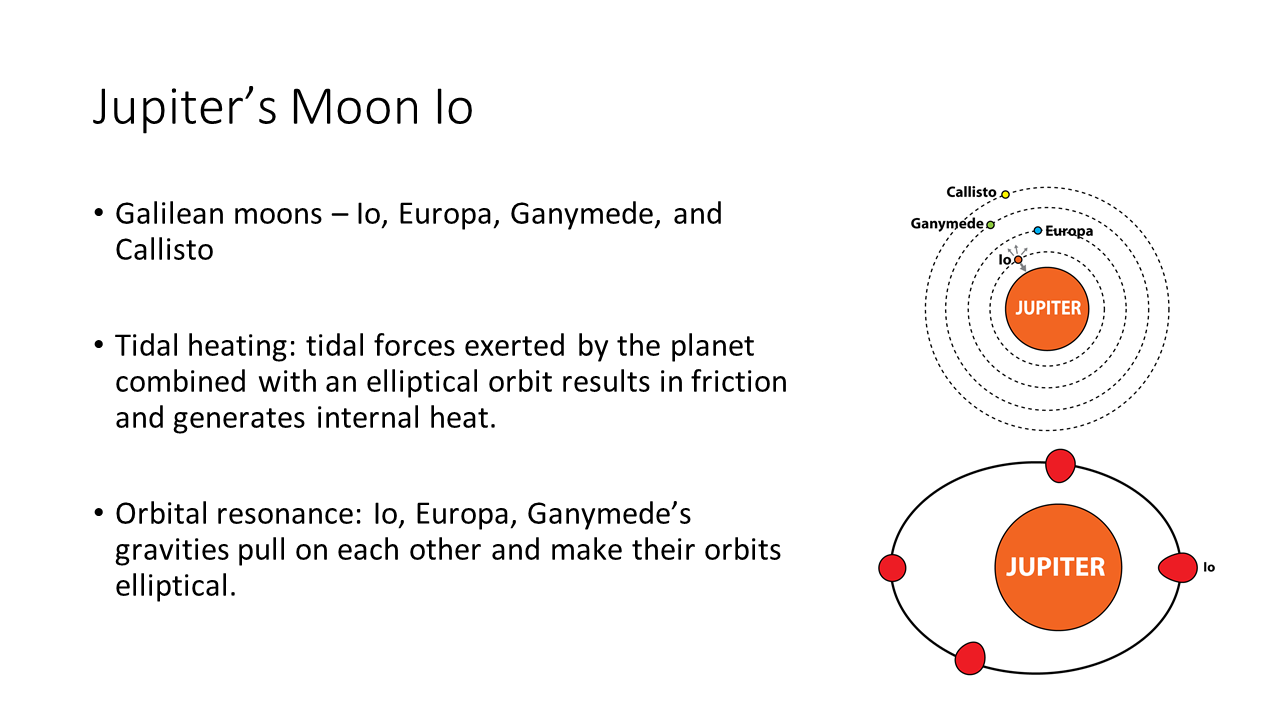 Jupiter's four largest moons are called the Galilean moons since they were discovered by Galileo. They are each large enough that they would be classified as planets or dwarf planets if they independently orbited the Sun.

Of these four moons, the one with the closest orbit to Jupiter is Io (pronounced EYE-oh). It is the most volcanically active world in our solar system, with many visible volcanoes that are so active they have buried virtually every impact crater. Io is about the size of our moon but obviously still has immense internal heat for it to be so geologically active.

This internal heat is due to tidal heating. Just like our Moon exerts tidal forces on the Earth which stretch and push our oceans, Jupiter exerts a tidal force which is far larger on Io. Due to the fact that Io's orbit around Jupiter is elliptical, the tidal bulges on Io constantly change in size and direction, flexing and stretching the entire mass of the moon. This flexing generates friction which creates tremendous heat in the interior of Io.

Three of Jupiter's largest moons have elliptical orbits and therefore experience tidal heating -- Io, Europa, and Ganymede. Why do these three have elliptical orbits while almost all of the other moons have nearly circular orbits? That is because these three moons line up in their orbits periodically, and their gravitational tugs on each other (known as orbital resonance) are enough to stretch out their orbits.




Europa's surface is made almost entirely of water ice. It has few impact craters and appears to have extensive cracks, leading scientists to believe that there is geological activity. Scientists speculate that tidal heating by Jupiter warms the interior of Europa enough to melt a deep ocean of liquid water between its rocky mantle and icy crust, and that there may even be active undersea volcanoes. If all of this is true, Europa could have the potential to harbor life.

Ganymede and Callisto, Jupiter's two other large moons, also have surfaces of water ice. Ganymede has a side that is dark and covered with craters, indicating a lack of geological activity, while other regions are light-colored with few craters. These light-colored areas may suggest that liquid water has recently erupted and frozen.

Callisto, on the other hand, is a heavily cratered ice ball, indicating no recent geological activity.

Studying Ganymede and Callisto's magnetic fields, however, indicate that just like Europa, they may have an ocean of liquid water under their icy crusts.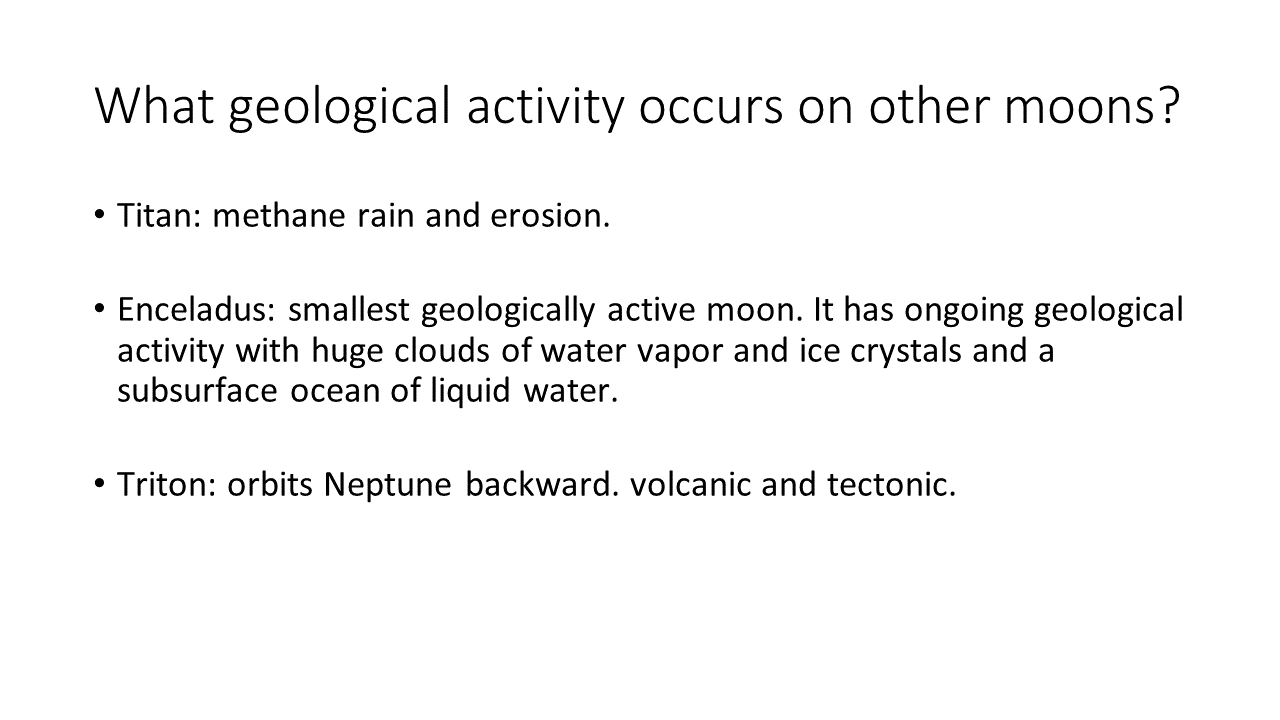 What geological activity occurs on other moons? Titan, Saturn's moon, has a thick atmosphere that leads to methane rain and erosional geology.

Enceladus is the smallest geologically active moon and has ongoing geological activity with huge clouds of water vapor and ice crystals and a subsurface ocean of liquid water.

Triton, Neptune's moon, orbits Neptune backwards and shows recent geological activity. It has areas of past volcanism and also tectonic regions.

Why are jovian moons more geologically active than small terrestrial planets? The answer is a combination of tidal heating and their ice-heavy composition. Ice can melt and deform at a much lower temperature than rock, meaning it does not take as much internal heat to generate geological activity.

Tidal heating combined with easy melting and deformation of ice has made it possible for even icy moons of the Jovian planets to sustain geological activity.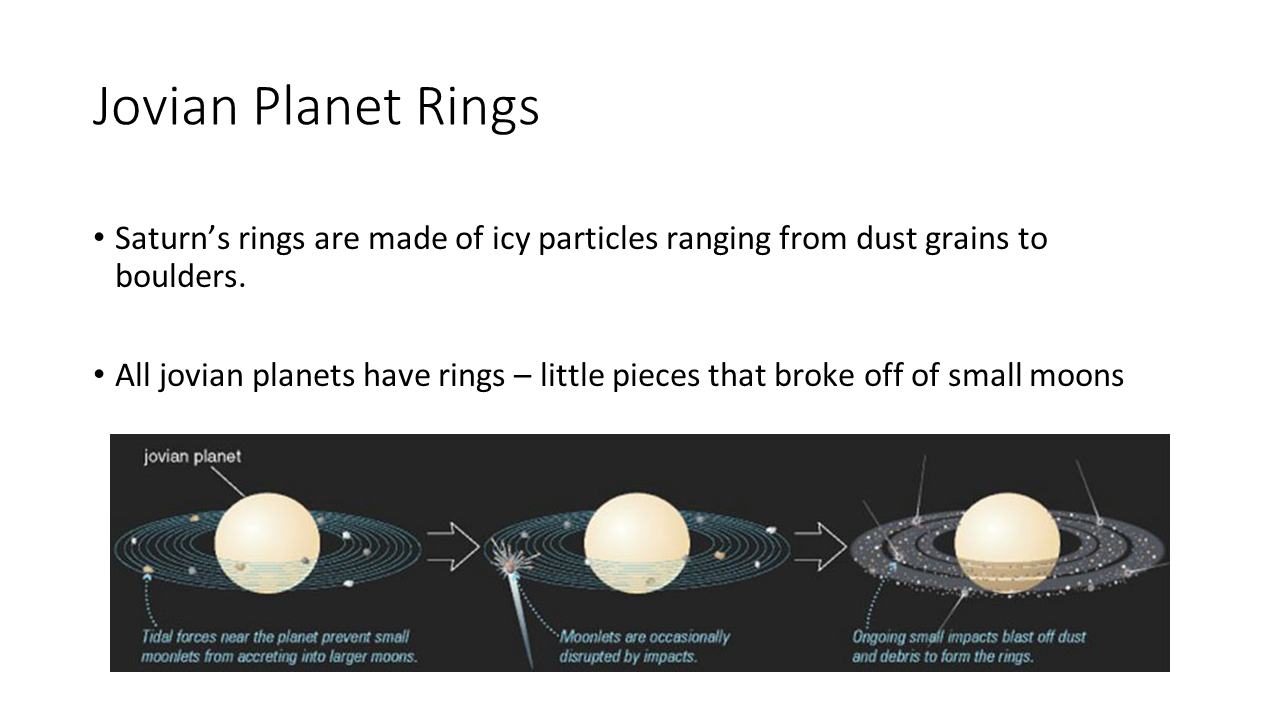 What are Saturn's rings like? The rings look solid but are actually many individual rings of countless icy particles ranging in size from dust grains to large boulders. Spectroscopy shows that these particles are mostly made of water ice.

All four jovian planets have rings. These rings are believed to have come from small moons that formed during the birth of the solar systems, and periodic impacts break off pieces of these small moons which join the rings.