Lesson Objectives:
- Asteroids and comets
- Dwarf planets
- Meteors and meteorites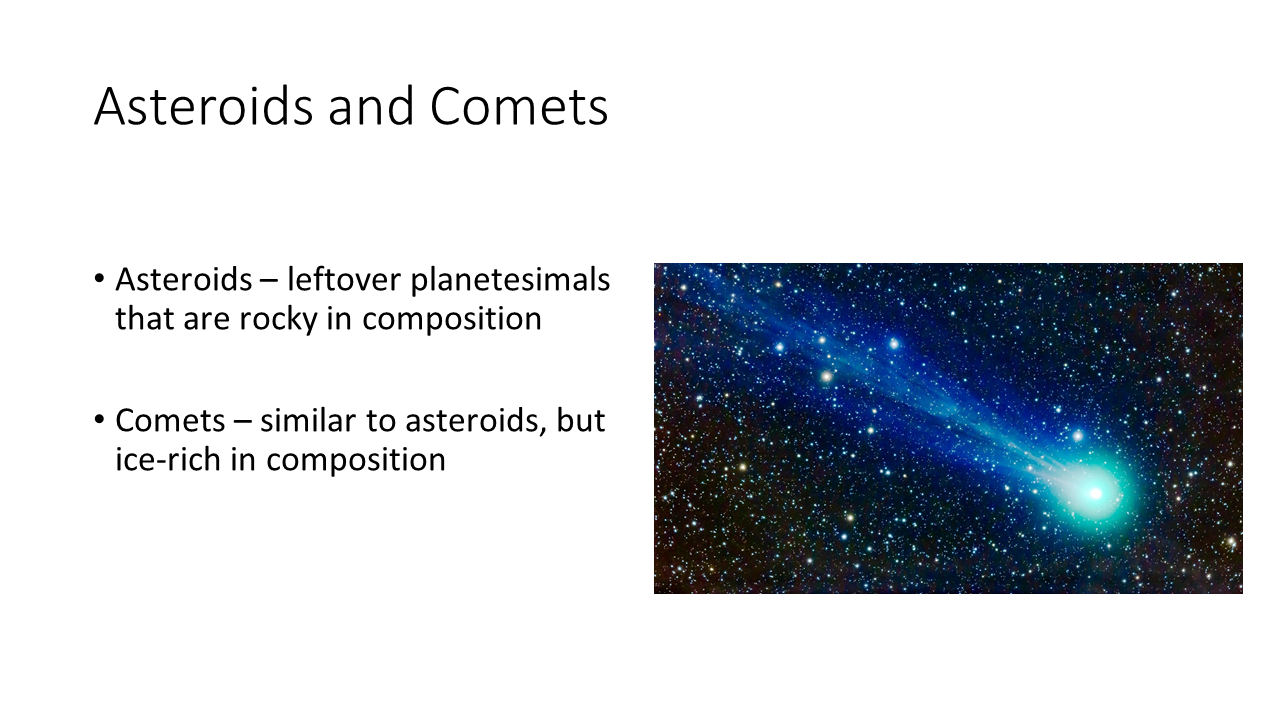 Beyond planets and moons, there are many smaller objects orbiting our Sun, ranging in size from small particles to dwarf planets like Pluto.

There are several terms used to categorize these objects based on their size and composition.

The objects too small to be planets, basically leftover planetesimals from the formation of our solar system, are called asteroids and comets. Asteroids are the small objects that are rocky in composition, while comets are the ones that are ice-rich.

Most asteroids lie in the asteroid belt between Mars and Jupiter, while most comets are at the outer reaches of our solar system beyond Neptune's orbit -- in the Kuiper belt and the Oort cloud.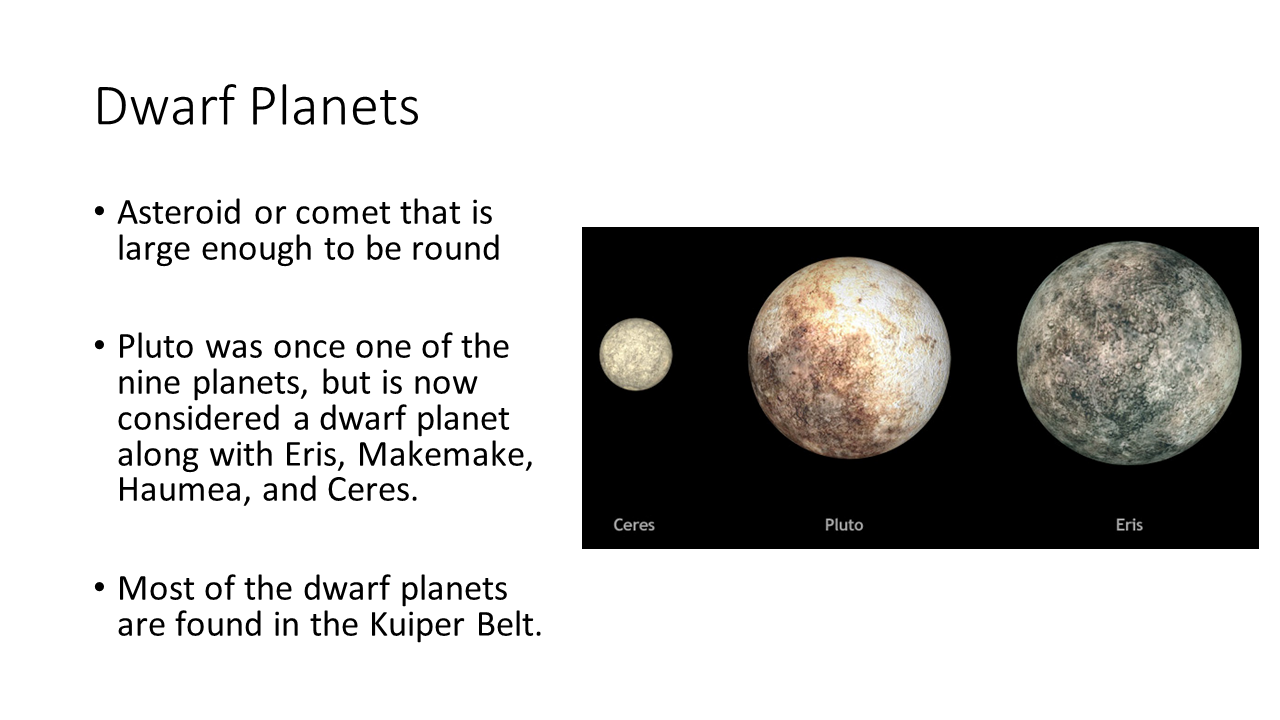 The dwarf planet category was not created until 2006 and is basically an asteroid or comet that is large enough to be round. As we have discussed previously, once an object gains a certain amount of size and mass, its gravity will become strong enough to force it into a spherical shape.

Pluto is the most famous of the dwarf planets since for over seventy years, it was considered to be one of the nine planets in our solar system. However, the discovery of Eris, another object roughly the same size as Pluto, along with other similar large objects out in the Kuiper belt, led scientists to realize that Pluto is not very unique in its part of the solar system. If Pluto is to be considered a planet, then there are numerous other large objects out in the Kuiper belt that would have to be considered planets as well.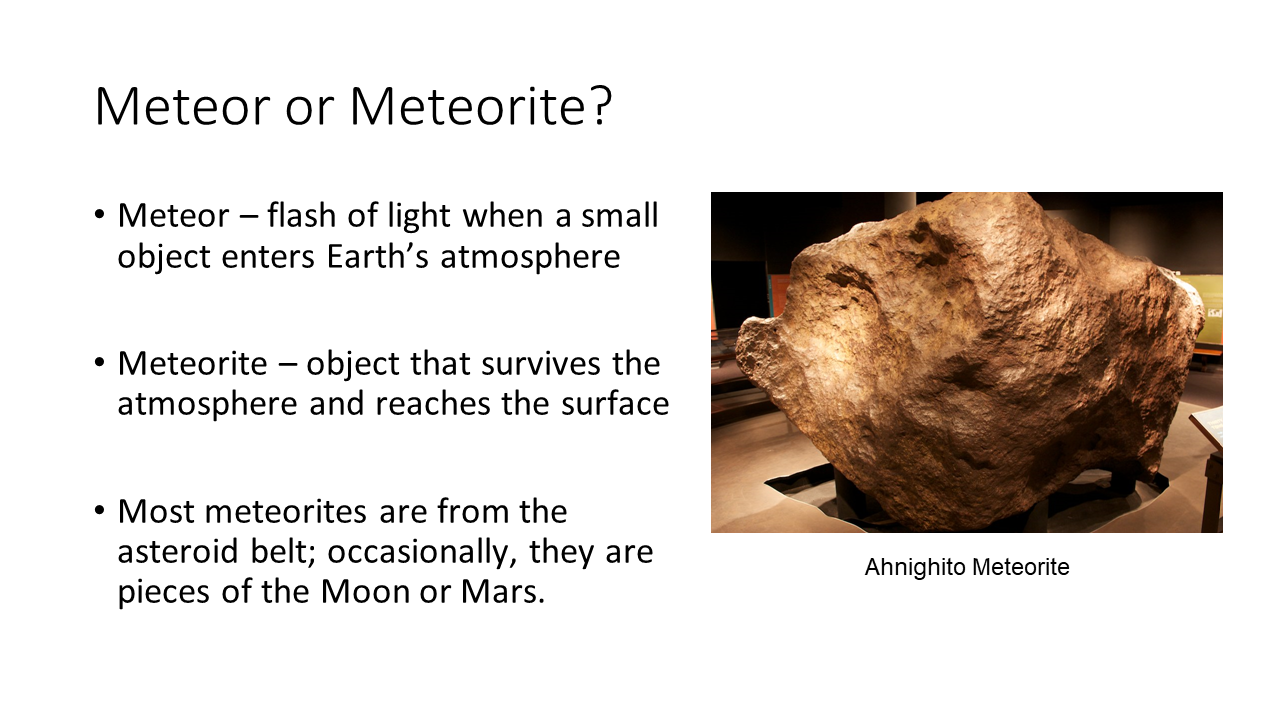 When a small object enters our atmosphere, it causes a flash of light known as a "meteor." The meteor refers to the flash of light -- not the object itself.

In the rare cases that the object is big enough to survive its passage through our atmosphere and reach the surface, it is called a meteorite.

Most meteorites are pieces of asteroids from the asteroid belt, but occasionally, they are pieces that were chipped off of the Moon or Mars.