Lesson Objectives:
- The extinction of the dinosaurs
- Impact risk today
- Jovian planets and cosmic collisions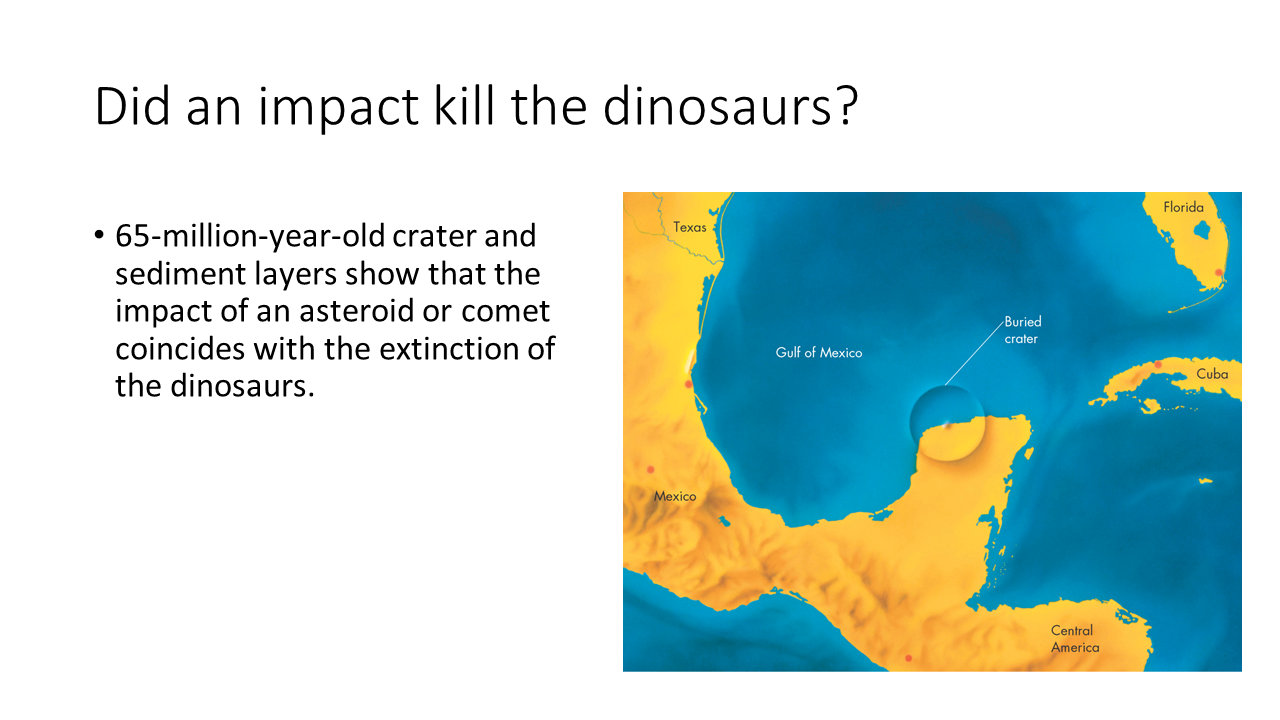 More than 150 impact craters have been identified on our planet, but one impact in particular may have altered the course of life on Earth.

That impact was one that occurred about 65 million years ago. Scientists have identified a 65-million-year-old crater in Mexico, apparently created by the impact of an asteroid or a comet measuring about 10 kilometers across.

Sediment from that impact has been found in sedimentary rock layers around the world. This sediment is unusually rich in iridium, which is a metal that is rare on Earth's surface but common in meteorites.

Since the time the dinosaurs went extinct coincides with this impact, it has led to the hypothesis that the asteroid or comet's impact is what caused the extinction of the dinosaurs.

The impact was as strong as the force of a hundred million hydrogen bombs. The most astonishing fact is that some animals especially small mammals and plants survived.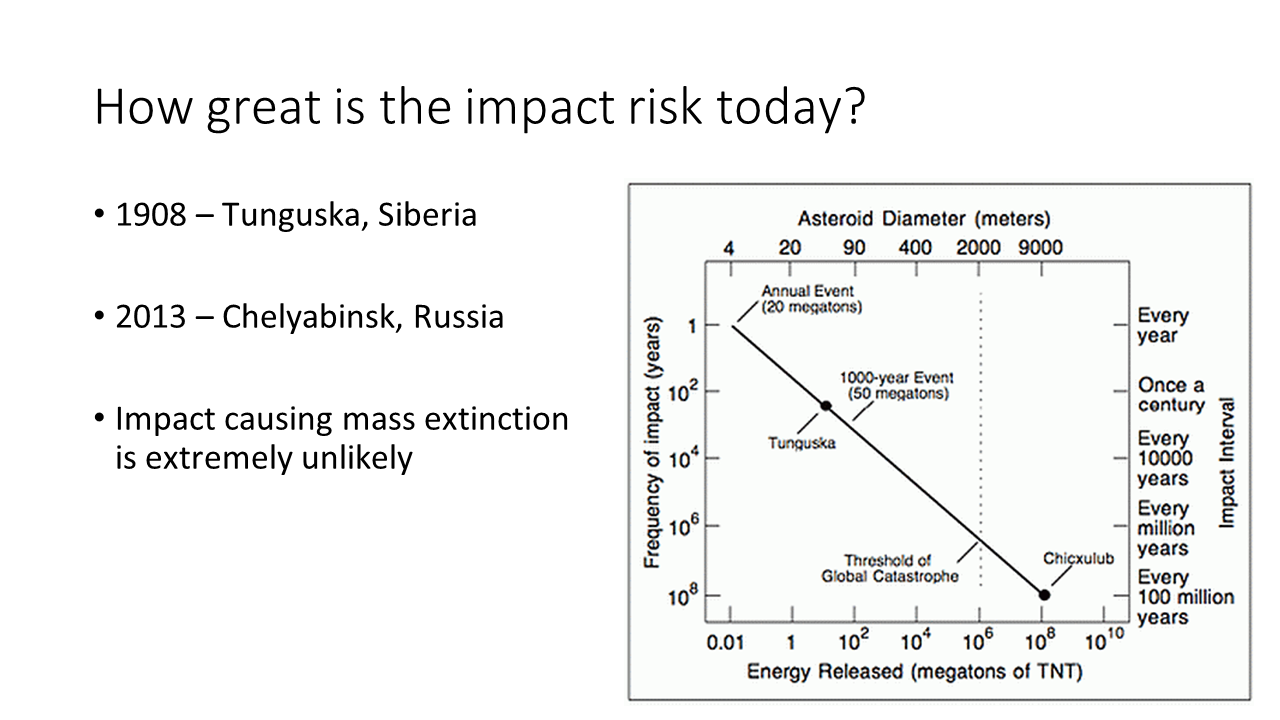 In 1908, a small asteroid exploded over Tunguska, Siberia, releasing energy equivalent to several atomic bombs. In 2013, another asteroid detonated 30 kilometers in the air over Russia with the power of a 500-kiloton nuclear bomb, injuring over a thousand people.

Major impacts on the scale of the one that ended the dinosaurs should only occur millions of years apart, but meteorites like the one that exploded over Tunguska, Siberia strike the Earth every couple hundred years or so. If such a meteorite were to hit a population center, it would have a devastating effect.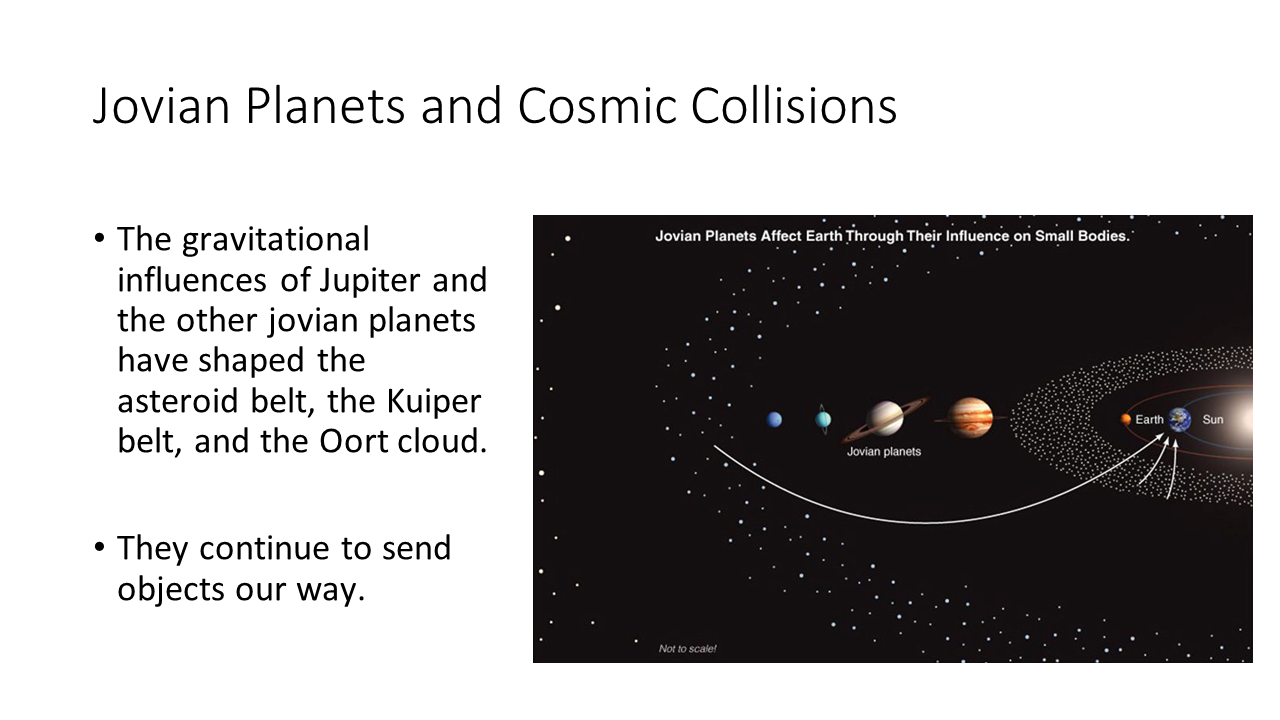 How do the Jovian planets affect impact rates and life on Earth? Nearly every asteroid or comet that has ever struck Earth came our way through the influence of the Jovian planets.

As we discussed previously, the jovian planets -- Jupiter, in particular -- have shaped the orbits of asteroids and comets throughout the solar system's history.

Jupiter's gravity prevented the rocky planetesimals outside of Mars's orbit from forming into a planet and is responsible for the formation of the asteroid belt. The jovian planets also ejected icy planetesimals to form the Oort cloud of comets, and orbital resonances with Neptune continue to shape the orbits of comets in the Kuiper belt.

Today, Jupiter and the other jovian planets still nudge objects towards the inner solar system, sometimes on a collision course with Earth.