Lesson Objectives:
- Properties we can measure for extrasolar planets
- General conclusions about extrasolar planets
- How extrasolar planets are different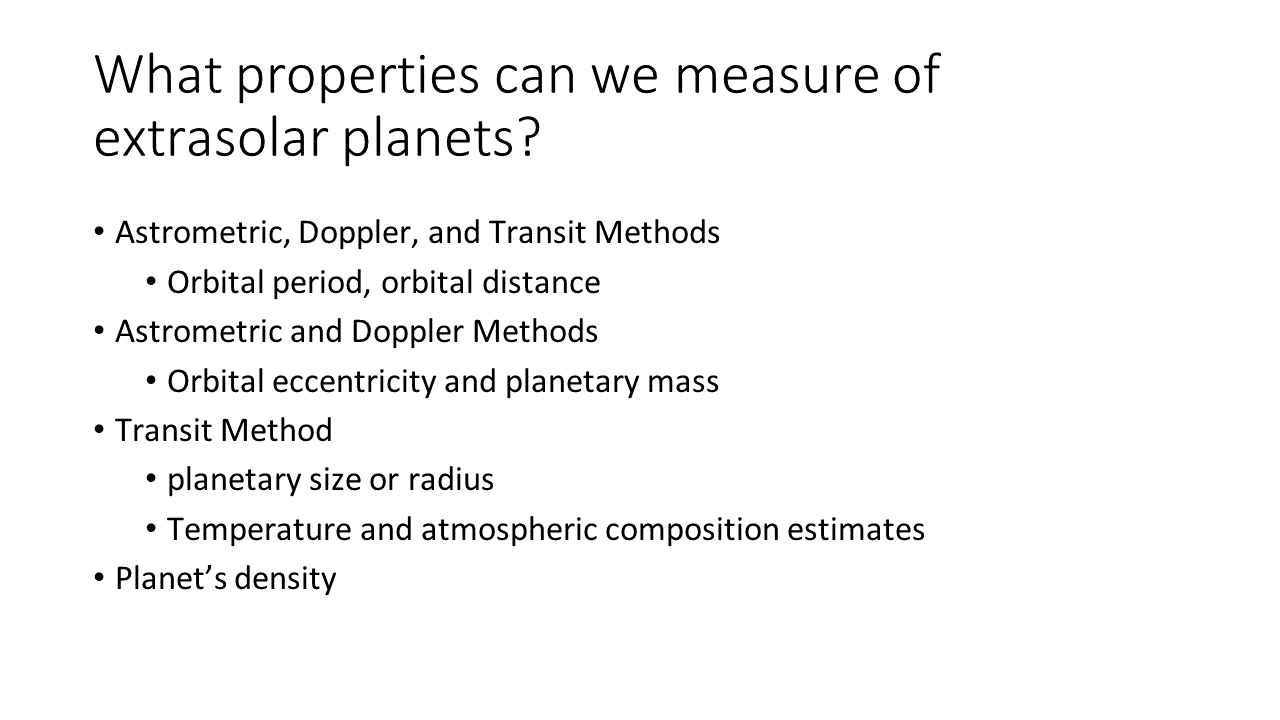 The properties that we can measure for an extrasolar planet depend on which indirect methods of detection we use.

All three indirect methods -- the astrometric, Doppler, and transit methods -- will tell us a planet's orbital period, from which we can determine the average orbital distance.

The astrometric and Doppler methods will also allow us to determine orbital eccentricity, which is how stretched out a planet's orbit is, and estimate planetary mass.

The transit method allows us to measure a planet's size or radius based on how much of a star's light it blocks out during transit, and transit and eclipse observations can also provide limited information about a planet's temperature and atmospheric composition.

Finally, if we have a planet's size from the transit method and its mass from one of the two other methods, then we can calculate the planet's density.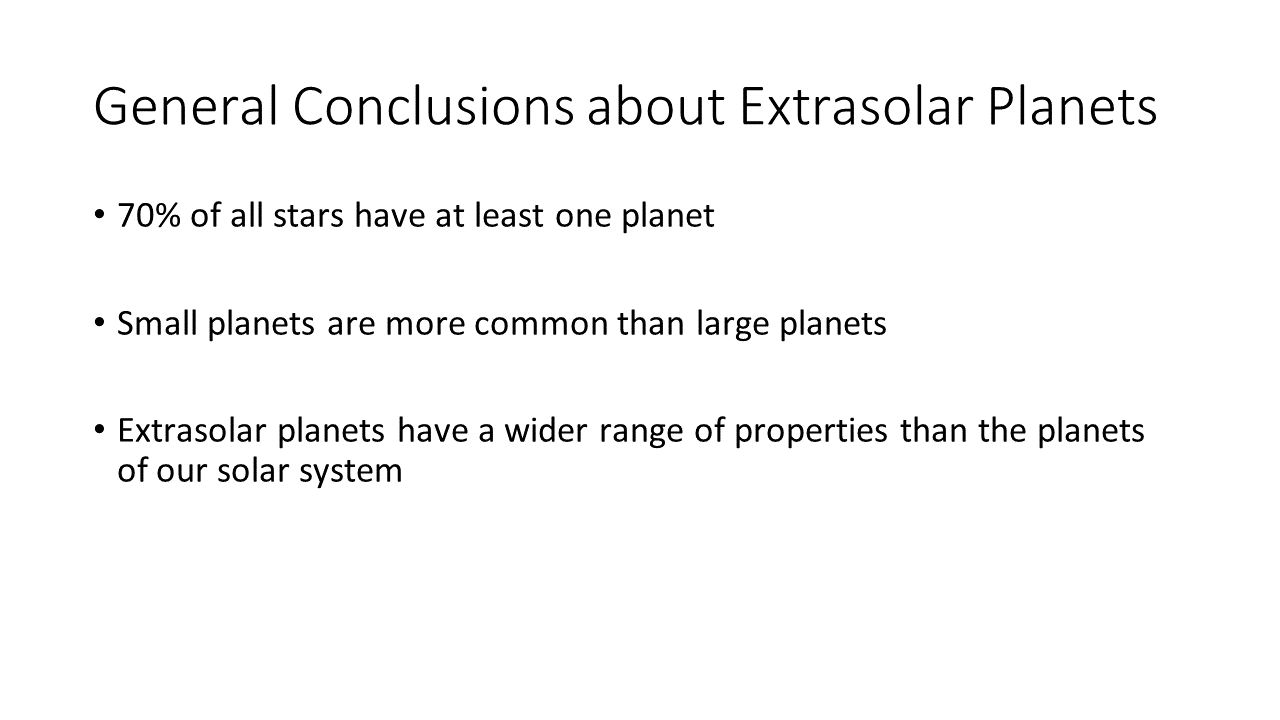 In recent years, the rapid discovery and cataloging of many new planets has allowed scientists to start making some important conclusions about extrasolar planets.

The first conclusion is that planets are common -- at least 70% of all stars have at least one planet.

Another conclusion is that small planets appear to be much more common than large planets, which means Earth-size planets may be very common.

The final conclusion is that extrasolar planets have a much wider range of properties than the planets in our solar system, sometimes in ways that defy our expectations based on what we know about our own solar system.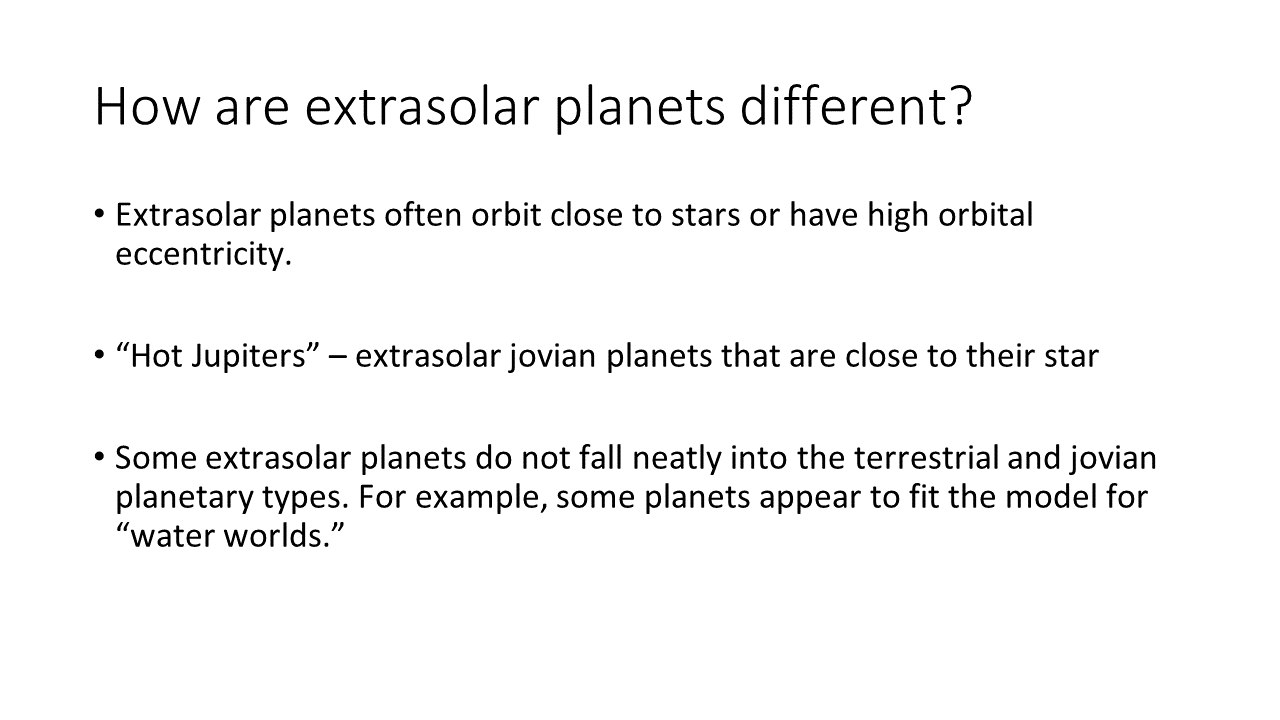 The fact that our indirect methods of detection are much more likely to detect planets that are close to their star with short orbital periods means our data is far from complete, but what we have found has shown some important differences between extrasolar planets and the planets of our solar system.

First of all, many planets orbit very close to their stars -- much closer than Mercury orbits the Sun -- even though they appear to be massive planets like Jupiter. Many of the planets also have relatively large eccentricities in their orbits, in contrast to the nearly circular orbits of our planets.

Both of these characteristics are at odds with what scientists expected based on the nebular theory. Based on the nebular theory, large planets should form farther from a star. High orbital eccentricities are also not easily explained by the nebular theory, which predicts the nearly circular orbits of our solar system's planets.

Going further, other observations of planets' size, mass, and density have revealed that some extrasolar planets defy easy categorization - they do not always fall neatly into the traditional terrestrial and jovian planetary types. For example, some planets appear to fit the model for "water worlds."