Lesson Objectives:
- An overview of comets
- Why do comets have tails?
- Where do comets come from?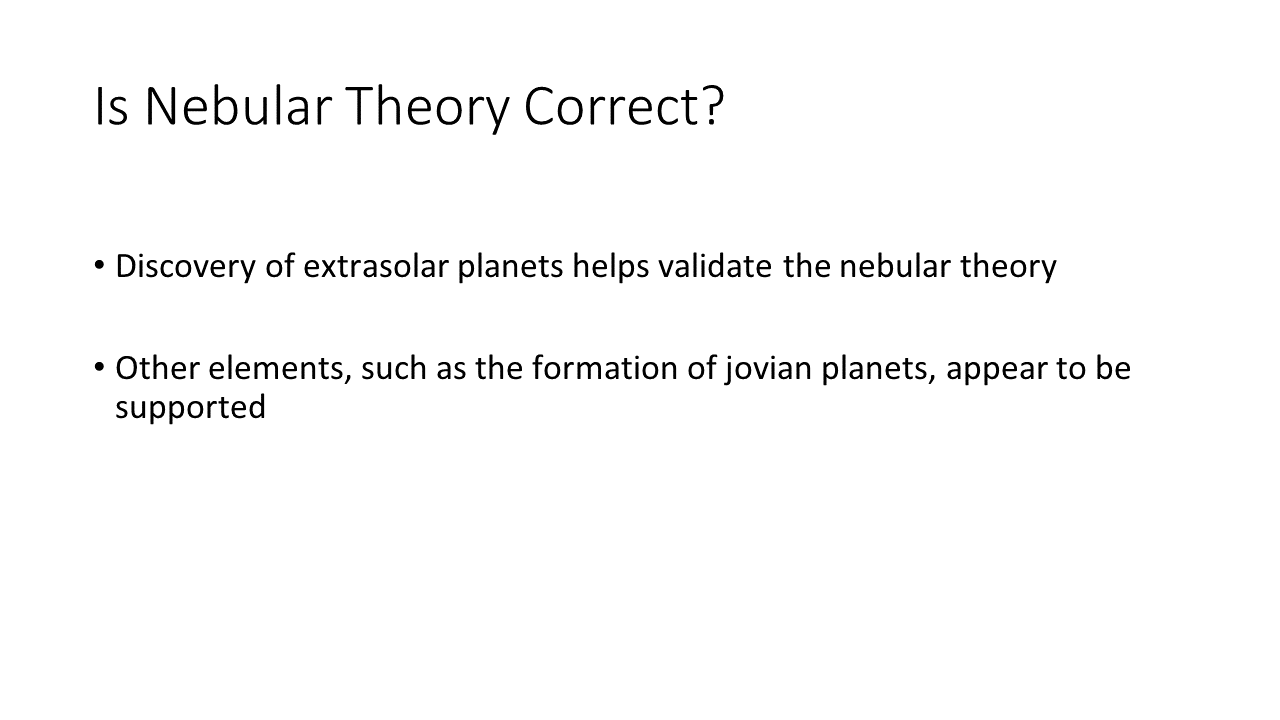 The nebular theory states that the planets in our solar system formed as a natural part of the same process that formed our Sun. If the theory is correct, then planets should just as easily form around other stars.

The discovery of many extrasolar planets means one of the most basic predictions of nebular theory has come true.

There are other key elements of nebular theory that appear to be correct. For example, based on nebular theory, jovian planets form when a seed of rock and ice condenses and reaches a size that allows it to capture nebular gas. Stars richer in the elements that make up jovian planets appear to have more large planets, supporting this aspect of the theory.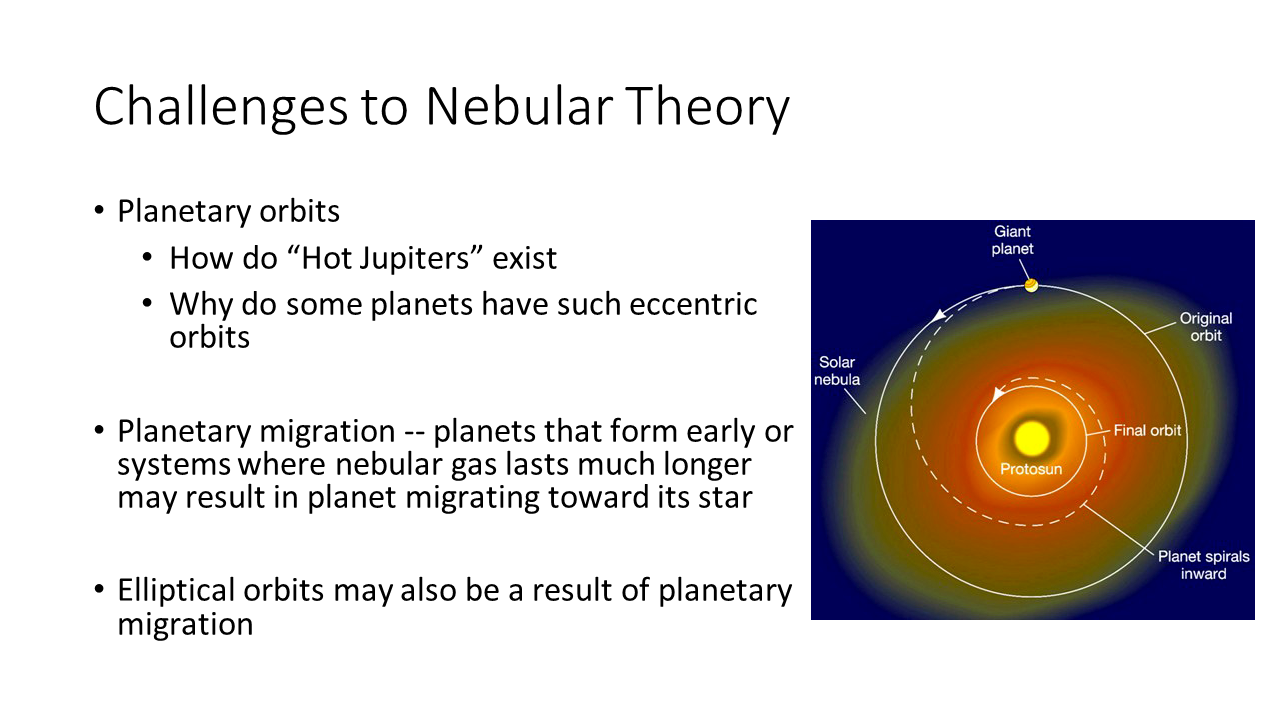 There are two major challenges to nebular theory based on what we have observed in extrasolar planets.

The first challenge involves explaining planetary orbits. Why are there "Hot Jupiters" -- massive, Jupiter-size planets orbiting so close to their star? Based on the nebular theory, jovian planets should form in the cold, outer regions of star systems where it is cold enough for ice to condense.

Also, why do many planets have such eccentric orbits?

One possibility is that the planets formed with circular orbits far from their stars, but then underwent some sort of "planetary migration." One recently discovered planet appears to be on a slow death spiral into its star, and some stars have been found with an unusual mix of elements in their outer layers, maybe from swallowing planets that spiraled in too close.

Planetary migration could also explain eccentric orbits in that planets migrating inward could affect the orbits of other planets. This would be similar to the elliptical orbits for Jupiter's moons Io, Europa, and Ganymede, caused by their gravitational effects on each other.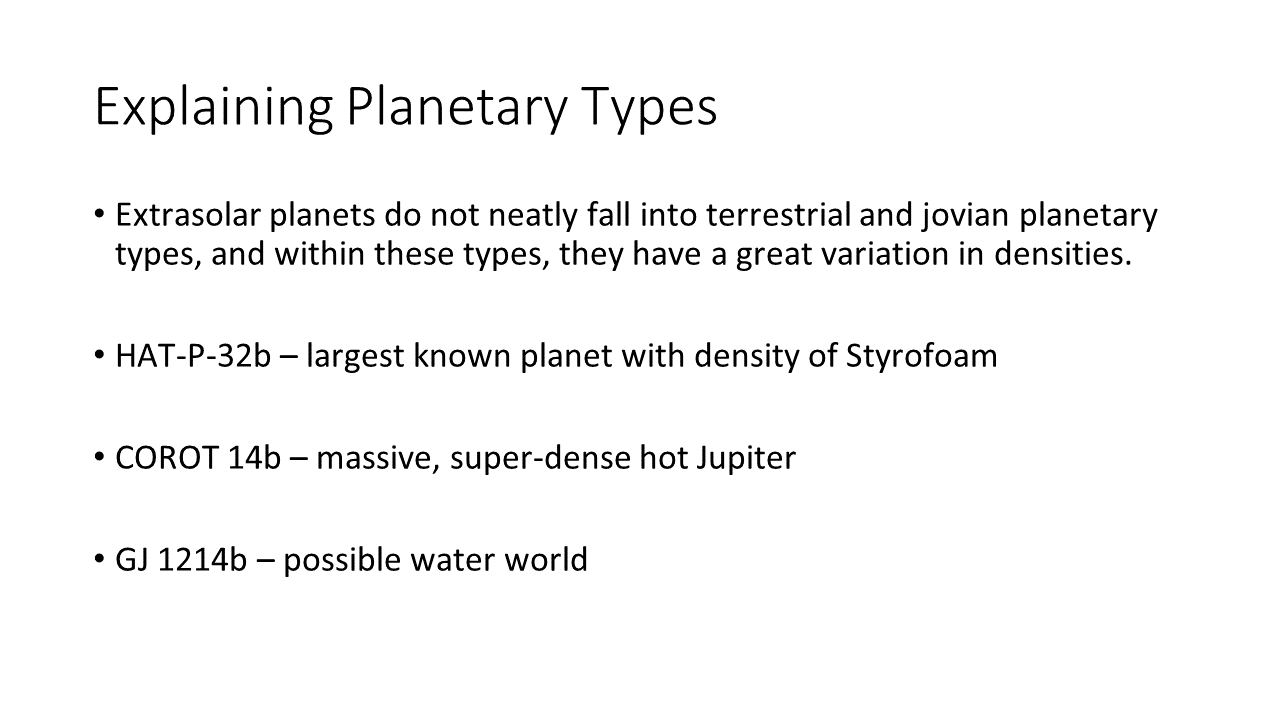 The second challenge to the nebular theory is the fact that extrasolar planets do not always fall neatly into the terrestrial and jovian categories identified in our solar system.

For example, there is a huge range in the densities of extrasolar jovian planets. One planet is twice the size of Jupiter but has the density of Styrofoam while another planet is a little larger than Jupiter but several times as massive, being as dense as iron.

Scientists speculate that the first case is caused by the planet's proximity to its star; the extreme temperatures cause the planet's atmosphere to puff up to a large size and low density. In the case of the dense planet, they believe that once a planet reaches a certain size, its gravity grows so strong that it begins to shrink and become more compact and dense.

As for the possible water worlds detected in other star systems, that may simply be a case of where an ice-rich planetesimal that was accreting to form a jovian planet did not get a chance to capture nebular gases -- the nebular gases were cleared away before the planet could start absorbing them.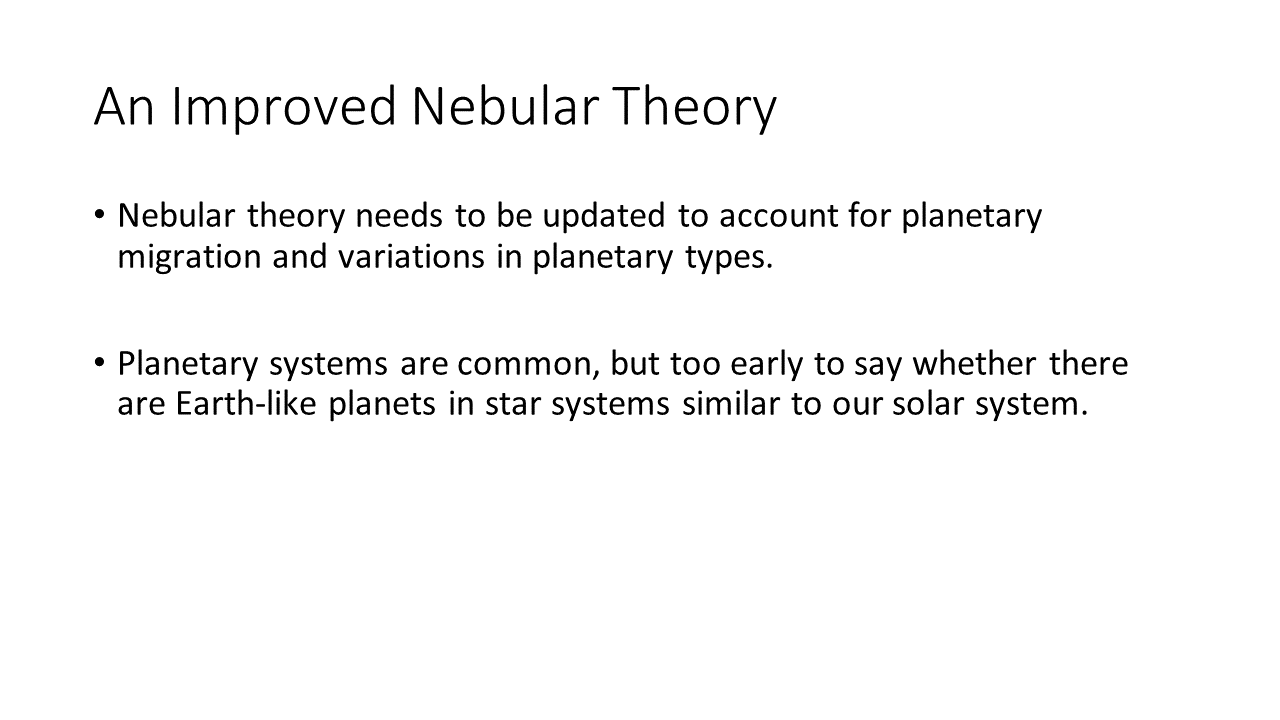 In conclusion, it appears the nebular theory is not incorrect; it is just incomplete. It needs to be updated to account for situations that cause planetary migration as well as variations in the basic planetary types.

The validation of the nebulary theory does lead us to question whether there are other star systems more similar to ours, and with the possibility of life. Current evidence indicates that planetary systems are common, but there is not yet enough data to know whether similar star systems with Earth-like planets might exist.