Lesson Objectives:
- Molecular clouds
- From cloud to protostar
- From protostar to main-sequence star
- The mass of stars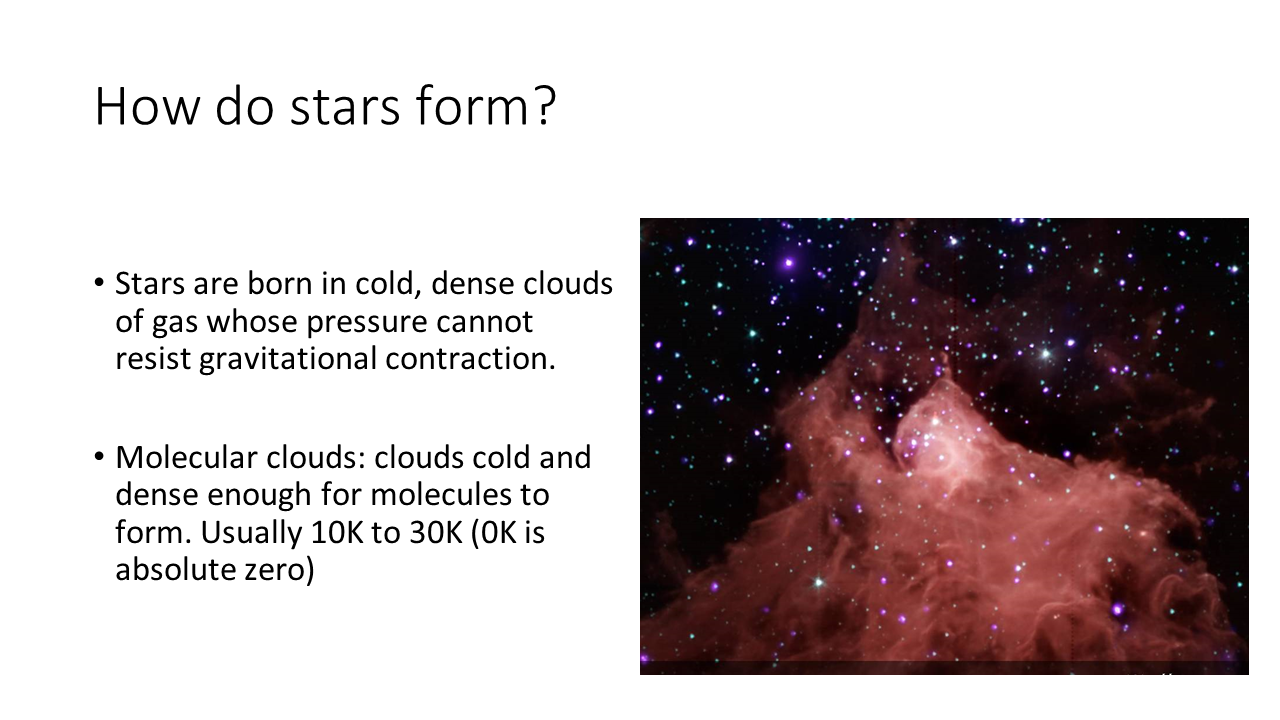 Stars are born within the coldest and densest clouds of interstellar gas. These clouds are often called molecular clouds because they are cold and dense enough for atoms to combine and form molecules. The cloud has to be cold and dense because the inward contraction of gravity, gravitational contraction, has to be strong enough to overcome the internal gas pressure.

When the gas molecules are closer together and there are a lot of them, obviously their gravitational attraction will increase. The colder the gas, the less kinetic energy it will have and the lower its pressure. That is why molecular clouds are typically a frosty 10 to 30 Kelvin.

Molecular clouds are also usually very large since the higher total mass helps gravity overcome gas pressure. These large clouds give birth to many stars at a time forming star clusters.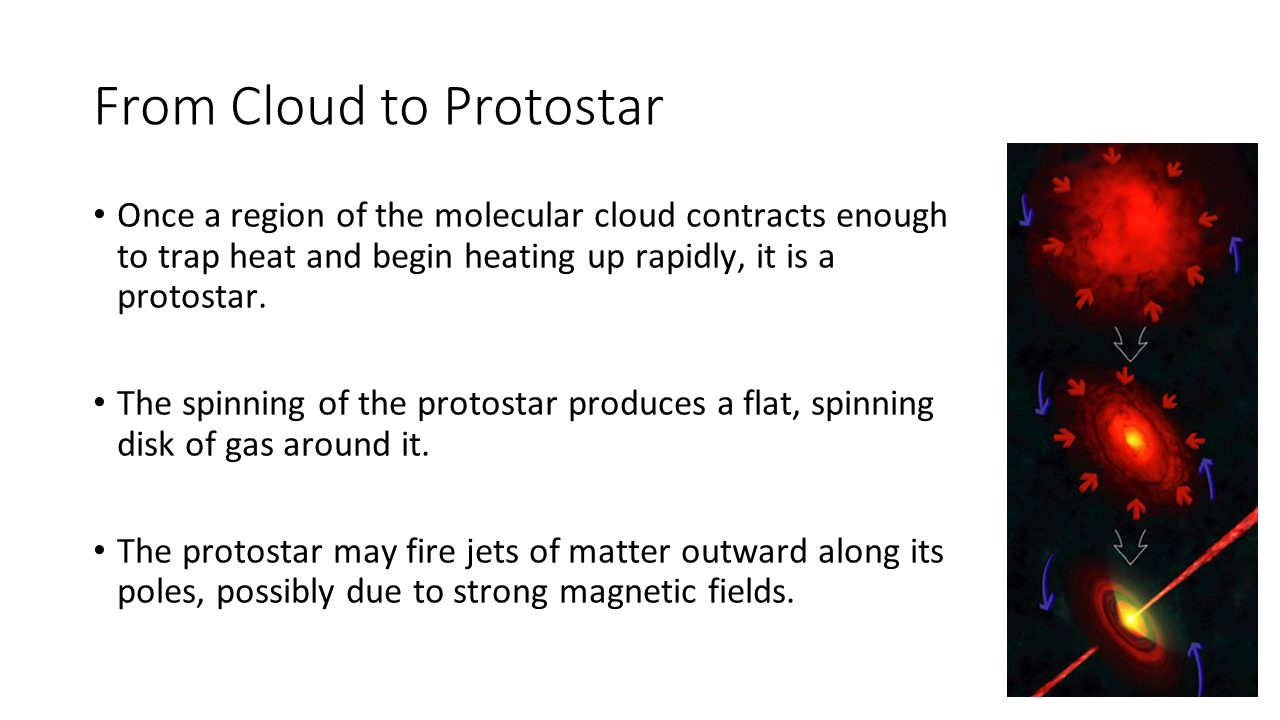 As parts of a molecular cloud collapse and become denser, the densest regions shrink and contract even more, heating up. Initially, most of the heat generated from this contraction is lost, but eventually, the fragments get so dense that the heat generated from gravitational contraction is trapped inside. This dense center of a cloud fragment is now a protostar -- the clump of gas that will become a new star.

As it continues to shrink, a protostar spins more and more quickly, producing a flat, spinning disk of gas around the protostar in which planets may form. Sometimes gravity can pull two protostars close together and due to their high angular momentum, they go into orbit around each other, forming a binary star system.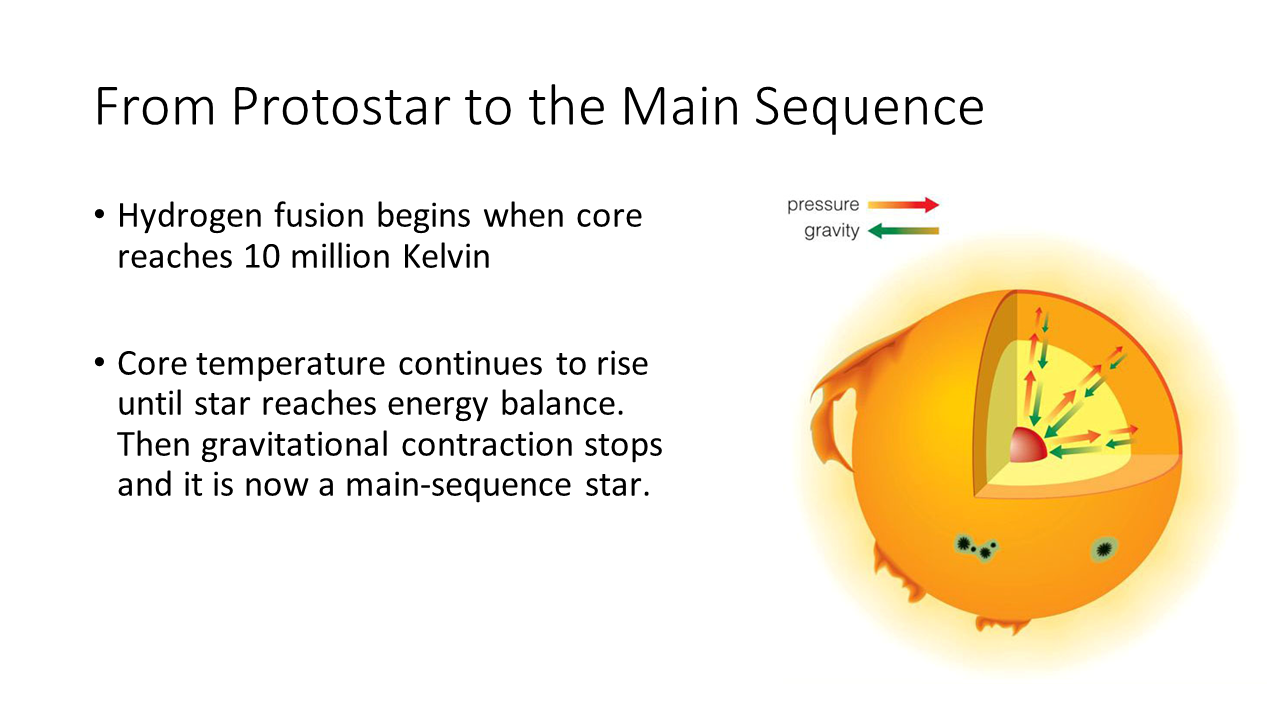 A protostar does not become a true star until it has contracted enough to reach 10 million Kelvin, which is when hydrogen fusion begins. The star continues to contract, the core temperature continues to rise, and nuclear fusion continues to increase until the star reaches energy balance, which is where the energy it is generating balances out with the energy being radiated from the surface.

At this point, when it achieves energy balance between hydrogen fusion in its core and radiation from its surface, the protostar becomes a main-sequence star.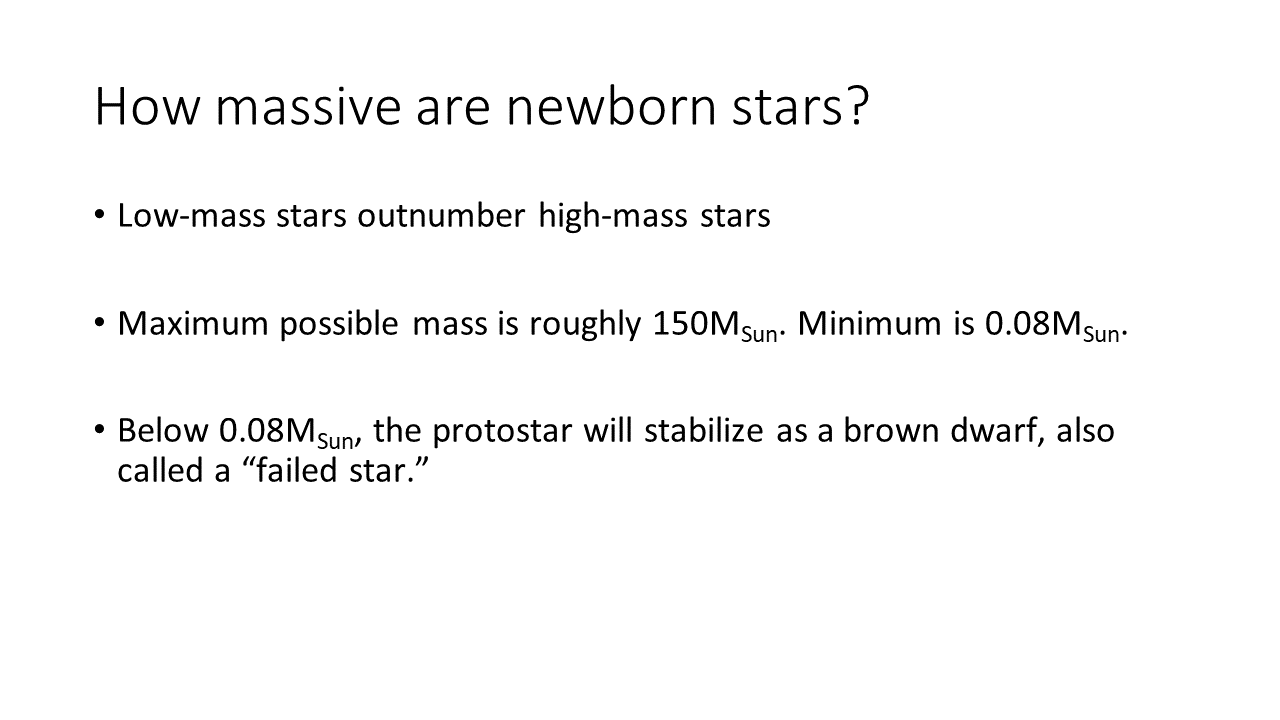 Low-mass stars greatly outnumber high-mass stars, both because most of the stars formed in a nebula are on the lower end of the scale and also because higher-mass stars die off faster.

The maximum possible mass of a star appears to be around 150 times that of the Sun, while the minimum is calculated to be about 0.08 (point-zero-eight) times that of the Sun. That is because below this mass, the protostar's gravity will be too weak to contract the core enough to reach 10 million Kelvin and begin efficient hydrogen fusion.

If the protostar falls below this mass threshold, then it will stabilize as a brown dwarf, which is sometimes called a "failed star." A concept of quantum mechanics called degeneracy pressure keeps gravity from contracting the core in brown dwarfs to the point where they can sustain nuclear fusion. Since brown dwarfs are not hot enough to maintain steady fusion, they gradually cool with time as they radiate away their internal thermal energy.