Lesson Objectives:
- Stars grouped by mass
- Red Giant stage
- Helium fusion
- The death of a low-mass star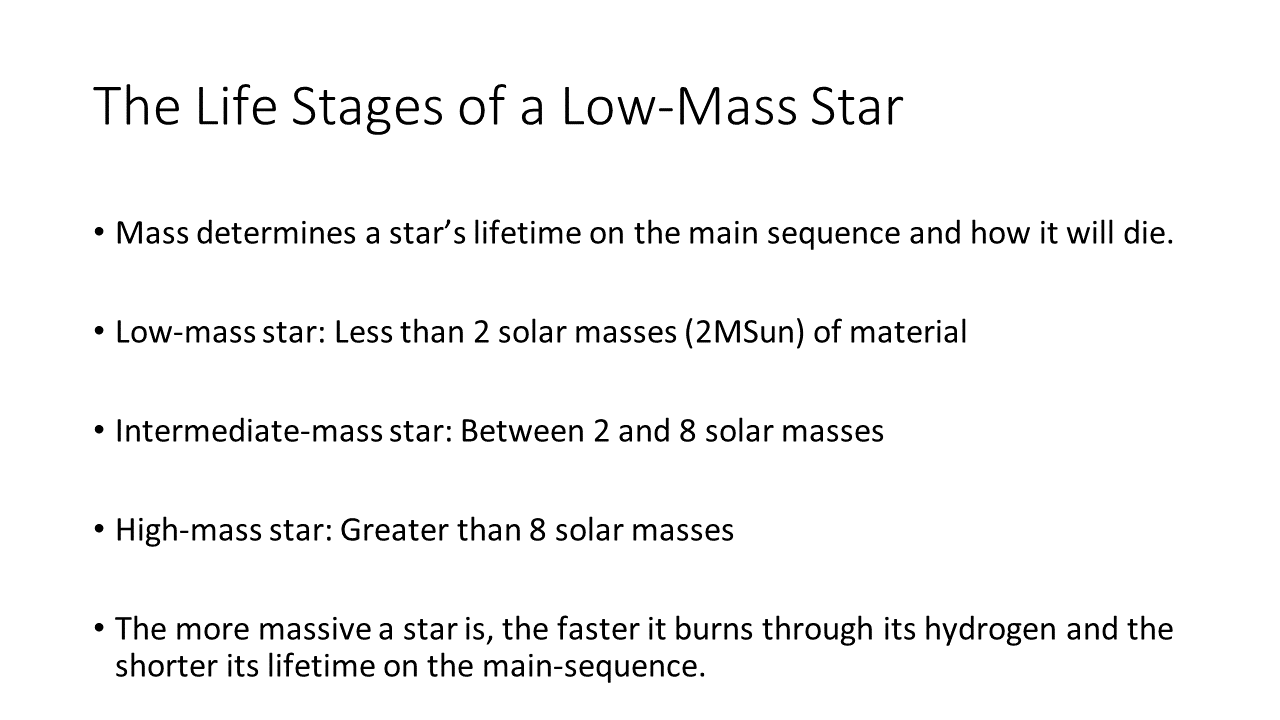 A star's mass is its most important property. We have already learned how the mass determines luminosity and surface temperature, but in addition to that, mass determines the star's lifetime on the main-sequence and how it will die.

Low-mass stars are stars that are no more than twice the mass of our Sun, which means our Sun is a low-mass star. If the Sun had been formed with a higher mass, it would have already burned out by now since higher-mass stars have shorter lifespans. Instead, it is expected to last on the main sequence for another five billion years.

As we have discussed previously, main-sequence stars fuse hydrogen into helium via the proton-proton chain. Stars spend about 90% of their lives shining steadily as main-sequence stars. The higher the mass of a star, the faster it burns through its hydrogen, so stars with more mass than the Sun live less than the Sun's 10 billion years, and stars with less mass live longer.




Once the hydrogen in a star's core is used up, it is no longer a main-sequence star. Since the energy it radiates from its surface is not being replaced by nuclear fusion, it will fall out of gravitational equilibrium and its core will begin to contract under the force of gravity.

The core will be made almost entirely of helium, since that is what is left after fusing hydrogen. Meanwhile, there will still be hydrogen left in the layer around the core. As the star contracts and heats up, this layer, called the hydrogen shell, will become hot enough for hydrogen fusion. This specific case of hydrogen fusion is referred to as hydrogen shell fusion.

Hydrogen shell fusion continues to produce helium that is added to the helium core, which gets denser, hotter, and more compact. Meanwhile, the gas layers around the hydrogen shell are pushed outwards by all of the heat being produced. That is what causes the main-sequence star to balloon up and expand up to 100 times larger in size.

Finally, once the helium core gets hot enough -- around 100 million Kelvin -- it will be hot enough to start fusing helium nuclei together.




Recall that in the case of hydrogen fusion, four hydrogen nuclei fuse together to form one helium atom. In helium fusion, three helium nuclei fuse into one carbon atom.

For helium nuclei to fuse together, the nuclei have to slam into each other at much higher speeds because each nucleus has two protons instead of one, so the electromagnetic repulsion between two nuclei is much stronger. That means it only occurs at much higher temperatures than hydrogen fusion -- hydrogen fusion begins at around 10 million Kelvin while helium fusion needs a temperature of 100 million Kelvin.

Once the core reaches this temperature, a helium flash occurs, where helium fusion spikes drastically and releases an enormous amount of energy. During this stage, the star becomes smaller and less luminous. Once it is consistently burning helium, it becomes a helium core-fusion star (versus a hydrogen core-fusion star on the main sequence).

The H-R Diagram allows you to see the different life stages of low-mass stars. Trace how a star starts out on the main sequence, runs out of hydrogen and becomes a subgiant as its core shuts down and the star begins to expand, and at the peak of its size, occupies the upper right of the diagram as a red giant. These red giants eventually reach the temperature to begin helium fusion and branch off to form helium core-fusion stars.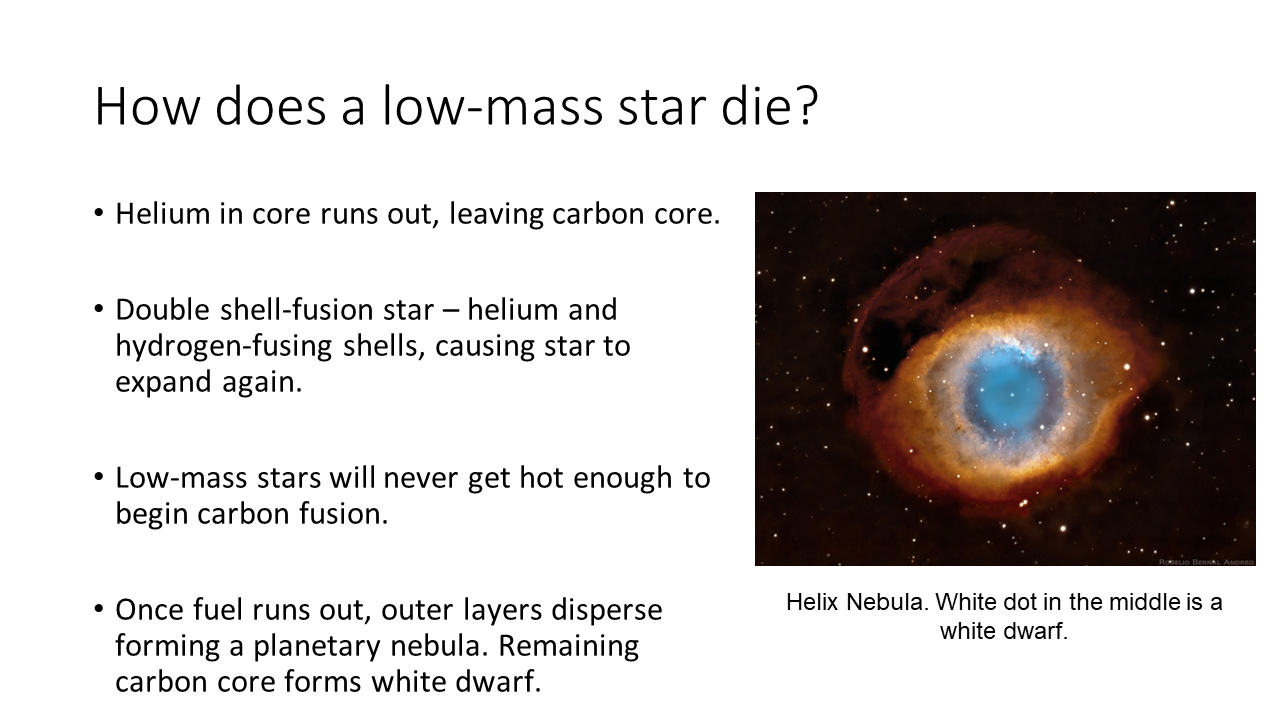 Eventually, a helium core-fusion star fuses all of the core helium into carbon. It then will expand again just as it did when it ran out of core hydrogen. This time it will end up with an inert carbon core as a product of the helium fusion, but with two burning shells around it -- a helium shell and a hydrogen shell outside of that, making it a double shell-fusion star.

The helium-fusing and hydrogen-fusing shells will burn furiously, making the star expand even bigger than it was as a red giant and it will lose its grip on its outer layers. Eventually, as the star runs completely out of fuel in the helium and hydrogen shells, it will expel the outer layers into space as a planetary nebula. The exposed, inert carbon core will be left behind as a white dwarf.