Lesson Objectives:
- Spiral galaxies
- Elliptical and irregular galaxies
- Hubble's galaxy classes
- Patterns in galaxy color and luminosity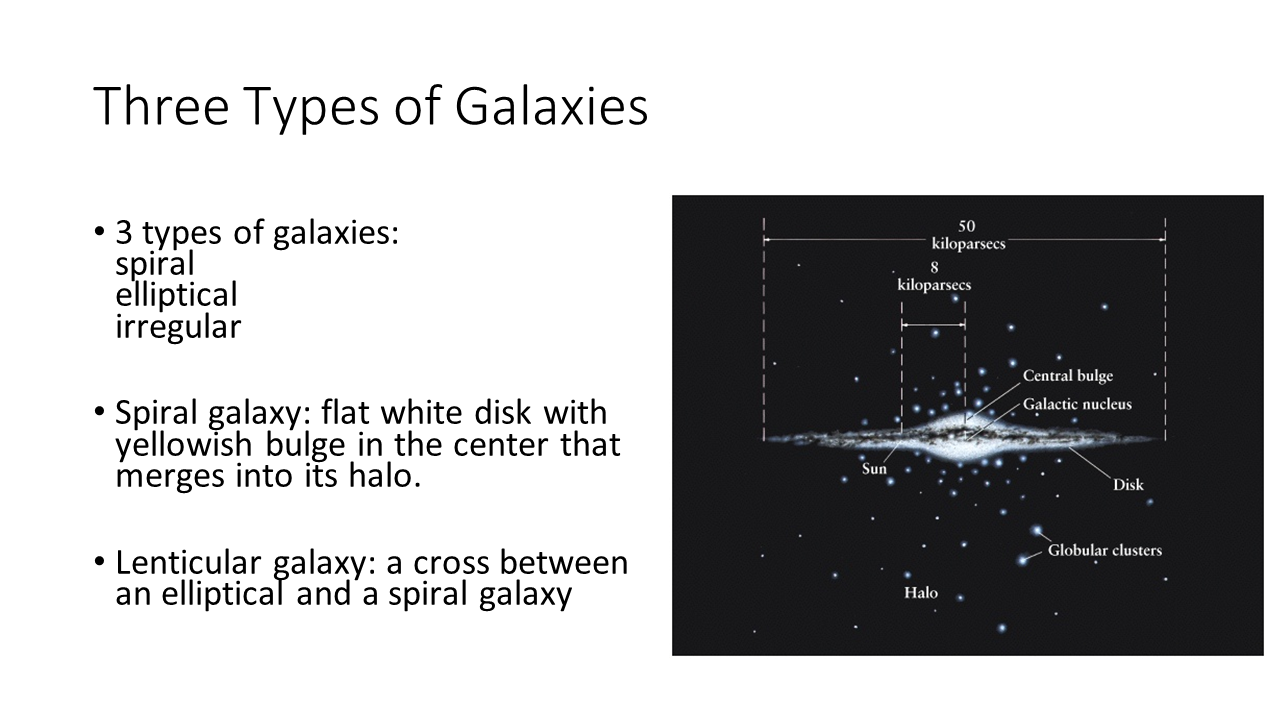 Galaxies are classified into three main types -- spiral, elliptical, and irregular.

A spiral galaxy is a flat white disk with a yellowish bulge at the center. The disk is filled with cool gas and dust, with some hot ionized gas mixed in. Spiral arms are a characteristic of spiral galaxies. Our Milky Way galaxy is an example of a spiral galaxy.

The spiral galaxy's bulge merges into its halo, which is nearly invisible because halo stars tend to be dim and they are spread out over a large space. Since in most spiral galaxies, the bulge stars' orbits have a lot in common with the orbits of halo stars, the bulge stars are usually lumped in with the halo stars and simply referred to as the "halo component" when studying galaxies.

An intermediate class between spiral and elliptical galaxies is the lenticular galaxies, which have disk and halo components like a spiral galaxy but lack spiral arms.

Most large galaxies in the universe are spiral or lenticular.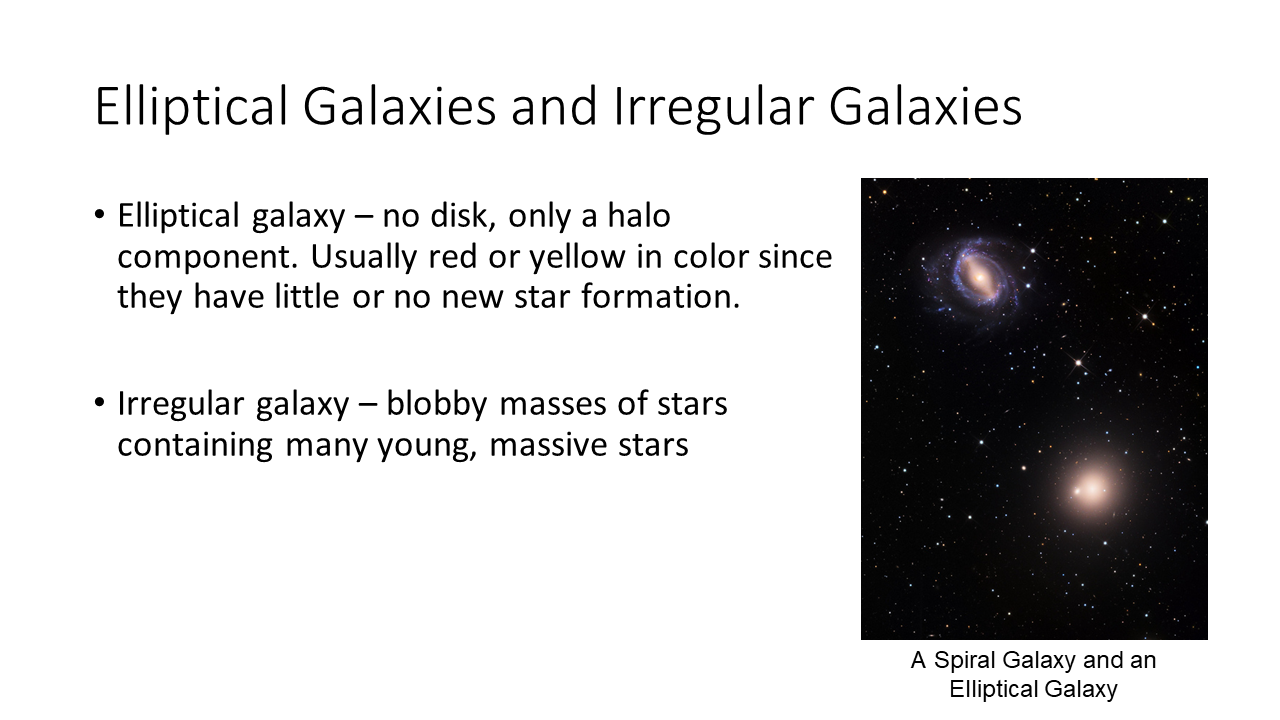 An elliptical galaxy differs from a spiral galaxy in that it has ONLY a halo component. Elliptical galaxies look like spiral galaxies without a disk. Most elliptical galaxies are small dwarf elliptical galaxies. However, giant elliptical galaxies, while relatively rare, do make up some of the most massive galaxies in the universe.

Elliptical galaxies tend to look red because they have little ongoing star formation -- their stars are mostly older, lower-mass stars. In contrast, spiral galaxies, with all of their cool gas and dust in their disks, appear white because they have hot, young, blue stars in addition to the older stars of other colors.

Irregular galaxies are unorganized blobs, usually white and dusty, containing many young, massive stars. They are relatively rare but were most likely very common when the universe was younger.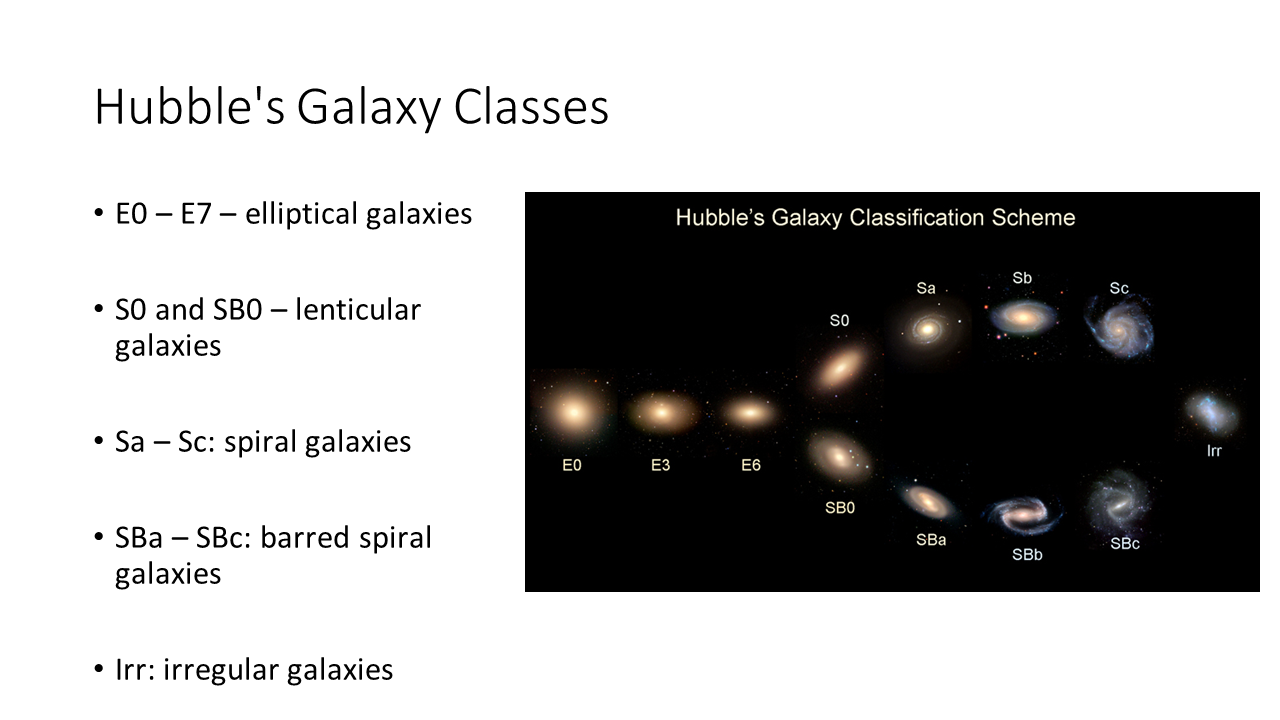 Edwin Hubble devised a classification system for galaxies. Elliptical galaxies range from E0 to E7, where the larger the number, the flatter the elliptical galaxy. S0 and SB0 designate lenticular galaxies. SA through SC are for spiral galaxies and SBA through SBC are for barred spiral galaxies -- galaxies that appear to have a straight bar of stars cutting across the center, with spiral arms curling away from the ends of the bar.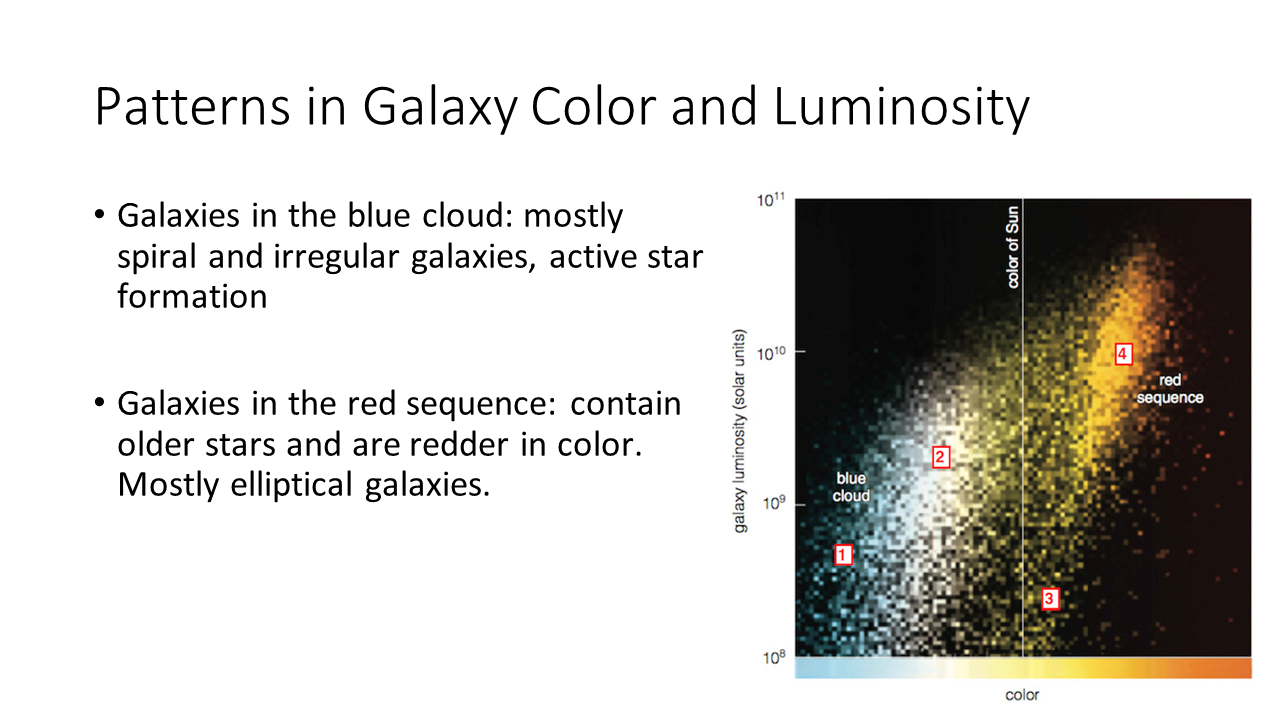 Plotting the luminosities and colors of galaxies for millions of galaxies on a diagram reveals some patterns.

Based on the diagram, you can divide the galaxies into two major groups -- the galaxies in the blue cloud, which are blue because they contain lots of hot, young stars that signify active star formation, and galaxies in the red sequence, which are mostly made of older, redder stars.

Galaxies in the blue cloud tend to be spiral or irregular galaxies. The largest of these galaxies, around point 2 on the diagram, are bluish white indicating they have a mix of old stars and new with active star formation. The small blue galaxies, indicated by the number 1 on the diagram, get most of their light from hot, young stars.

Galaxies in the red sequence tend to be elliptical galaxies. The largest, most luminous galaxies in the universe, indicated by the number '4', are giant ellipticals with little or no star formation. The small dwarf elliptical galaxies without much luminosity, indicated by the number '3', are usually companions of larger galaxies.