Lesson Objectives:
- What financial accounting is
- How it is used to make decisions
- Primary use of financial data
- The purpose of financial statements
- Internal and external users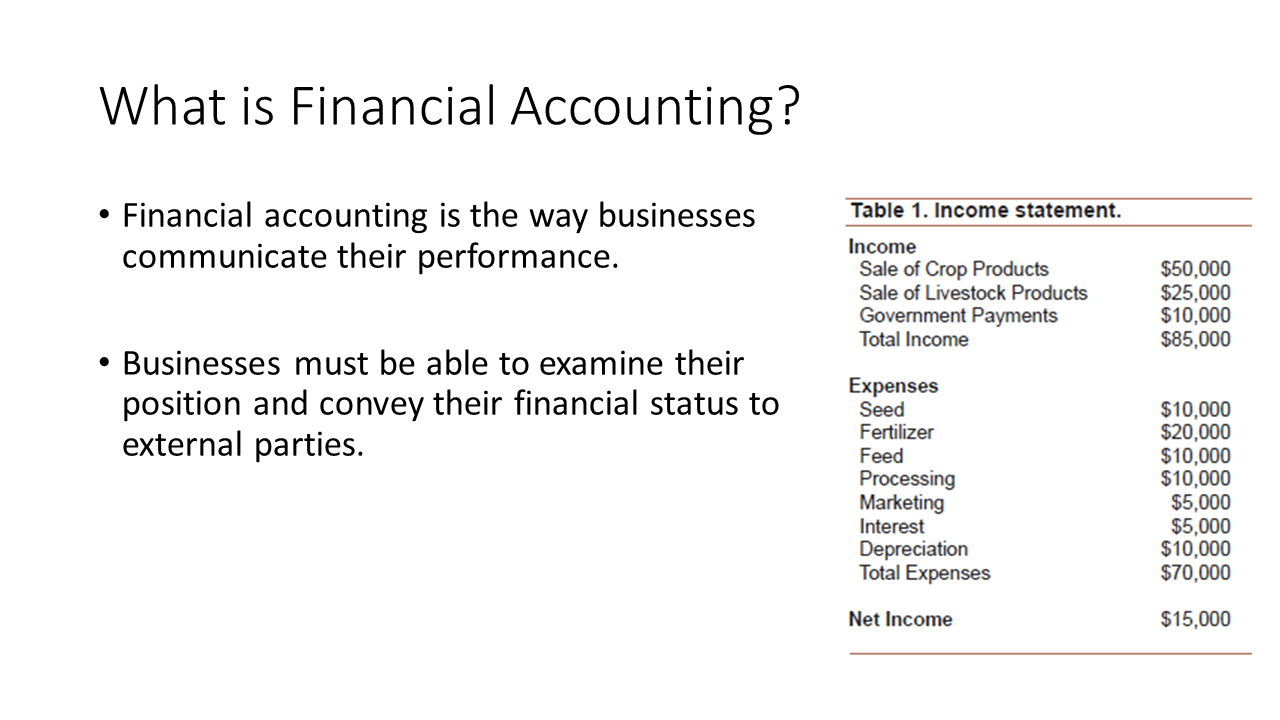 Financial accounting is the way businesses communicate their performance. Data is journalized in individual entries and grouped into categories on the financial statements. Every company wants to grow and become larger. In order to do so, they must be able to examine their position and convey their financial status to external parties.
 
Think about it this way: no investor, bank or supplier wants to review every single economic event in order to make a decision. They need a standardized format that will answer all of their fundamental questions: Are they profitable or losing money? How much money is the corporation making? Do they pay their bills on time? How high are their expenses?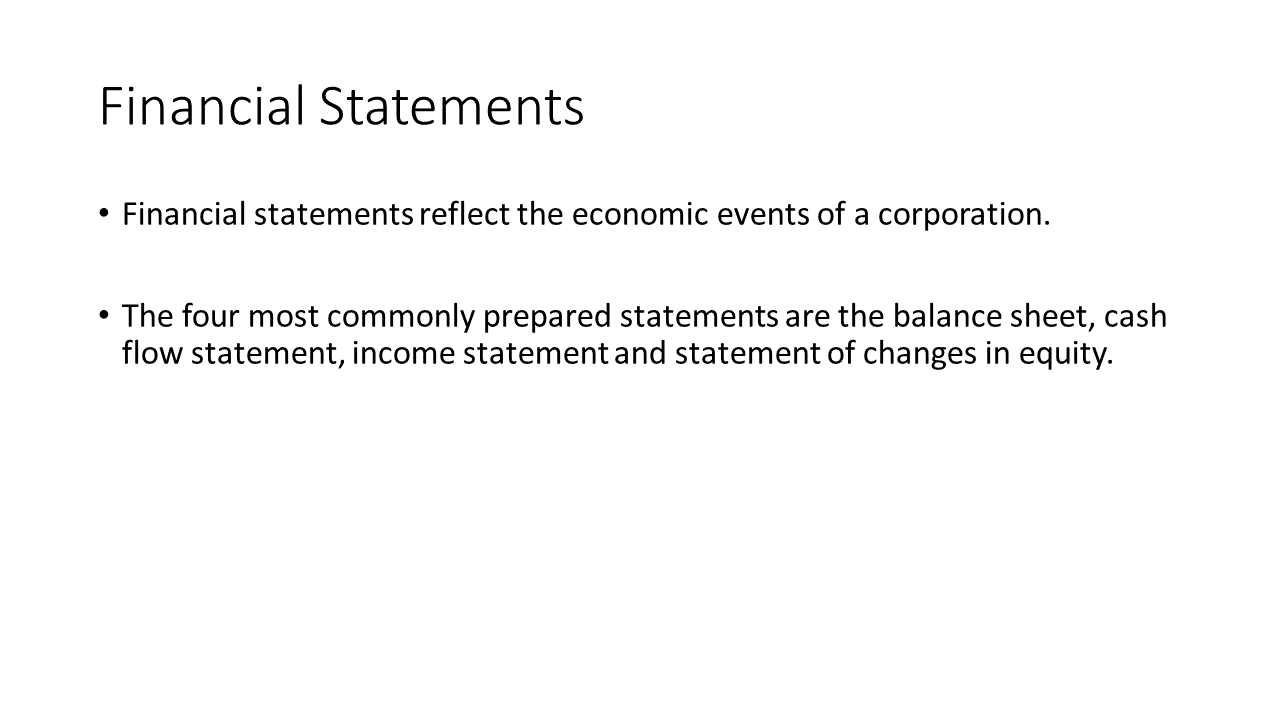 Financial statements reflect the economic events of a corporation; including transactions such as stock dividends, payroll, operating expenses and debt. All transactions are journalized, meaning they are recorded as either credits (income) or debits (expenses). The financial statements then summarize the data in a format that enables users to make decisions.
 
The four most commonly prepared statements include the balance sheet, cash flow statement, income statement and statement of changes in equity. These documents can provide helpful insight into how the company manages their money.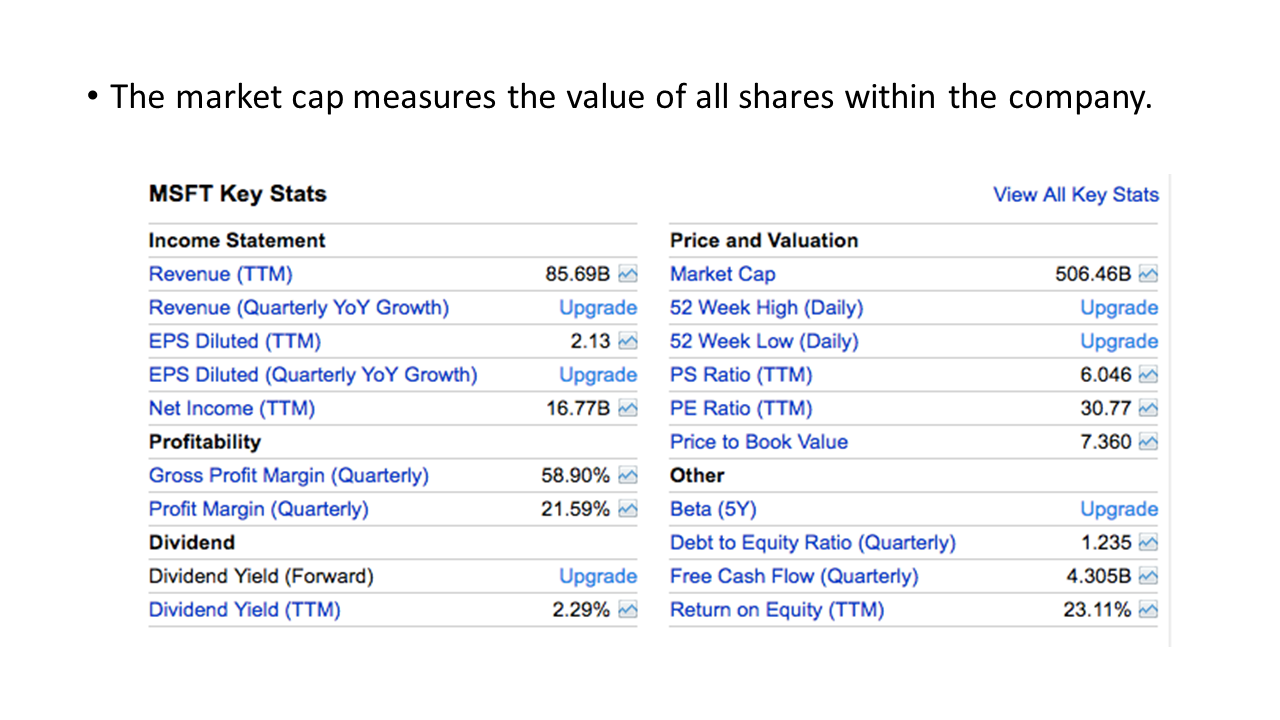 The market capitalization, also known as market cap measures the value of all shares within the company. This value is calculated by multiplying the share value by the number of shares. The example above is for Microsoft, they have a huge market cap, classified as a 'mega cap' at $506.46 billion.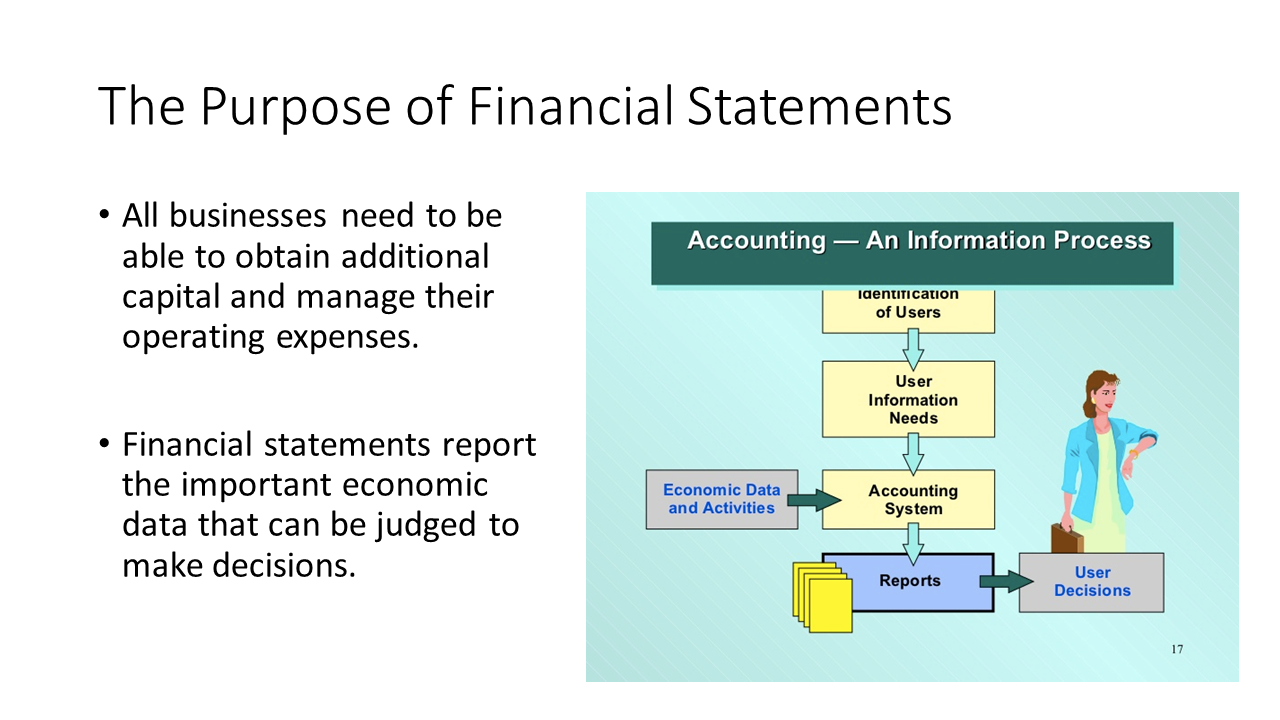 Every corporation wants to earn a profit, grow and remain solvent. Startups and small companies want to obtain additional capital to build their business while larger corporations may be looking expand. With any size business whether small, mid-sized or large; they need to be able to obtain additional capital and manage their operating costs.
 
While financial accounting involves the bookkeeping of all transaction records, financial statements report the important economic data that can be judged to make decisions. These decisions are wide ranging from issuing loans, investing in company shares, making changes internally and much more.
 
The financial statements provide the information that best represents how well a company is doing based on their income, expenses, assets and other economic activity. Instead of reviewing each individual transaction, the financial data is presented in an easy-to-read format that helps users navigate through the important pieces.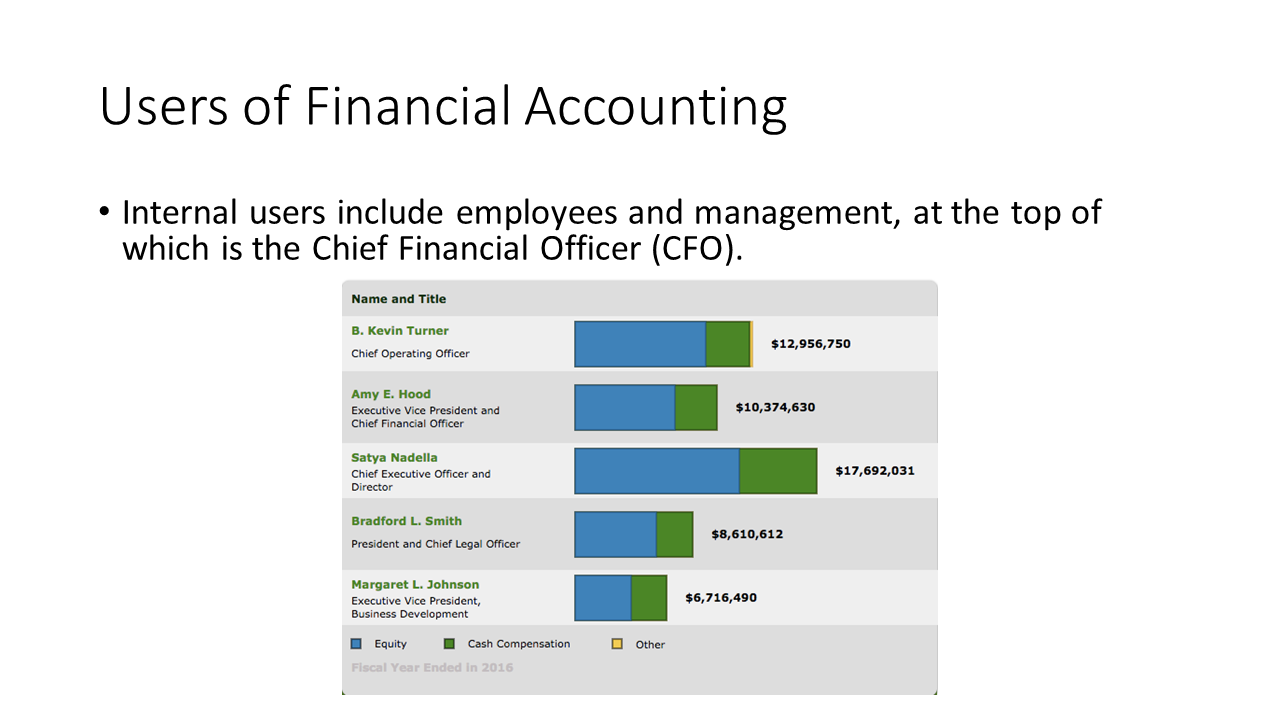 Accounting information is used both for internal and external users to make sound business decisions. The performance of a company is primarily measured by the data provided in their financial statements.
 
Internal users of financial accounting include the following parties:
 
Employees want to know that they have job security and opportunity for growth when working for a company. If a company is showing losses on their financial statements year after year, you may consider working for a company who is more profitable.
 
Management tracks the company's performance and decides on actionable measures to make improvements. At the top of the management chain is the Chief Financial Officer (CFO). This individual is responsible for managing the financial records of the corporation. Essentially, the CFO uses financial controls to build a strong foundation for the business while the owner analyzes the viability of their investment to drive future action.
 
As you can see in the income disclosure above for Microsoft's CFO, this position plays an integral role in the success of the business.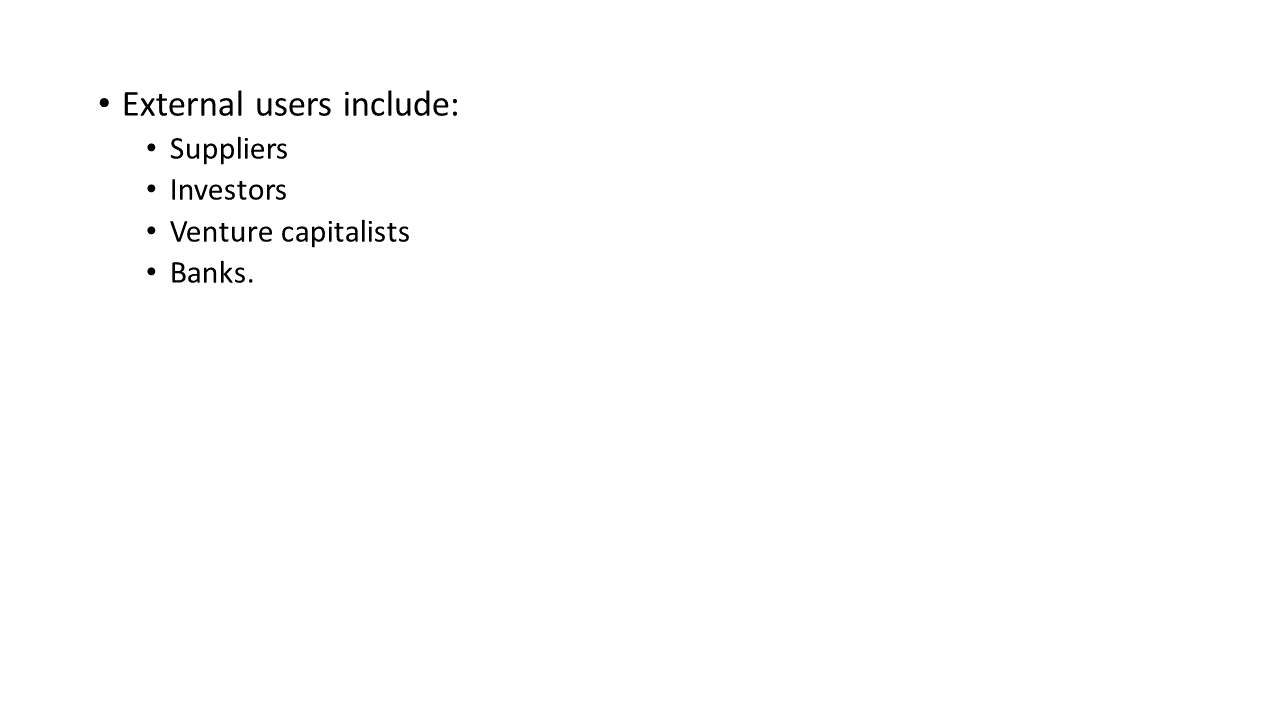 External users are the primary users of financial statements and include the following:
 
Suppliers want to analyze the cash flow of the corporation to ensure they will be paid for the inventory they provide. Purchase orders are paid out of accounts payable and suppliers must be able to issue credit terms to receive payment within a certain amount of time.
As an investor, if you plan on purchasing stocks in a corporation, you'd want to have assurance that you will see a return in the form of dividends or portfolio growth.
Venture capitalists and banks want to see proof that the debt will be repaid before issuing a loan. Essentially, they are looking for assurance that the company has the ability to pay their debts.