Lesson Objectives:
- The importance of business activities
- Different types of business activities including operating, investing and financing
- How financial statements are used to summarize activity transactions
- Examples of business activities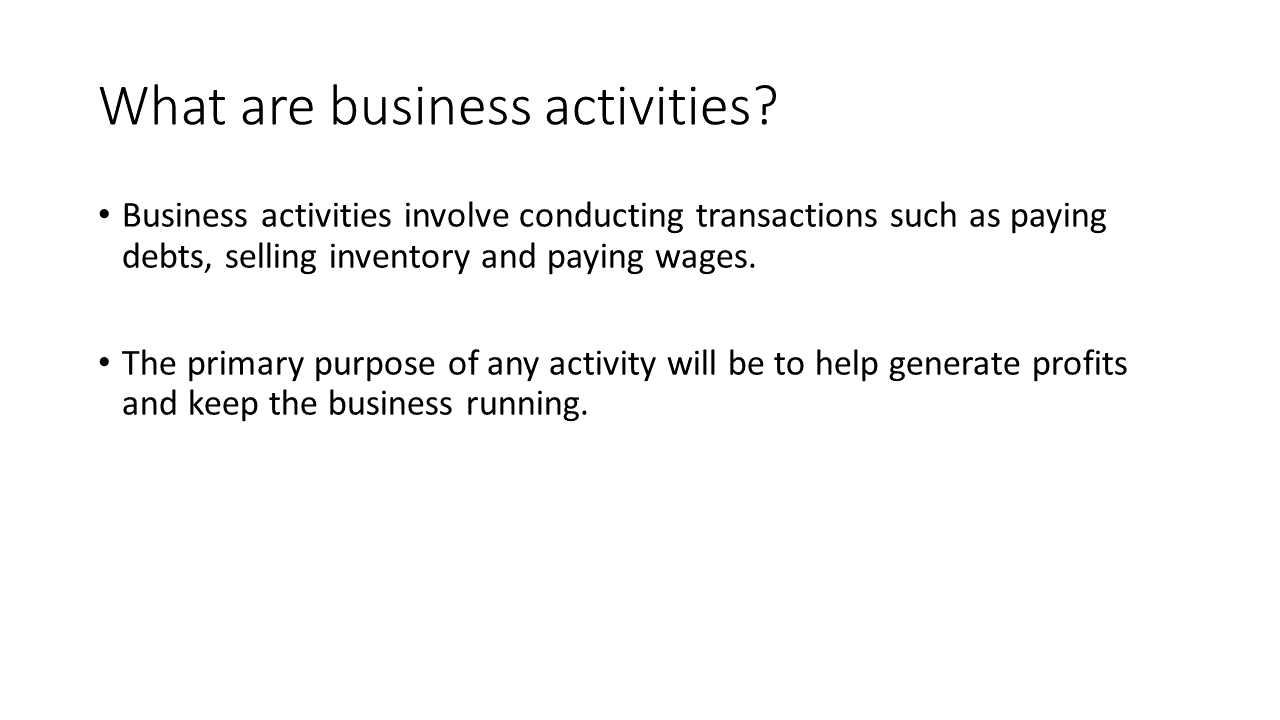 Now that you've learned about the three different business structures, let's say you've decided on what type of business to start, whether it be a sole proprietorship, partnership or corporation. Now you are ready to put a business plan in place; you will need to look at what type of activities your business will be involved in as it relates to financial accounting.

Business activities involve conducting transactions such as paying debts, selling inventory and paying wages. The primary purpose of any activity will be to help generate profits and keep the business running.
 
You may ask: Why are these activities important? No matter how long your company has been in business, there are certain things that the entity must do to be successful. While every entity may not take part in the exact same activities, they will use business activities that fit their needs in order to remain solvent and ultimately grow larger.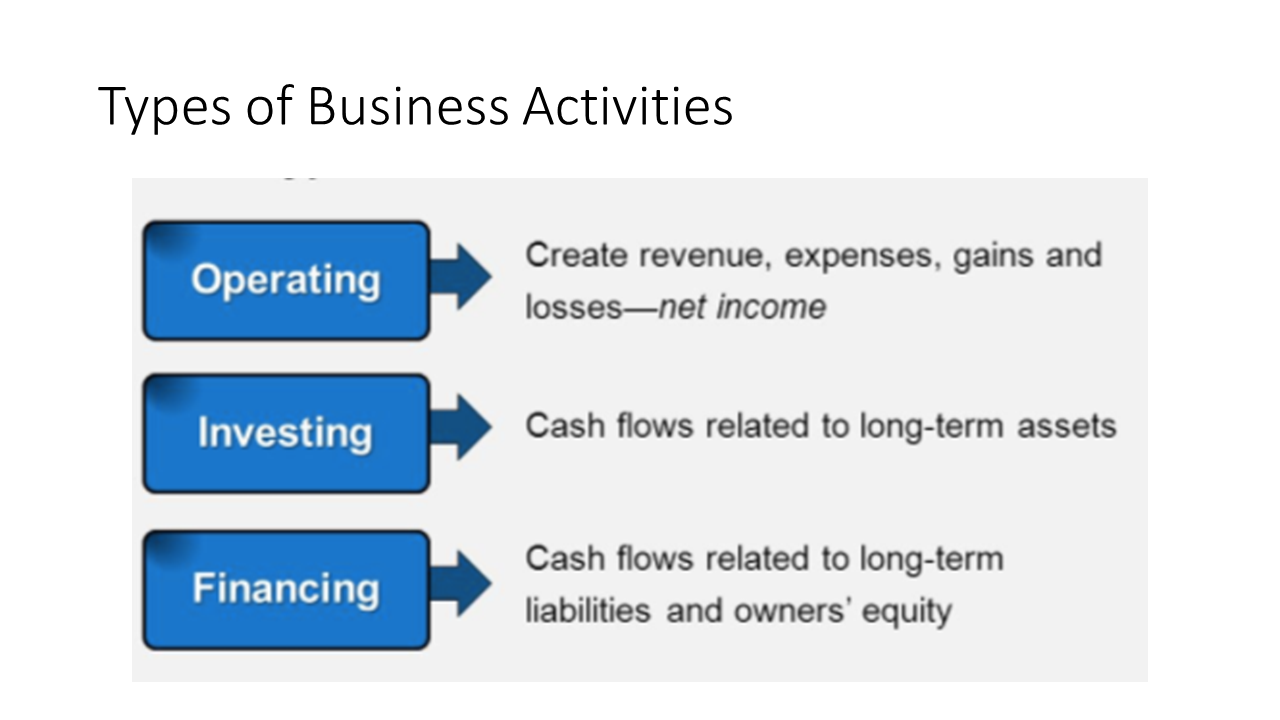 All economic activities will fall into one of the three categories: operating, investing and financing. The cash flow that is generated or consumed in these activities is recorded on the financial statements.
 
The best way to think of the types of business activities is by using the acronym OIF:
 
OIF only if I could remember the business activities!
 
Operating activities involve your current short term actions, primarily activities that help to generate revenue for the business. These items include both current liabilities and assets.
 
Investing activities have to do with purchasing and selling long term assets such as property, equipment and plant.
 
Financing involves the long term, or non-current liabilities and equity. These activities are related to the amount of debt and owners' equity
 
All business activities will fall within one of these three categories.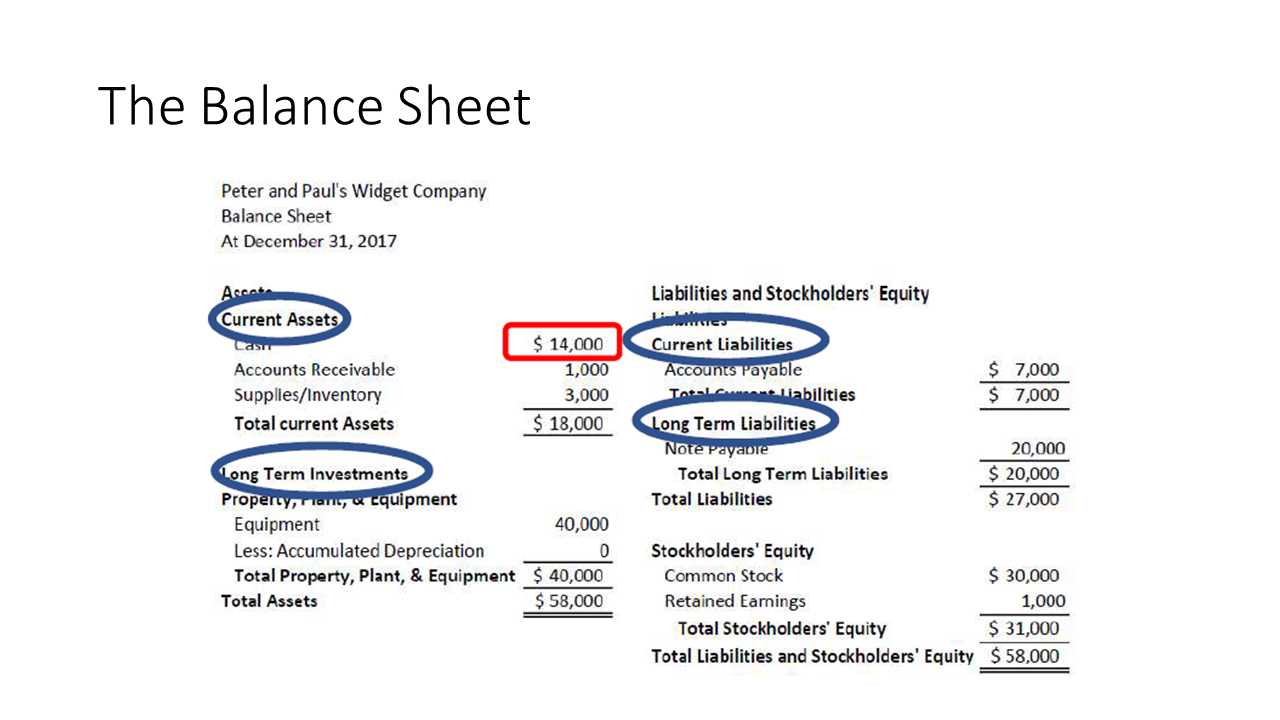 By looking at the format of the balance sheet, we can see how the business activities are distributed amongst this financial statement. The balance sheet essentially represents what the business is made up of. Let's break down each section of the sample balance sheet example above.
 
1. Under the assets section, the current assets are considered operating activities along the current liabilities on the opposite side. The operating activities involve the short term operations and actions of the business.
 
2. Below the current assets, investing activities are recorded as long term financial activities.  
 
3. To the right of investments, financing involves the non-current liabilities and equity.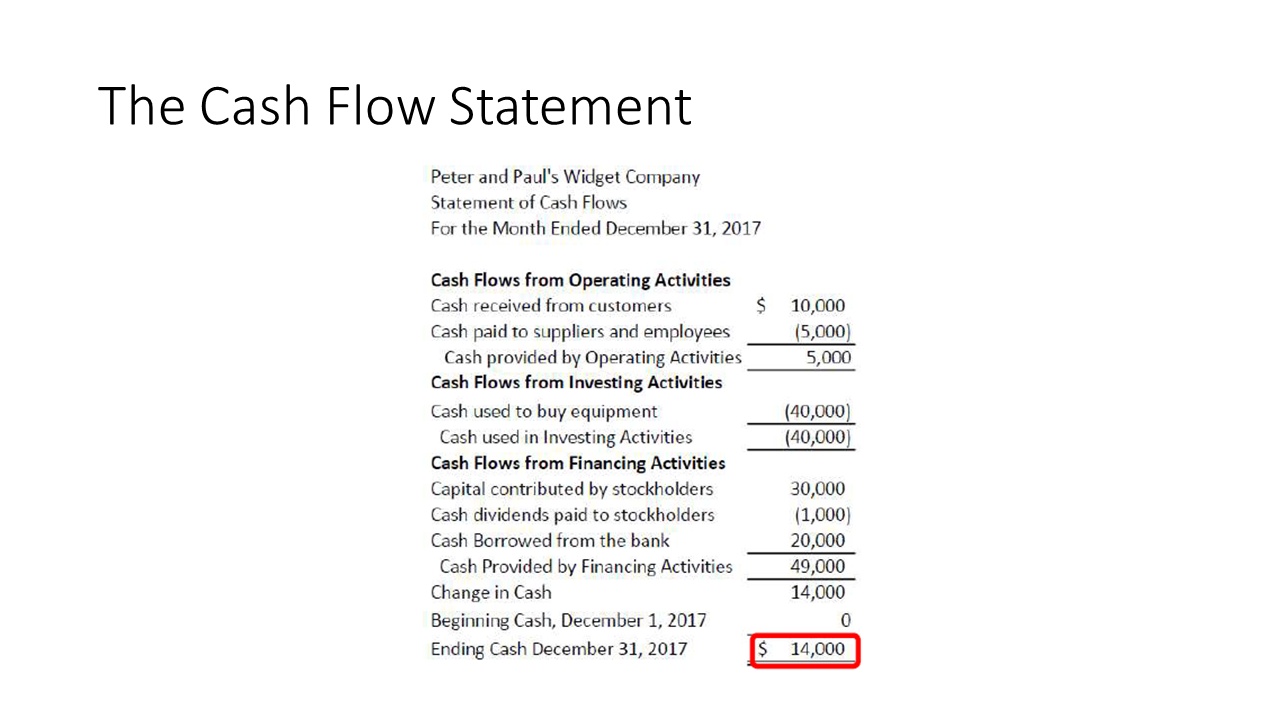 The cash flow statement format incorporates all three business activities to determine the ending cash balance as reflected on the cash line of the balance sheet. The operating section lists activities that are directly related to running the business to earn profit. The investing section lists involved in buying and selling resources, such as equipment or investment opportunities. The financing section lists loans, stockholder contributions, and dividends paid out to stockholders.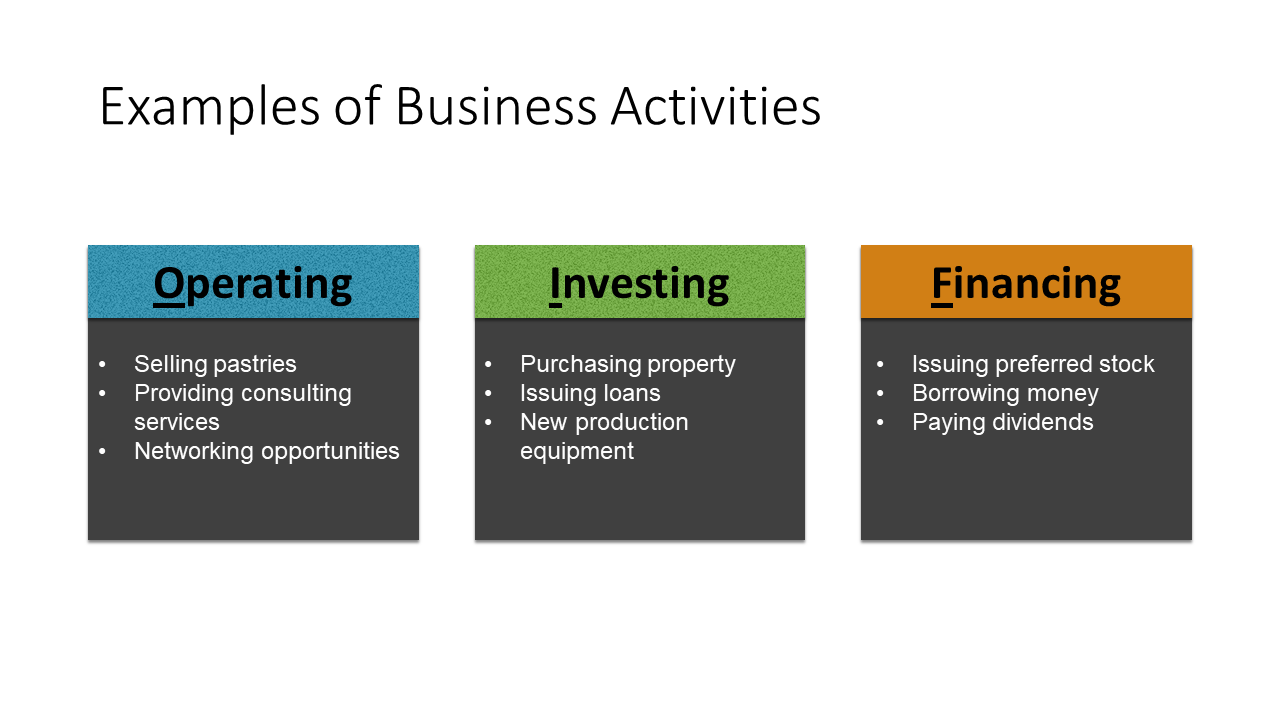 Using the same OIF acronym to remember the types of business activities, let's review some real-world examples.

Operating Examples
• A bakery sells pastries and cakes in order to generate revenue.
• Change consultants provide services to help organizations adapt to changing market conditions.
• Small business owners participate in networking opportunities to market their company and ultimately increase sales.

Investing Examples
• A property management company purchases a vacant house with the intent of remodeling and selling it for a profit.
• An angel investment firm loans money to a new startup business.
• A manufacturing firm purchases a machine that helps to reduce production times.

Financing Examples
• Corporations issue preferred stock to shareholders to finance operations.
• A clothing store borrows funds from the bank to purchase inventory.
• A cell phone company sees a significant increase in equity and pays out dividends to their shareholders.

These are just a few examples from each category to demonstrate the concepts of operating, investing and financing. Businesses take part in a wide range of activities that they use to generate profits and all activities will ultimately fall into one of the three categories.