Lesson Objectives:
- Differences between depreciation and amortization
- Examples of each concept
- Recording amortization as an adjusting entry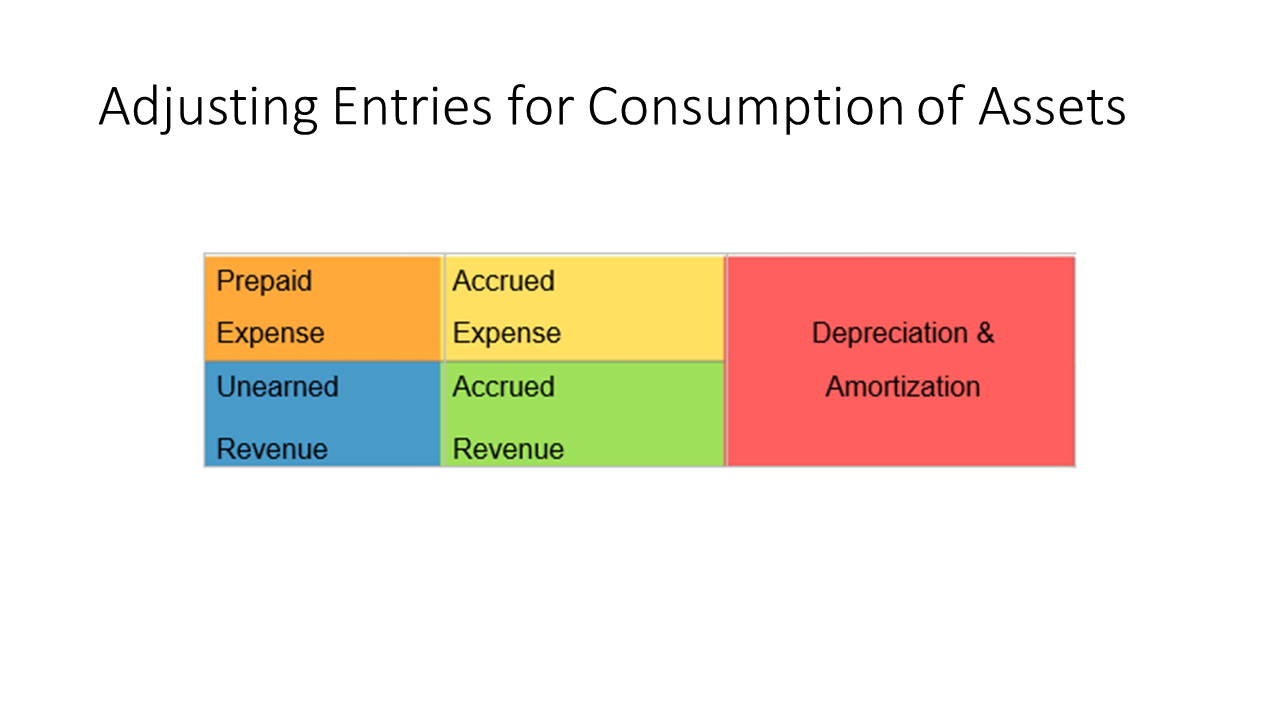 Over the last four lessons we covered the main types of adjusting entries. There is actually a fifth type that we have left to cover which is adjusting entries for amortization and depreciation.

Think about it this way: there are very few assets that hold their full value over a long period of time. In order to expense the use of assets, companies must use either depreciation or amortization to prorate the use of particular assets. Adjusting entries are used to record the expense over a specific amount of time.
 
Let's first look at the difference between depreciation and amortization.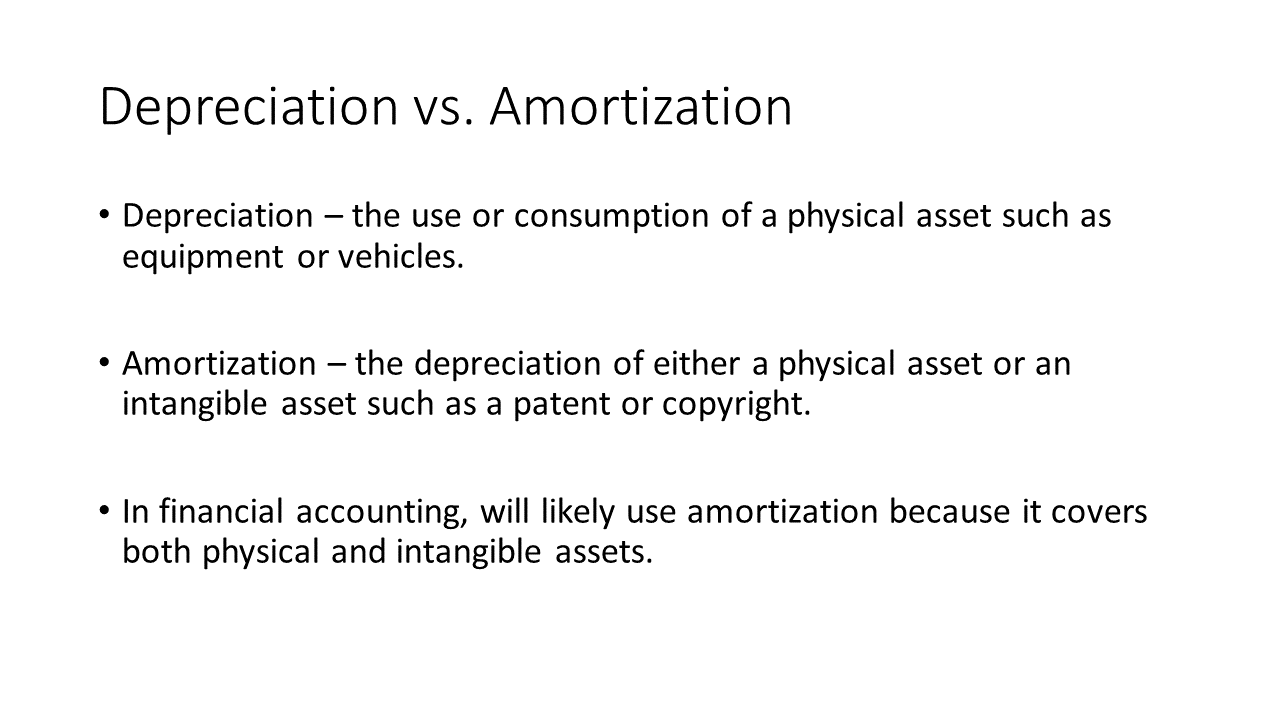 Depreciation looks at the use or consumption of a physical asset such as equipment or vehicles. An example of this would be to record the use of a piece of medical equipment over a predicted lifespan of 10 years.
 
Amortization has a much wider reach as it can represent the depreciation of either a physical asset or an intangible asset such as a patent or copyright.
 
These terms are similar enough to be used interchangeably but in financial accounting, you will likely use amortization adjusting entries more often because it covers both physical and intangible assets.
 
The main difference between the two concepts is that depreciation focuses more on capital assets while amortization covers all types of assets, thus why amortization is used more often for adjusting entries.
 
To understand how amortization works, let's review an example of how it would be recorded on a physical asset.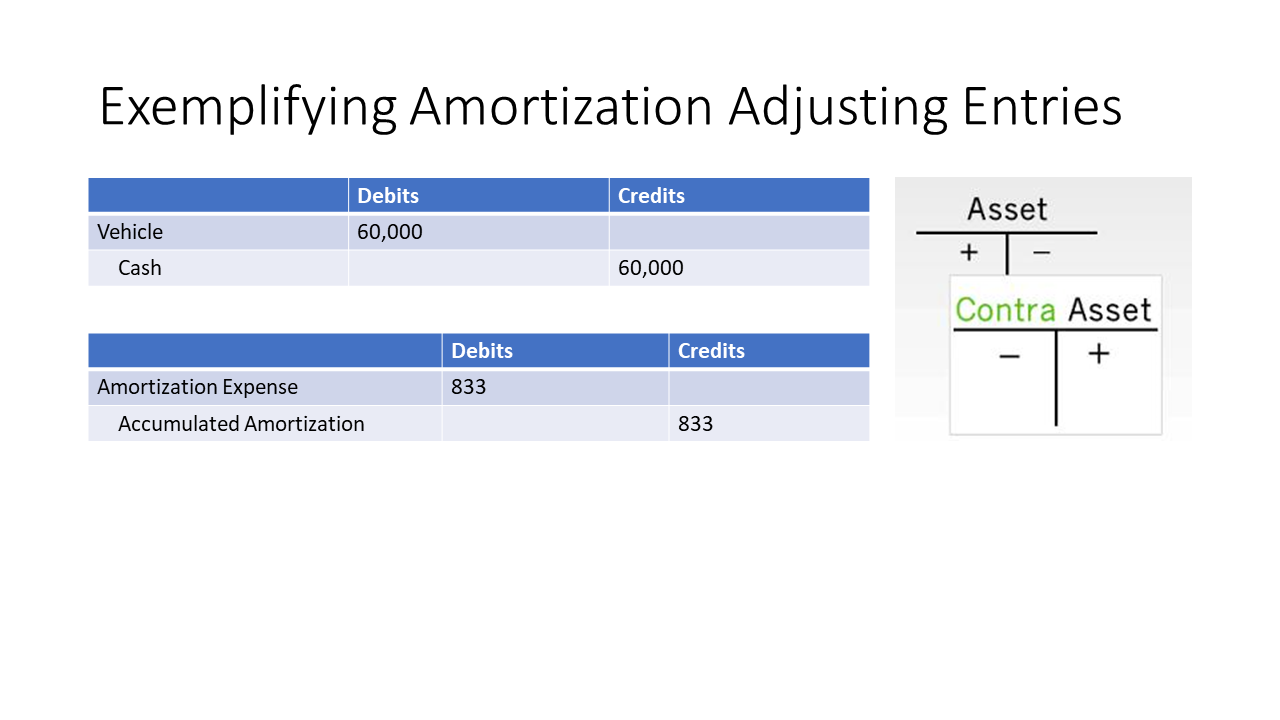 Let's say a construction company purchases a new truck for $60,000 to haul their equipment to and from job sites. The journal entry for the truck purchase would first be recorded by listing the vehicle as a debit and the cash expense as a credit, as shown above.

When they go to prepare their income statement for the month, they would record their revenue from performing construction services. They would record their expenses such as materials, salaries, utilities and equipment.

The one expense amount that is missing from this list of expenses is their amortization costs for the new truck. If the company doesn't record their amortization costs, their expenses will be understated on their financial statement and the net profit figure will be incorrect.
 
In order to properly record the usage of the truck for the month of August, we would need to break down the estimated lifespan of the asset. Let's say the truck is used for 6 years, which would equate to $10,000 usage per year. This figure is then divided by 12 months to come up with a monthly amortization expense of $833. This figure would then be recorded as show above.

The contra asset account is the accumulated amortization expense, which means that when this type of account increases, the assets will decrease. Remember that this type of account will always stick to the asset account to show the use of the asset by using an adjusting entry. It is the offset for the asset account.