Lesson Objectives:
- How a multiple-step income statement differs from the single step.
- Preparing the complex income statement.
- How the final net income figure is calculated.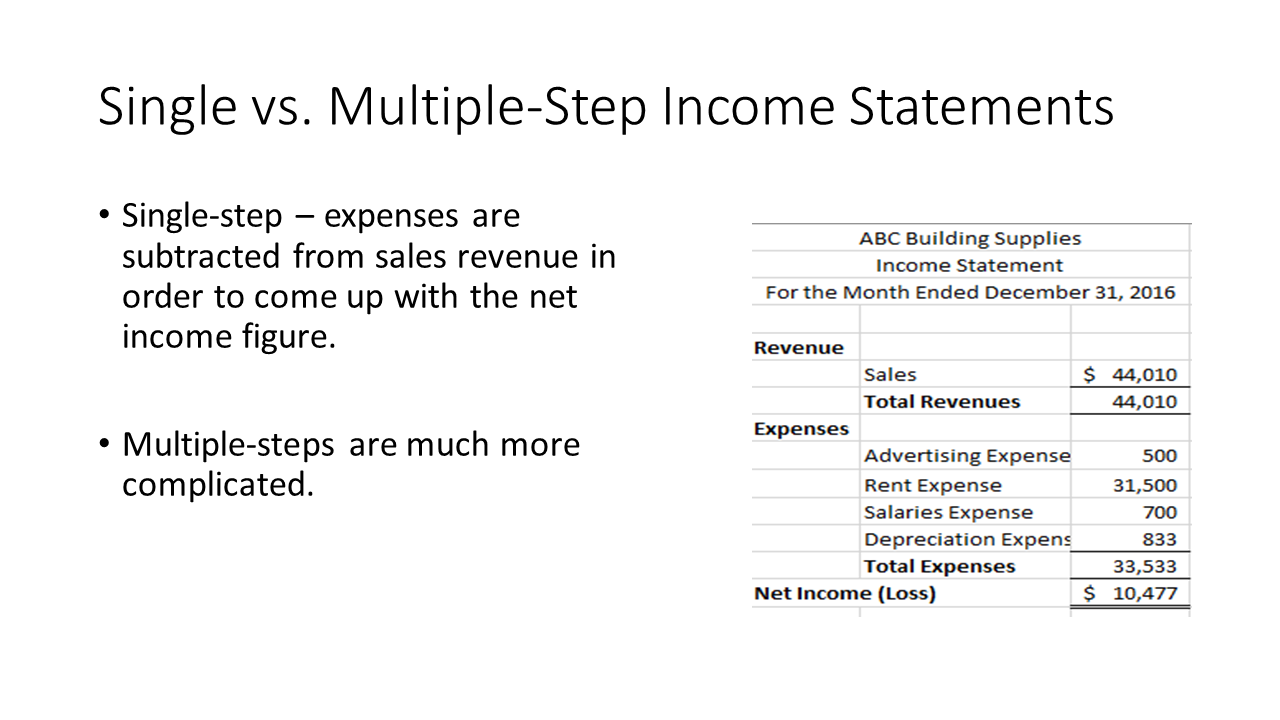 In some of the previous lessons, we've looked at the income statement format where expenses are subtracted from sales revenue in order to come up with the net income figure.
 
This type of income statement is referred to as a single step income statement. This was more of a learning step as most public companies have much more complex income statements that capture all of their accounts and subcategories.
 
Above is one of the examples of a single step income statement that we previously reviewed for ABC Building Supplies.

We will go ahead and review a more realistic example of how a public company would prepare their multiple-step income statement.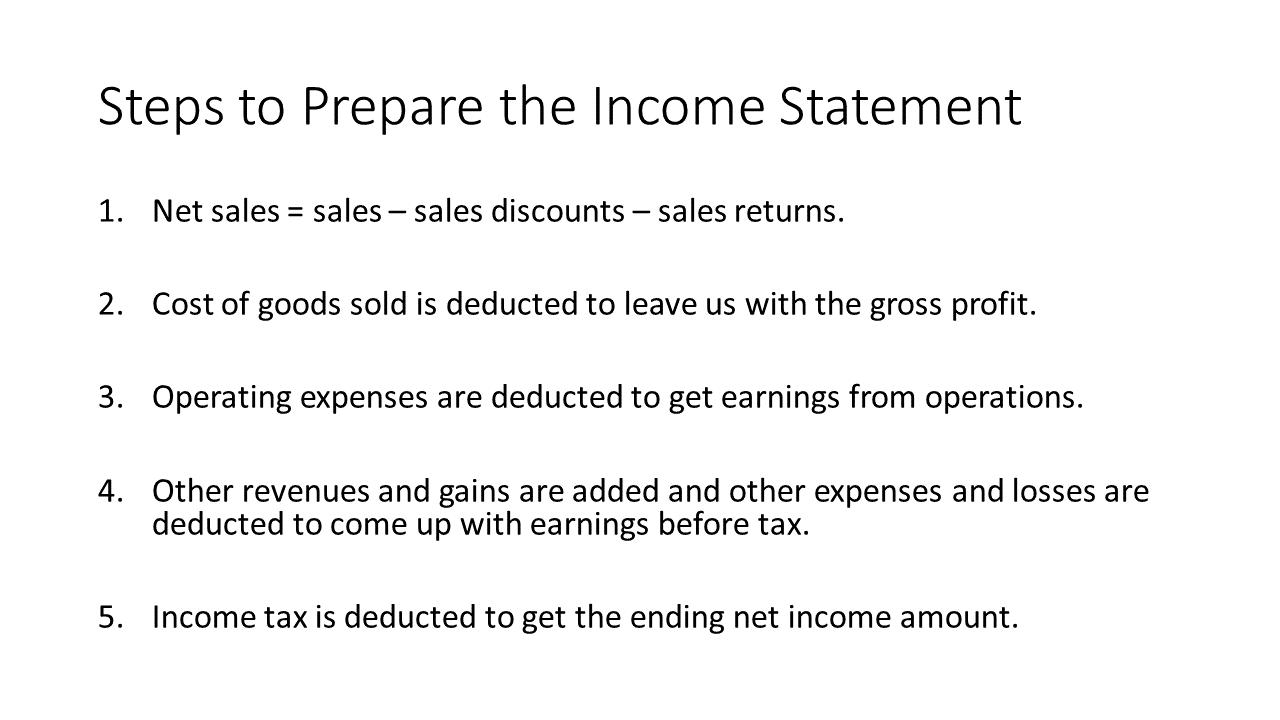 Let's take a look at the steps involved in preparing the income statement:
 
1. We list the sales revenue first to represent the income brought in by the business. In order to come up with the net sales figure, we must deduct the sales discounts and sales 1. returns.
2. The cost of goods sold is then deducted to leave us with the gross profit figure.
3. Operating expenses from salaries and utilities are deducted from operating expenses to come up with the earnings from operations.
4. Other revenues and gains, including interest revenue, gain on sale and dividend revenue, are added. These figures are listed separately as they are not related to operations. Other expenses & losses, including loss on sale, are deducted to come up with the earnings before tax figure.
5. Finally, income tax is deducted to conclude the income statement with the ending net income amount.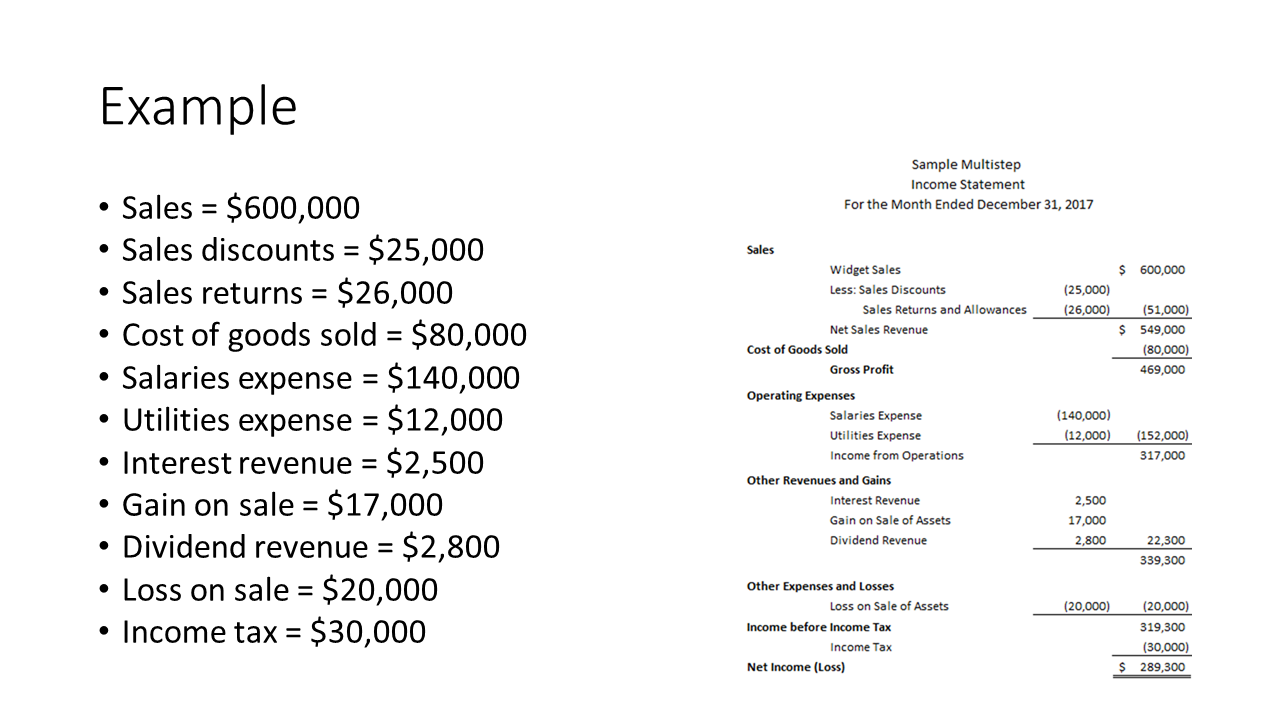 For this lesson, we will be using the figures listed above to create the income statement.

Make sure you use this same format when practicing other examples of income statement preparation. Always remember to separate the other revenues and gains from the operating expenses as we've reviewed in this sample statement.
 
In the next lesson, we will be taking a deeper look at the periodic inventory system.