Lesson Objectives:
- Defining uncollectible sales.
- Example of an uncollectible bad debt
- Introduction to the allowance method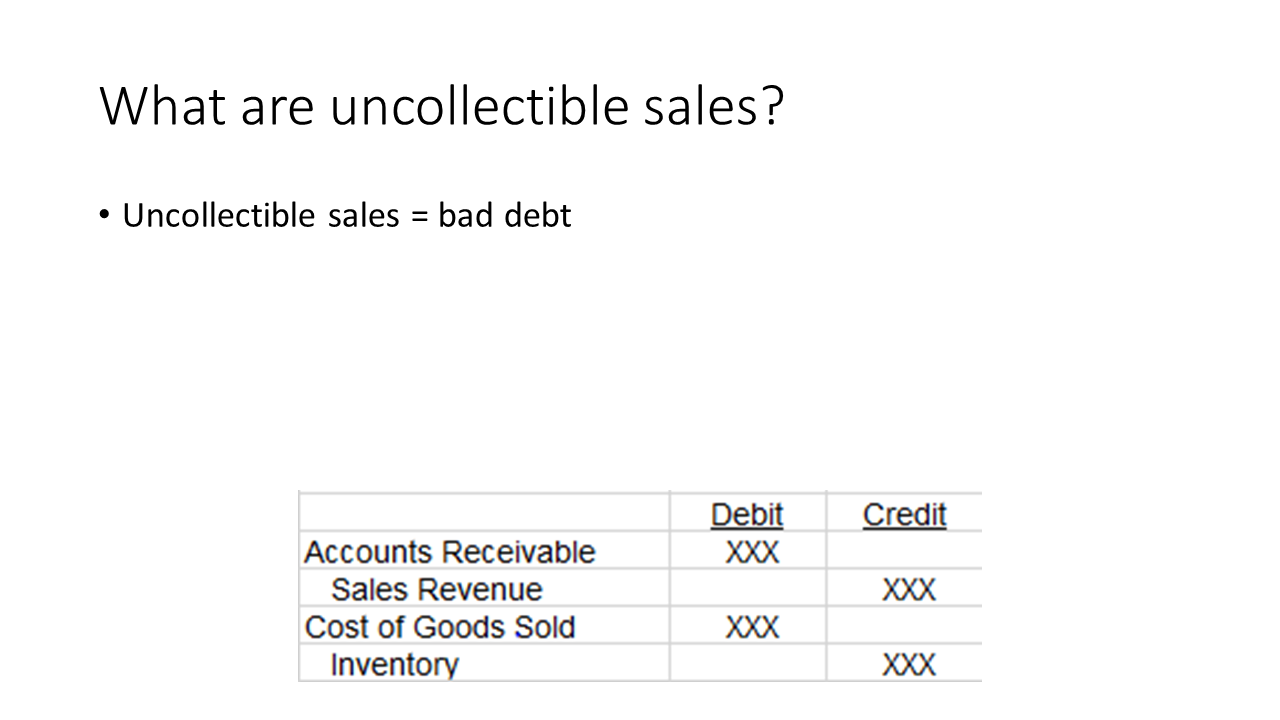 In some of the previous lessons, we've reviewed inventory costing in great detail but there is one thing that we have not covered yet: uncollectible sales. This term simply means that the company has made sales but the revenue is not able to be collected. Uncollectibles are often referred to as bad debt.

In order to demonstrate this concept, let's jump right into the format of a journal entry for an uncollectible sale and then we will review real life examples. This would just be a normal sale that is made under the perpetual inventory system.
 
The first entry for the sale revenue would reflect a debit to the accounts receivable and credit for sales revenue. The second entry would be in accordance with the matching principle to show the expense which would be a debit for the cost of goods sold and a credit for the inventory.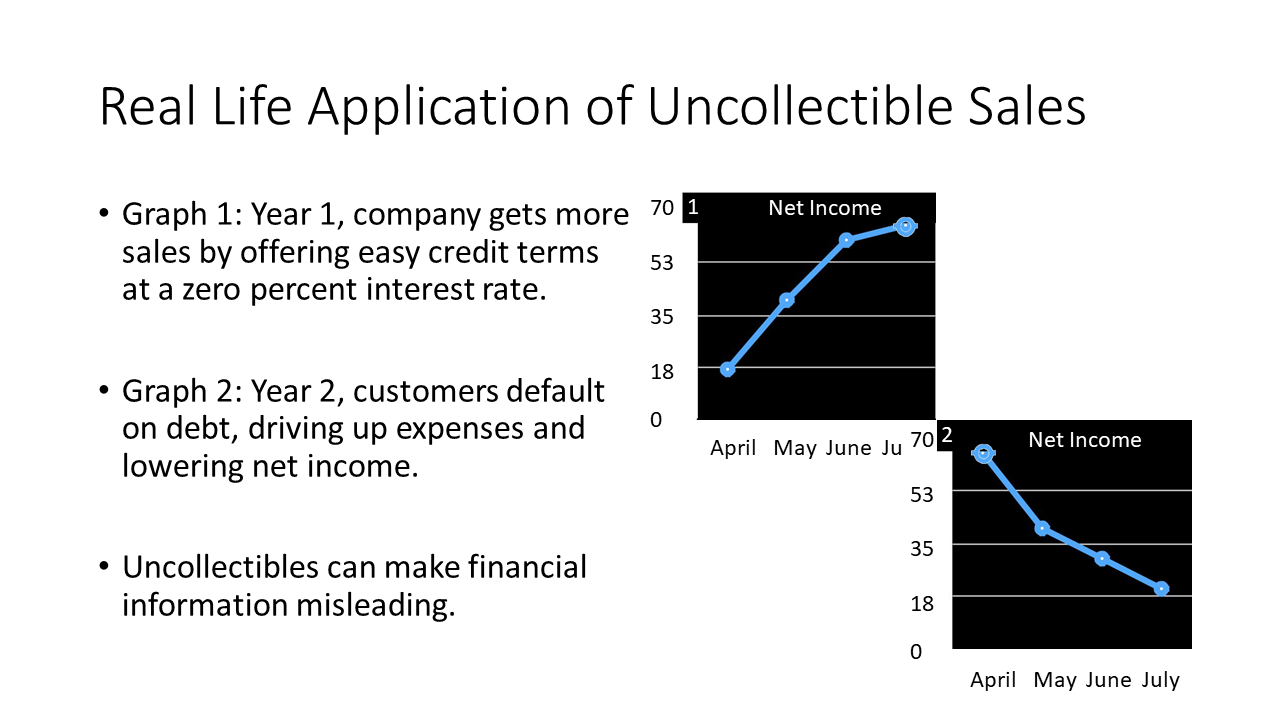 Let's say an electronics company sells a large flat screen TV and offers customers easy credit terms at a zero percent interest rate. The promotion will likely drive up the demand for the TV and the company will generate more sales.

Subsequently, net income would increase significantly, because an increase in sales would mean an increase in net income. The net income for year one would look something like graph #1, above.

The easy credit terms and zero percent interest rate could possibly lead to customers who are not able to pay their credit bills in the future. Therefore, there is the potential for uncollectible funds which are considered bad debts.
 
When there are uncollectibles, the accounts receivable account is decreasing, because the company is not getting paid for their sales. The expense account would be increasing, because the company now has to cover the amount of the debt that cannot be collected.
 
When the expenses are increasing, net income would be decreasing. Year 2 for this example would look similar to graph #2 above, as the company would start seeing some of the accounts turn into uncollectible bad debt.

As you can see from the two graphs, uncollectibles cause the net income to be extremely inconsistent. The first year net income would be dramatically increasing and the second year it would be significantly decreasing which would likely mislead users of financial information.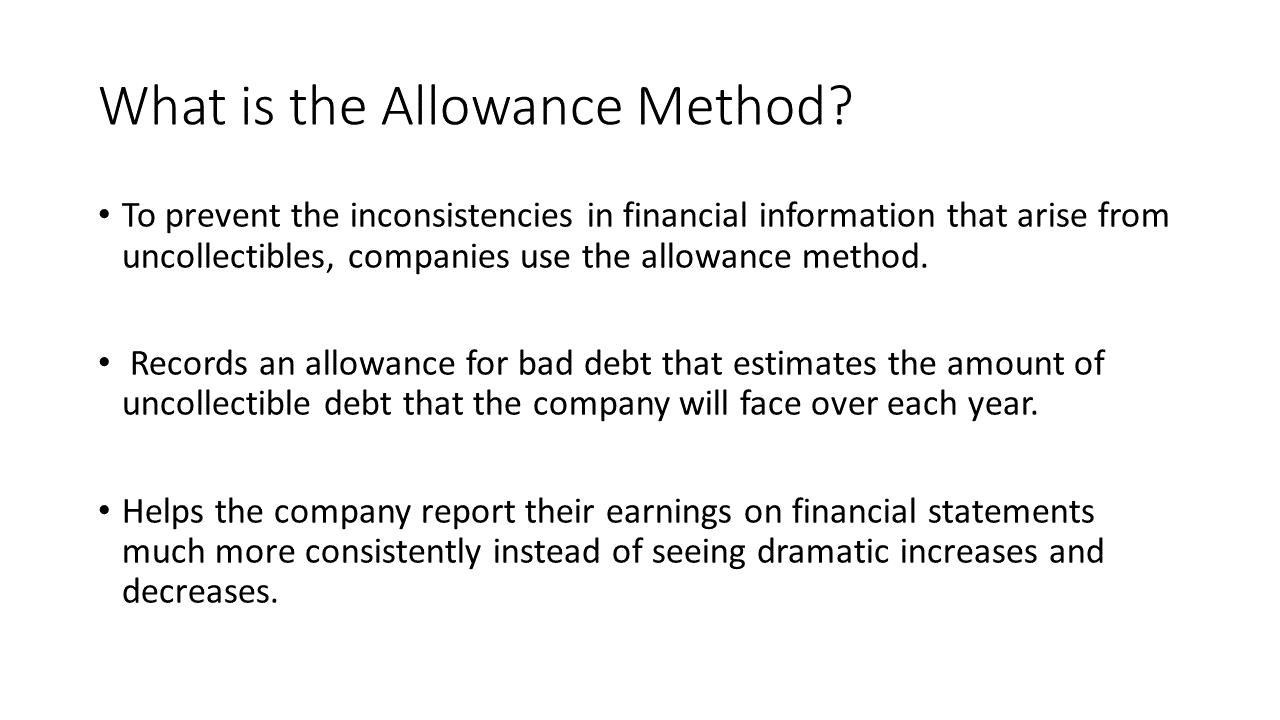 In order to prevent the inconsistencies in financial information that arise from uncollectibles, companies use the allowance method. This method records an allowance for bad debt that estimates the amount of uncollectible debt that the company will face over each year.
 
The allowance method helps the company report their earnings on financial statements much more consistently instead of seeing dramatic increases and decreases.