Lesson Objectives:
- Defining intangibles
- Types of intangible assets
- Examples of trademarks, copyrights and patents
- Ways that the assets can be recorded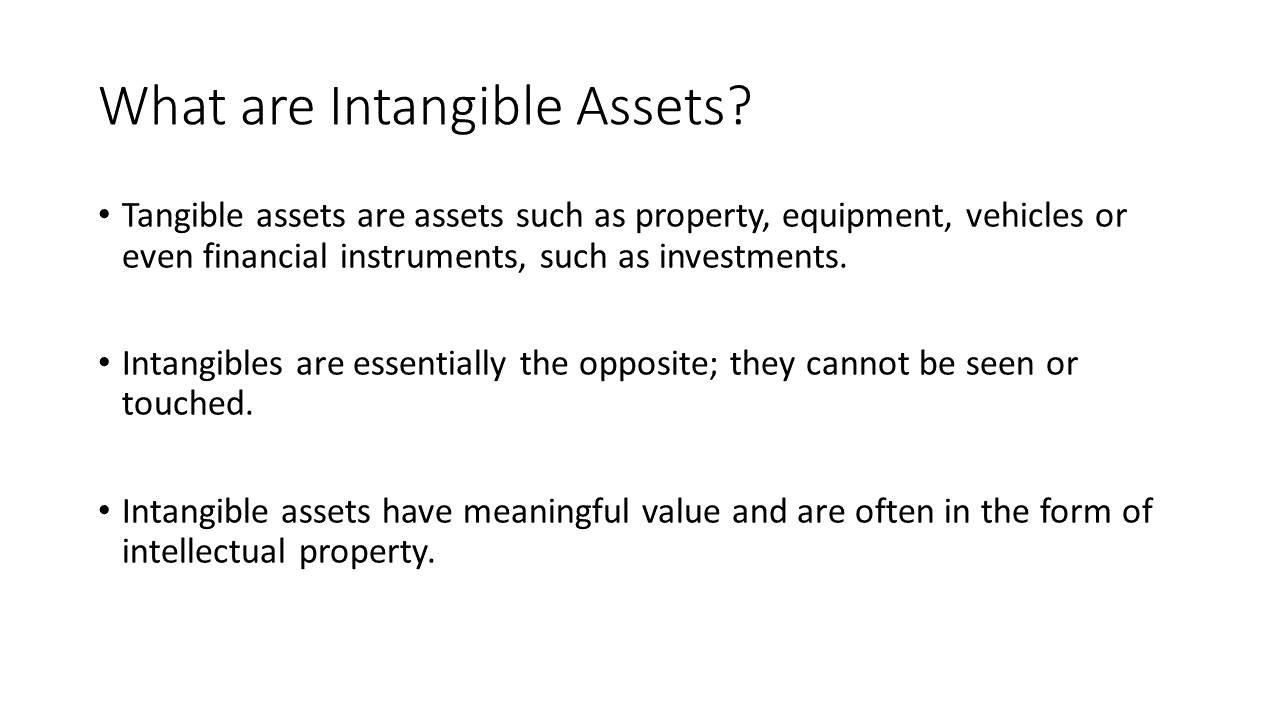 We just finished talking about depreciation, gains and losses, now let's review the accounting concept of intangible assets. When you think of assets, you generally think of property, equipment, vehicles or even financial instruments such as investments.
 
Intangibles are essentially the opposite; they are the types of assets that are not physical items. They cannot be seen or touched. Intangible assets have meaningful value and are often in the form of intellectual property.
 
Let's first detail some examples of the three most common types of intangible assets including trademarks, copyrights and patents, then we will talk about how to journalize them.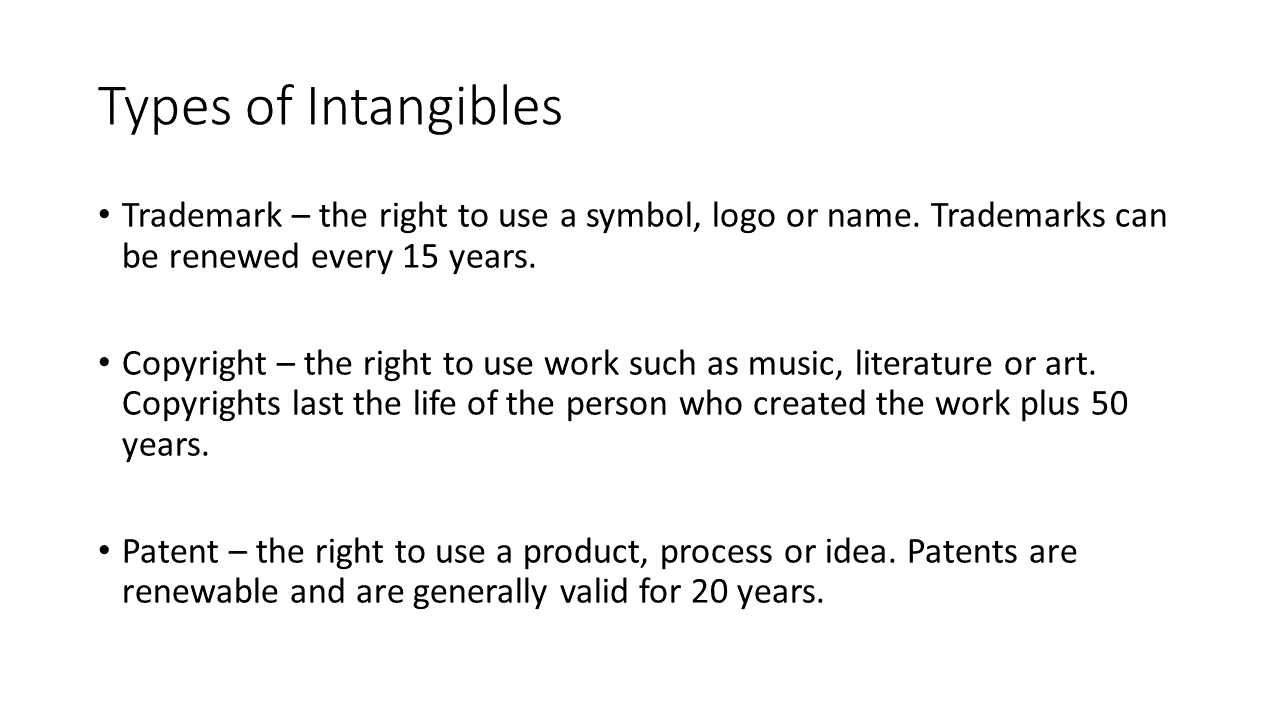 A trademark is the right to use a symbol, logo or name. Trademarks are often registered through state or federal offices for intellectual property. The trademark can be renewed every 15 years. Some examples include, the Dominos pizza logo, the name McDonald's or the website name Google.
 
Copyrights are the rights to use work such as music, literature or art. This type of intangible asset lasts for the life of the person who created the work plus 50 years, although this can differ between countries. For example, a song by Coldplay, a book written by Stephen King or a painting by Vincent Van Gogh.
 
Patents are the right to use a product, process or idea. Patents are also renewable and are generally valid for 20 years. Examples of patents include the invention of the artificial heart valve; new varieties of plants and the Amazon 1-click.

Next, let's review the two different ways that intangibles can be recorded: either by purchasing them or creating them.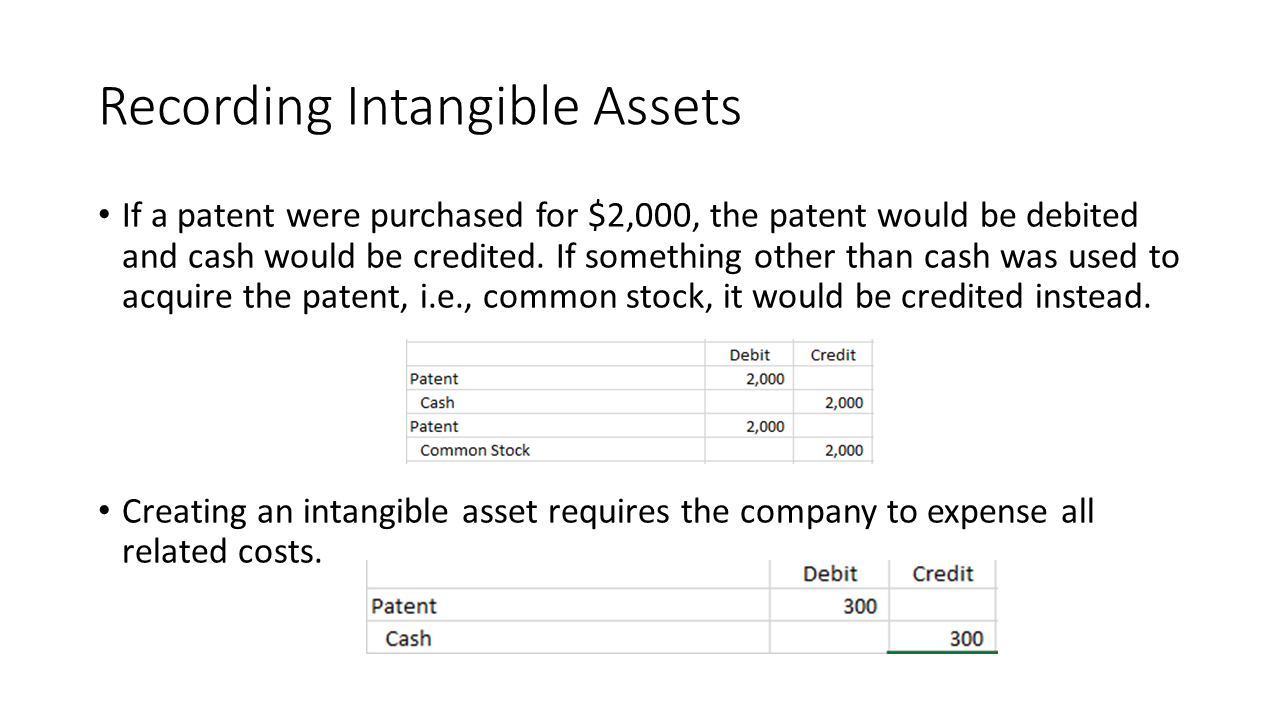 Purchasing can be recorded by cost or fair value in the case the intangible assets were exchanged. If a patent was purchased for $2,000, the patent would be debited, because it is an asset that is increasing, and cash would be credited, because it is decreasing.
 
Alternatively, if something other than cash was used to acquire the patent such as company stock, the patent would still be recorded as a debit but the common stock would be used as a credit. In this case, the fair value of the intangible asset would be used.

Creating an intangible asset requires the company to expense all costs related to acquiring the assets. For example, research and development of a patent or paying a writer to create work that they own the copyrights to.
 
The only costs that would not be expensed would be direct costs such as legal costs that would be capitalized separately.

To conclude our discussion of intangible assets, there are two types of these assets that determine how the asset is amortized: finite and indefinite. There are finite assets that are used for a limited time period such as 30 years and indefinite assets can be renewed and will be in existence for a continuous amount of time. We will talk more about amortization in the next lesson.